On his birthday today, actor Arjun Rampal hopes that women continue to consider him just as sexy at 50 too.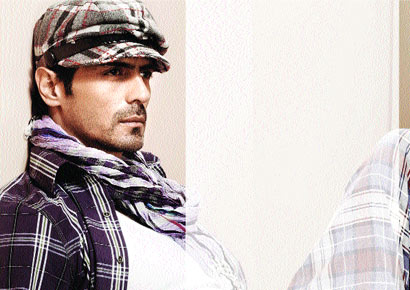 Actor Arjun Rampal who has been busy shooting for D-Day in Kutch is having a working birthday today. But the actor says he has no complaints. "I think it's a blessing to be doing something that you are so passionate about on your birthday.
Parties will happen too," he tells us from the sets of the Nikhil Advani film, also referring to reports of wife Mehr planning a big bash later in Morocco. The actor's turning the big four-oh, but point out that age doesn't seem to have dimmed his sex quotient among women and he says, "Sexy at 40, hmmm! I hope they find me just as sexy at 50 too," he laughs.
On a serious note, he adds, "I think this is a birthday in the truest sense. I am stepping into a new phase of my life and this time backing me up is acceptance, experience, confidence and more faith. I am content with my journey so far, but also, really hungry for more in the years to come," says Arjun, who's been basking in the glory of his recent successes on and off the big screen, including his innings as an entrepreneur.
"I think it's great to diversify as it lets me tap many more facets to me than just an actor and I'm really happy with the way things are shaping up," shares Arjun.
Ask him what's changed over the years and if it's easier to choose films today, and he says, "On the contrary, I find it easier to reject films. It's accepting that's difficult. And it has nothing to do with awards or validation. The criteria is to be a part of a film that you will be proud of, no matter what the outcome. I would want my daughters, my grand children to be proud of my work."
Unlike his peers, his career graph doesn't seem to have any set pattern when it comes to genres or roles, the actor says, "And it's a very conscious effort to not let audiences predict what I will come up with next. Every film I have done — be it an Om Shanti Om or Raajneeti, Rock On! or Chakravyuh — is really different from the other. Even the films I have in hand now, follow no set pattern. Repeating the image that has clicked with the audience may be the easier option, but it's not an option I ever want to choose. I am happy thinking with my heart, taking risks, making mistakes, enjoying successes and growing each day," he says.
With three films in his kitty, does he have time for his own production house? "I have just been so busy shooting that I've really not had the time to look into that. But focussing on my production house is going to be my New Year resolution for sure," smiles Arjun.