First Priyanka Chopra, then Akshay Kumar now R Madhavan to essay the role of a boxer PSST: The bilingual is said to be inspired by the life of Mohammed Ali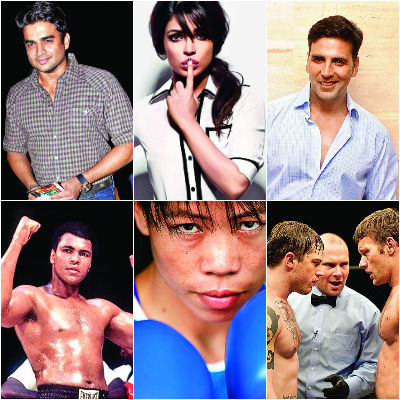 Boxing films are the flavour of the season. While Priyanka Chopra gets ready to wow critics and masses alike with her Mary Kom act in director Omang Kumar's bio-pic, Akshay Kumar and Sidharth Malhotra will play siblings in Siddharth Malhotra's adaptation of the Hollywood film Warriors. Now it comes to light that R Madhavan has been stationed in Los Angeles for the last six months preparing for his next film, a Hindi-Tamil bi-lingual on a boxer's life called Lal.
The story is apparently partially inspired by Mohammad Ali's life. Says a source close to the project, "The director has taken the core of Mohammad Ali's life in the ring and added fictional flourishes to it. Madhavan who has known Sudha from the time he worked with Mani in Alai Payuthe, Kannathil Muttamital and Guru planned and plotted the film together with the director and then took nearly a year off to prepare for his part."
Maddy has lost 15 kilos to look like a boxer. He says, "I've been in LA training and preparing for my part. My entire body structure and body language has changed.I now walk and think like a boxer. It is very important for every actor to take that time off to re-invent himself. Otherwise you end up being a parody of yourself. After Vettai in Tamil and Jodi Breakers in Hindi in 2012 . I needed time to introspect. I think I am ready to start a new phase in my career."