Bhatija Arjun is all set to reprise chacha Anil's Lakhan act in his forthcoming film.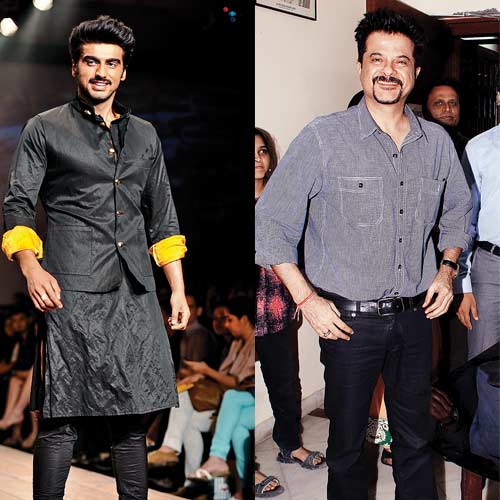 Like Salman Khan is known as Prem and Shah Rukh Khan is mostly Rahul or Raj, Anil Kapoor has always been known as the Lakhan in B-Town since he played Lakhan in Subhash Ghai's Ram Lakhan in 1989. Now 24 years later, Anil's own nephew Arjun is all set to play the character.
No, this isn't for a remake of Ghai's hit. Instead, he will be seen playing a character like Lakhan in Yash Raj Films' Gunday. But instead of Ram and Lakhan, both the characters are like Lakhan!
Arjun says, "I play Bala, the younger one. Ranveer (Singh) plays the older one. He is my equilibrium in the movie, in the sense that he keeps me stable and sane. Gunday is a two-hero film, it has action, comedy, drama... It's a proper old-school masala Hindi film. It's not a South remake. Ram Lakhan is a film that is firmly embedded in my head. So for me, Gunday was my Ram Lakhan. I feel, Ranveer loves that genre and that world as much."
Arjun is known to mimic his uncle's mannerism including Anil's trademark term jhakaas. So how does Anil feel about handing over his title to his nephew? Anil says, "I am so excited that Arjun is playing Lakhan in Gunday. He will do a great job! When Subhash Ghai came to me to narrate the script of Ram Lakhan I didn't know how iconic the character will become over the years. You never know where it's going to fly. I just knew when I heard the content that there was something exciting and special about Lakhan. It's also of my most favourite roles till date. Even now when I walk in at events, people expect me to break out dancing and sing Aye Ji O Ji and sometime I get fed up! But then I feel I am so fortunate to play such characters." He says a lot of other directors and actors have been inspired by Lakhan but it has come into focus because Arjun is related to him.
"In those days there was no social media so we never got much feedback. We just moved onto our next film. Today there is immediate feedback from all over the world. I didn't know Lakhan would be so huge!" he concludes.