Designer Anamika Khanna is on a high these days. After her show at WIFW received a good response, she is all set to showcase her line at Paris Fashion Week.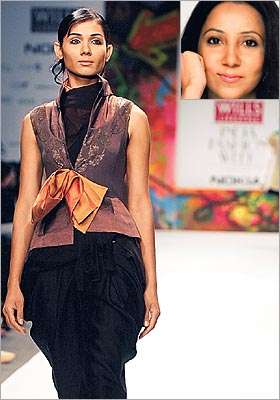 Designer Anamika Khanna talks about being the first Indian to be showing at Paris Fashion Week
Designer Anamika Khanna is on a high these days. For not only did her show at WIFW receive a good response, but also because she is all set to showcase her clothes at Paris Fashion Week this September. What's more, she along with designer Manish Arora, are the first ones to do so. Says an excited Anamika, "To be honest, I didn't see it coming; it was a pleasant surprise."
Calling it a proud moment, Anamika thinks that Indian designers are now getting their due recognition in the international fashion arena. And considering the fact that she has shown earlier at London Fashion Week, the Paris one will also be a challenge in itself.
"I'm looking at doing some serious business. That said, I must mention that it's coming close on the heels of my Spring-Summer show at the WIFW; so it's going to be a close run thing. I'm already nervous about pulling off two shows back to back," she confesses.
So, is she going to showcase the same collection at both these shows? "Not really. After all, the Indian market is different from the international one. There's a lot more protocol involved, your agency has an important role to play. So, yes, I'm going to make some changes," she explains.
But she's clear about not wanting to neglect the Indian market.
"When compared to the international market, we still have a long way to go; we are still at the nascent stage. But we have already made a start and the Indian market has a lot more to offer today," she says, adding that she has already started work on the collection. "I have begun my research about the fashion forecasts for the next season and I'm going to stick to my USP - which is fabric development."