Comedy as a genre has been present on television since time immemorial, but the interesting fact is that, the face of the genre changes every few years. The way in which stories are told, characters behave and people are made to laugh changes tremendously over the years. This trend is especially seen on Indian television where we are bombarded with supposedly humourous slapstick Hindi comedy shows as well as the more refined and smarter shows from other parts of the world.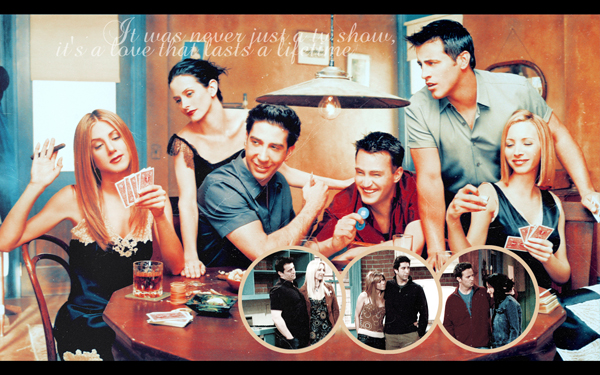 FRIENDS still remains a cult show even after a decade since it ended.
Looking at just the last decade, there is an immense change in the quality of humour that the writers are churning out. Exactly ten years ago, in May 2004 FRIENDS, an landmark show, came to an end after running successfully for a decade. It was and is still being aired on some channels.
To break down FRIENDS and analyse why it was funny, it mainly points to three things, firstly it had a considerable amount of observational comedy, which works on the premise of 'it's funny because it's true', secondly because of it's incongruous and surprise elements which make it even more random, and funny. For instance it was surprising and funny when it was revealed that Ross got mugged by Phoebe as a child. And lastly, because of use of sarcasm (obviously!), perfect timing, and punchlines dabbled with a few hyperbole and puns.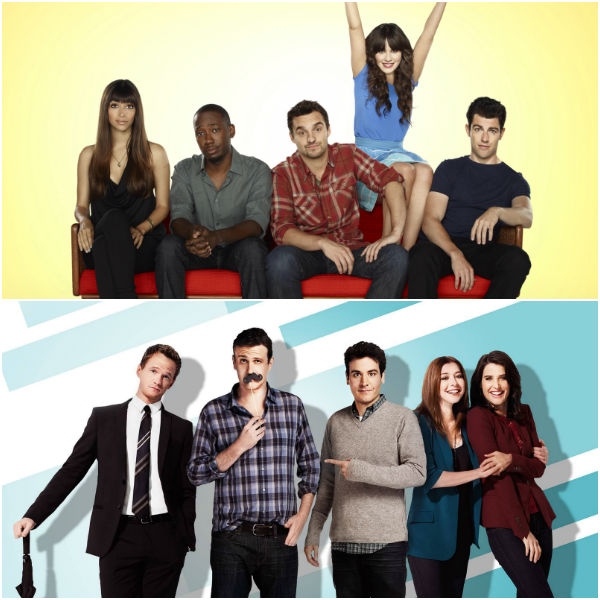 New Girl (top) and How I Met Your Mother (bottom) rely on the old formula of punchlines for inducing laughter
Soon thereafter, a lot of shows with a similar setting of a group of friends, living in a metro and struggling in their respective lives came up. Shows like How I met your mother, The Big Bang Theory, Rules of Engagement, followed the same premise and are popular among the audiences. The more recent shows based on similar concepts include Wendy, Friends with better lives and New Girl.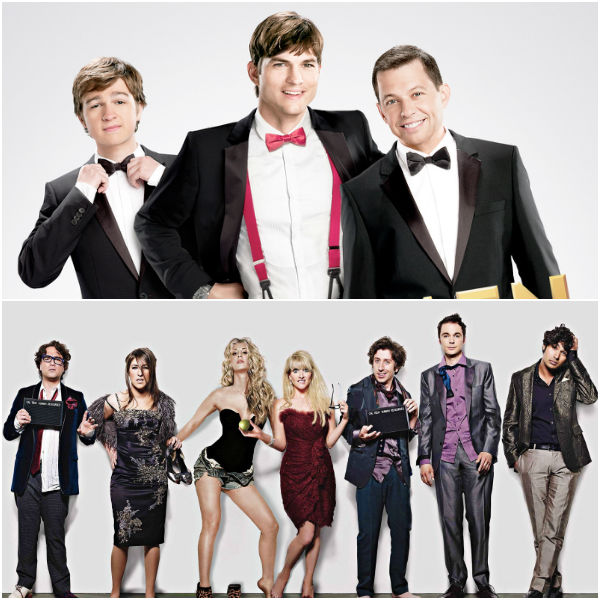 Two And A Half men (top) and The Big Bang Theory (bottom) are being extended just because of their popularity among audiences.
The core idea of all these shows remains the same, which makes Theodore Adorno's theory on popular music ring true for TV shows also. The theory claims that all popular music has a standardized format, and is pseudo individualised just to make it look unique, can also be extended to comedy TV. Some makers tend to drag the series just because it did well for a few years. How I Met Your Mother, Two and A Half Men, and countless Hindi serials are examples of forceful extension of storylines.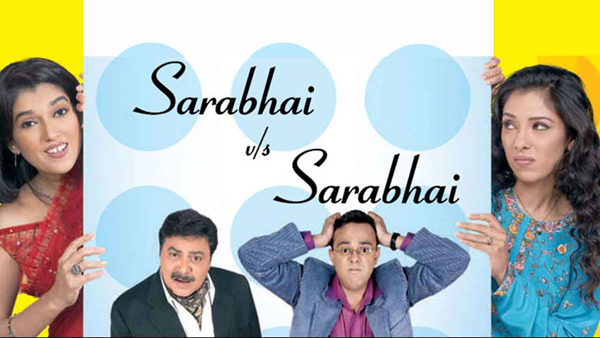 Sarabhai Vs Sarabhai was the most fresh and out-of-the box show on Indian Television.
Hindi comedy TV serials which came out a decade ago, had a certain freshness to them. Hats Off Productions' Sarabhai vs Sarabhai and Instant Khichdi provided a much needed break from melodramatic soaps, and introduced the sitcom culture in India. Sarabhai, the show which was much ahead of its time, and came across as a fresh story revolved around the Sarabhai family living in the plush locality of Cuffe Parade in Mumbai. This period also saw an increasing number of stand up comedy shows in India with reality style shows like The Great Indian Laughter Challenge, and the various seasons of Comedy Circus.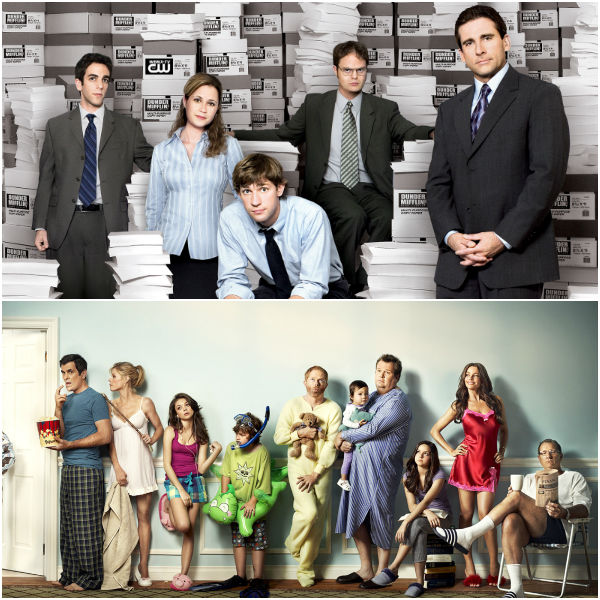 The Office (top) and Modern Family are the mockumentary style shows
The style of comedy shows is changing. The recent shows which have struck a chord with people, Modern Family, 30 Rock, The Office, Parks and Recreation have all adopted a unique way of tickling the audiences' funny bone. While Community is riddled with pop culture references and parodies television and film clichés, Modern Family, The Office and Parks and Recreation use the mockumentary style where the actual story is interspersed with characters directly speaking into the camera, sort of like an interview, and making confessions that makes for hilarious jokes. While ABC's Modern Family just got renewed for a sixth season after successfully running for five years, with unconventional storylines and awkwardly but funny situations, Parks and Recreation and Community have been cancelled for further seasons. Fans of the series took to social media to vent, and urge the channel to pick up Community for another season.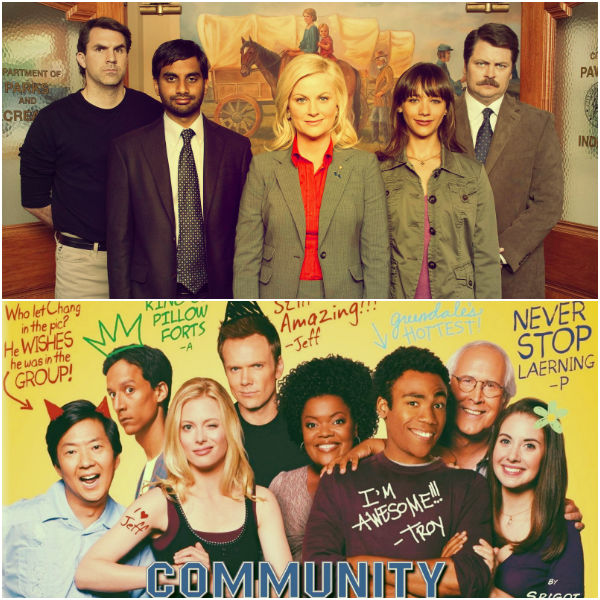 Parks and Recreation (top) and Community (bottom) are some very refined comedy shows
While Indian television is being hit by such smart comedies with a cult following, our own shows have slipped back in quality and don't seem funny at all. Shows like Taarak Mehta Ka Ooltah Chashma, Lapataganj, FIR, etc enjoyed a brief period of high viewership, things aren't looking that great for fiction comedy shows. These shows generally lack a firm story and rely on slapstick humor to generate laughter, which comes across as a bit sloppy. Stand up format of comedy still remains a favourite among Indian viewers with shows like Comedy Nights with Kapil and Comedy Circus enjoy a massive viewership.
While English language fiction comedy shows are getting more and more refined, the future of Indian comedy seems somewhat unsure, unless we experiment with other styles of television and make more sitcoms, mockumentaries or even improv shows.