As the fourth season of 'Game of Thrones' starts on HBO, there is anticipation among fans who were waiting with bated breath for the series.
The first three seasons which are based on George R Martin's books are hugely popular across the World.
The series revolves around different houses such as House Stark, House Baratheon, House Lannister, House Tully, House Bolton, House Targaryen and others who are trying to battle out for the Iron throne and a chance to rule the seven kingdoms.
Amul, which has been doling out some awesome posters on issues that are popular and relevant has again done it with GOT in a rather splendid way.
The poster shows Margaery Tyrell on the throne and Joffrey Baratheon standing by her side with a serving of Amul bread and butter. While some fans think that it is Margaery on the throne, others assume it to be Cersei Lannister (Joffrey's mother).
The sigil present is of House Baratheon which is Joffrey's parental sigil (If you ignore Cersei and Jaime's incestous relationship) and Amul has a caption that says, "GoT it?."
The poster drives the message home about Game of Thrones popularity in India as fans have been waiting for the series to air since the last season ended on a rather speculative note. (If you managed to stay away from spoliers, kudos to you)
Within hours of posting this GOT poster, fans were sharing it, making it go viral.
For non-GOT fans, below is a run-down of what you have been missing:
Houses that are fighting for the throne: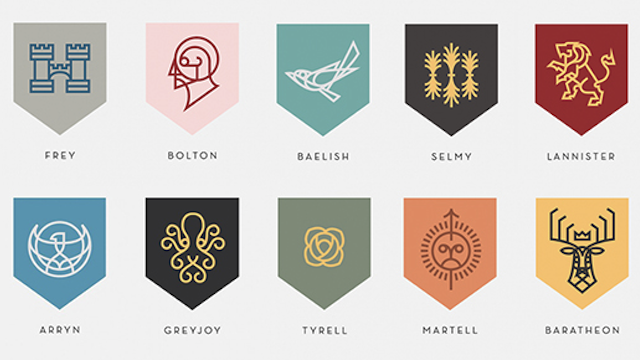 House Baratheon - black hair, blue eyes, and square jaws
House Bolton - Black hair and eerie "ghost grey" eyes (somewhere between very pale blue and practically like dirty ice)
House Florent - large ears
House Lannister - curly blonde hair and green eyes
House Lannister of Lannisport - straight blonde hair and green eyes
House Martell - classic "Salty Dornish" features of olive skin, dark hair, and dark eyes.
House Redwyne - red hair
House Stark - Black hair and grey eyes
House Umber - very large size, frequently over six feet tall and well-built
House Targaryen - classic Valyrian features of pale skin, white (platinum-blonde) hair, and purple eyes (changed to simply brightly colored, i.e. blue eyes in the TV series)
House Tully - auburn hair and blue eyes