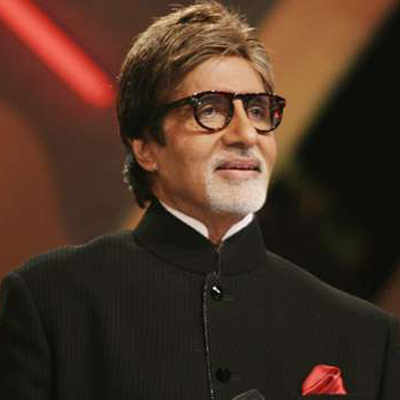 Megastar Amitabh Bachchan, who has helped many brands cement their credibility in the market, has created a flutter by speaking out against Pepsi, a brand he has been endorsing for years now.
According to a report in Economic Times, the actor made this statement while addressing an interactive session on celebrity endorsements at the Indian Institute of Management, Ahmedabad.
Bachchan was associated with Pepsi since 2002 and the association lasted for eight long years.
Big B, who was urging celebrities to exercise due diligence before endorsing brands, said that he stopped endorsing Pepsi after a schoolgirl confronted him and asked why he promoted the soft drink which her teacher branded as poison.
Bachchan admitted that the question left him speechless and made him realise what impression it had on people's minds.
"So I stopped endorsing Pepsi," he told the gathering.
Citing this example, Bachchan told the audience that he has been very careful in choosing his endorsements ever since that incident.
"I look into it... I meet the client and ask them about it... I don't endorse tobacco or alcohol because I don't have them... then why should I endorse them?"
The actor went on to add, "I tell this to my son Abhishek and to daughter-in-law Aishwarya also...if you have to endorse a product then you have to conduct your life in such a manner that it does not affect others' lives."
Cola brands are one of the biggest spenders in the advertising markets and Pepsi has been endorsed by Bollywood's biggest names including Shah Rukh Khan and Priyanka Chopra.
Pepsi's current brand ambassadors include Ranbir Kapoor and Team India captain MS Dhoni.
While Deepika Padukone endorses Coca-Cola, a brand that also boasts of Aamir Khan, cricketing legend Sachin Tendulkar has endorsed both Pepsi and Coca Cola.
Ironically, Bachchan's daughter-in-law Aishwarya Rai also started her career with an ad for Pepsi. The actress later endorsed Coke too.
While PespiCo has refused to comment on Bachchan's remarks, founder of Brand Harvest Consultancy, Ram Gudipati, felt that the actor's statement was unjustified.
"While Bachchan's statement will not have any major repurcussions, a certain amount of impact is bound to happen. That too because somebody of Amitabh Bachchan's stature said something like this.
"However, I feel the statement was not justified as there is no medical evidence to prove what he said. How can he change his opinion based on one person's reaction. World over, people consume Coke and Pepsi but there is no proof that they are harmful. Yes, they contain high levels of sugar, which can be bad for health, but restricting the consumption is in our own hands," Gudipati said.
When asked if PepsiCo can take any legal action against Bachchan, CEO of Trust Research Advisory, N Chandramauli said, "Though every brand has a right to protect itself, PepsiCo does not have a standing in this case. Every brand ambassador has the right to change his/her opinion. Scrutiny at all levels should be done. There is no reason why a brand ambassador cannot discontinue to endorse a brand if he stops liking it.
"Mr Bachchan has a maturity of several men put together. He has never been known to be publicly wrong. His trust quotient is so high that I would give him the benefit of doubt. He is just being very open and frank about what he thinks and what he said was not done with any malefic intent."
Bachchan currently endorses Maggi, Kalyan Jewellers, Parle Goldstar Cookies, Binani Cement and Gujarat Tourism.