'American Hustle' brings together some of the finest actors out there but interestingly enough, all the main actors have been attached to big budget superhero franchises at one point or the other. Here's a run through of which actor played which hero.
American Hustle hasn't even premiered in all countries yet, and it's already being touted as an Oscar contender, with powerhouse performances by the primary cast with critics particularly praising the performances of the leading ladies, Amy Adams and Jennifer Lawrence.
The film is based on the 1970's ABSCAM scandal. FBI ABSCAM operation of the late 1970's and early '80's. Christian Bale and Amy Adams lead the cast as two con artists who are forced by an FBI agent (played by Bradley Cooper) to set up an elaborate sting operation on corrupt politicians, including the mayor of Camden, New Jersey (played by Jeremy Renner). Jennifer Lawrence supports the cast as the unpredictable wife of Bale's character.
Interestingly enough all the lead actors of American Hustle, have played or will be playing characters in blockbuster super hero movies.
Christian Bale
Super hero: Batman
He portrayed Bruce Wayne/Batman in Christopher Nolan's Batman trilogy, arguably one of the most critically acclaimed if not successful super hero franchises.
In American Hustle: Bale plays the chubby but charismatic Irving Rosenfeld — a working class con artist who manages to work the magic of deceit with a strange air of earnestness.
Powers in Common: Deception. All the while, he's masking his true identity. Irv obscures his hidden intentions all throughout American Hustle, living up to a Wayne-like standard of secrecy.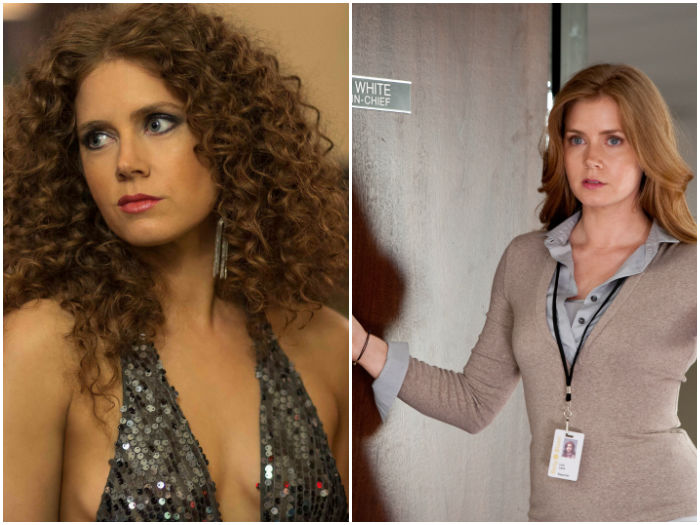 Amy Adams
Super hero: Lois Lane
Okay, she's not exactly a super hero but she's practically an honorary member of the Justice League and a character that's been the significant other of one of the most famous super heroes out there. Amy Adams showed us a new avatar of Lois Lane in 2013's Man of Steel and remains a force to be reckoned with. Adams will return as Lane in the forthcoming Batman vs. Superman, opposite Ben Affleck and Henry Cavill, respectively.
In American Hustle: Adams plays Sydney Prosser, a.k.a. Lady Edith Greensley — a colossally powerful con artist at frequent odds with her own quest to forget who she really is.
Powers in Common: Working people over. In American Hustle Sydney/Edith is able to permeate the minds and hearts of everyone she meets. In Man of Steel, Lois Lane is the only Earthling (save maybe for a long deceased Jonathan Kent) who can get through to the lonely ol' Kryptonian Kal-El. Adams does have that charm.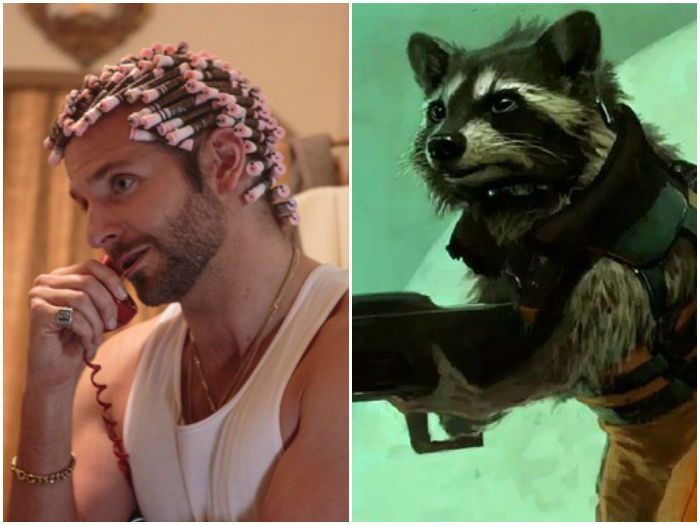 Bradley Cooper
Super hero: Rocket Raccoon

Technically Cooper hasn't played him yet, but he's slated to voice the animated live-wire in this summer's Marvel release Guardians of the Galaxy.
In American Hustle: Cooper deals in Russell's special brand of emotional volatility with FBI Agent Richie DiMaso, prone to explosive bouts of "passion" (let's call it what it is — lunacy), such as fussing with partner/rival Irv's immaculately prepared toupee or beating the hell out of his own boss at the agency.
Powers in Common: Unpredictability. Fans of The Guardians of the Galaxy comics recognise Rocket Raccoon as a bit of a wild card among the interplanetary heroes. You can easily say the same for DiMaso, whose hair-trigger temper gets him in a bit of trouble.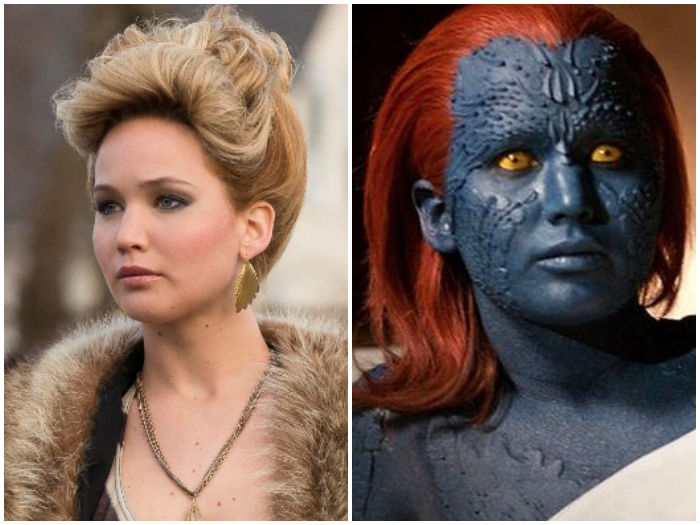 Jennifer Lawrence
Super hero: Mystique
Lawrence plays Mystique and her alter ego, Raven Darkholme, in 2011's X-Men: First Class and will reprise the role in the upcoming X-Men: Days of Future Past. Mystique was always the bad apple, cunning and manipulative but always following what she wants.
In American Hustle: Lawrence plays Rosalyn Rosenfeld, Irv's hot-tempered, "free spirit" wife who just can't quite seem to stop setting things on fire, and loves the smell of a good rotting nail polish.
Powers in Common: The character's propensity for interloping the communities of kingpin criminals and persuading them to do her bidding does ring true for the X-Men villain.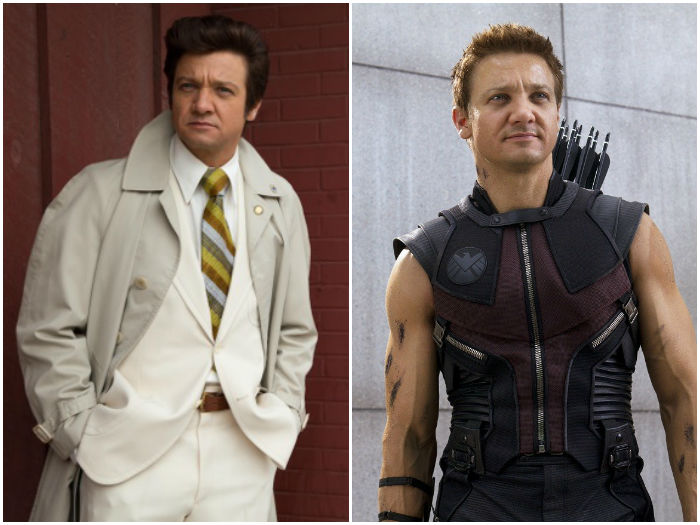 Jeremy Renner
Super hero: Hawkeye

The smart mouthed, bow welding member of the Avengers Initiative.
In American Hustle: Renner plays good-hearted politician Carmine Polito, who bends the law in order to afford his New Jersey community the funds it needs to thrive.
Powers in Common: They're both straight-shooters! (Excuse the pun)
(With inputs from Columbia Pictures)
American Hustle releases in Indian theatres on January 17, 2014.