Khiladi Kumar's super act at the Zee Awards included a dazzling entry on a bike, indoor blast and a rain dance.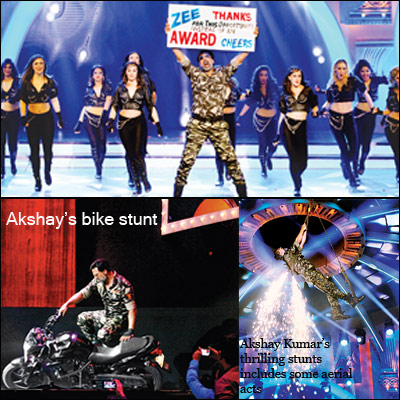 This awards season it was Ranveer Singh who was garnering all the attention with his acts. And it was no different at the Lux Cozi Zee Cine Awards. Until Akshay Kumar came on stage for the grand finale. If there was an award for the best live act of the year, then Akshay would definitely win it, hands down. The actor, who hasn't performed at an award function in the last four years, pulled out all the stops for his mind-blowing act.
The Khiladi, loves to push the envelope with his acts, and this one was no different. He not only made his stage entry on a bike, he also did a first-of-its-kind rain dance on stage. Blasts of fire and thrilling stunts where he hangs mid air tethered to a harness were also part of his performance. His act was the finale and he got a standing ovation for the same. It is difficult to do a live act with so many elements (fire and water acts, and stunts). Such acts are usually recorded before/after the awards function, just for television. But Akki performed his act in front of a live audience made up of his peers and industry veterans.
Says an eyewitness, "Akshay's act was one of the best and the biggest acts ever seen on any show! After his act ended, everybody from Ranveer to Ramesh Taurani, Nitin Keni and Ratan Jain came up on stage to hug and congratulate him. Deepika Padukone made it a point to congratulate him later. All the acts (action and dance) were conceptualised by the actor along with Sanjay Shetty."
Akki also had a tongue-in-cheek moment when he held a placard thanking Zee for not giving him an award but instead an opportunity to showcase his new film —Holiday. The first look of the film was unveiled at the function. As Akshay plays an army officer in Holiday he made the whole show look like an army act. Hosts Riteish and Abhishek called him the King of Shows.
Akshay says, "I have got some amazing reactions to my performance! It was a very difficult act to pull off — probably my toughest ever on stage. Or anything I have never done in my life! Sanjay and I rehearsed the entire act for days. The placard was my way of thanking Zee in a humorous way."
Akshay's association with Zee Cine Awards goes back a long way. ZCA is the only awards show he has ever hosted. It marked his debut as a host where he had the audience in splits. This time was a first of sorts too because he performed at an awards show after a four-year -long hiatus.