Priety Zinta defends the Bhatt girl who played her as a seven-year-old in Sangursh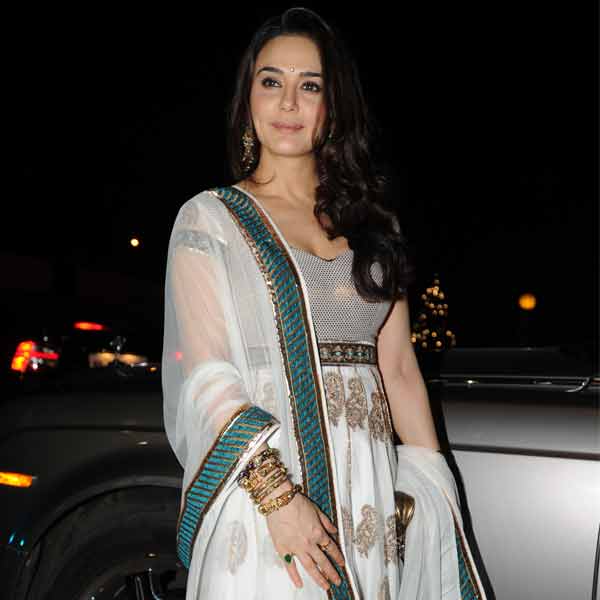 There are a spate of Alia Bhatt jokes doing the rounds on text messages and the internet (see box). It started soon after her appearance on Koffee With Karan where during the rapid fire q and a, she blurted out that Prithiviraj Chauhan was the President of India.
Now, the pressure of answering first and a ticking clock can ruffle the most seasoned players. It is normal, but we judge actors by a different scale. It wasn't long before viewers labelled her a 'dumb blonde.' While Alia has maintained her silence on the relentless ribbing, she has found voice of support from the most unlikely person -- Preity Zinta. What is the connection? Alia Bhatt played the younger version of PZ in Sanghursh (YEAR)
Preity feels it is the price one pays for being famous, "In a billion people one turns out successfully, and it's a huge achievement. But it's a profession where people beat you up for being successful. Alia Bhatt is a sweet, young girl who has just got into movies. And I can promise you that she has worked very hard for this. I have seen that."
She explains their connection, "She played mini me in Sanghursh. She was about seven years old. I remember on the sets she would keep staring at me with huge eyes! Finally, I had to tell her 'Darling, just blink!' because she was so cute. Even then she wanted to be an actress. From then to now I have seen her going to the gym, running, and training. Now that she's worked hard and become successful people make fun of her. They have these Alia Bhatt jokes, saying all kinds of rubbish – why are they doing this? Only because she's a successful and attractive girl? If she wasn't that, and hadn't given good performances nobody would have cared about her? Instead of applauding her in her first three movies, people on the internet are fully destroying her by saying all sorts of nasty things!"
She continues blasting, "What has she done to harm anyone? She worked hard in her profession and earned a name for herself. She didn't win a lottery or steal anything from your father's bank account – she's done you no harm but yet you want to bring her down by saying nasty things to her. People should just stop this nonsense!"
Alia Jokes
* Q: Who is the PM of India? Alia: Manmohan Singh. LOL, you can't fool me all the time. I memorized the name of Indian PM last month.
* New PM, New CM in various states, Tough days for Alia Bhatt, she has to remember a lot of new things.
* Poor Alia Bhatt will have to learn the name of Maharashtra's CM all over again and make him the new President of India.
*NaMo : "India has won!" Alia: "Aaj match tha?"
Total :- 543
BJP :- 331
Congress :- 66
Other:-146
Alia Bhatt:- omg, this "total" party has won More seats than BJP..! Shocking!
* Meanwhile Alia Bhatt is asking,"In how many overs has Modi won 281 runs?"
* Now that elections are over, Rahul Gandhi should marry Alia Bhatt. Their kids will be pretty as hell and dumb as F**K!