The actors were in the city to promote their upcoming film which will release on Diwali day.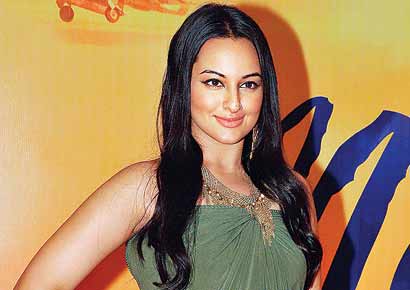 Lavishing praise on Bihar, actors Ajay Devgn and Sonakshi Sinha on Saturday said their films have been hits because of the love of the people of the state.
"Bihar is the land of Buddha, Mahavir and Guru Gobind Singh ... the overwhelming love of the people of the state has made a number of my past films hits," said Devgan who played the lead role in Prakash Jha's Gangajal and Apaharan.
Devgn and Sonakshi Sinha, were here to promote their latest film Son of Sardar slated for Diwali release.
Flanked by father Shatrughan Sinha, Sonakshi said, "Patna, the land of my father and grandfather has always been lucky for me.
"I had come to Patna before the release of Dabaang and it was a great hit on the box office. Now I have come on the eve of release of Son of Sardar and hope it will break records."
Shatrughan Sinha, a Lok Sabha member from Patna Saheb, thanked Chief Minister Nitish Kumar, Deputy Chief Minister Sushil Kumar Modi and RJD President Lalu Prasad for their good wishes for the film and their blessings for Sonakshi Sinha.
Director of the film Pankaj Dheer said Son of Sardaar was a family entertainer and would be liked by people of all age groups.