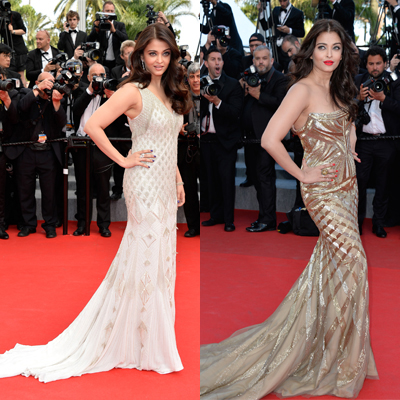 Aishwarya made a breathtaking appearance on the Cannes 2014 red carpet on Tuesday.
The Bollywood celeb made heads turn again the next day in a fish-tail gown by Roberto Cavalli.The 40-year old mommy posed like a pro and flaunted her white beaded number which had a diamond pattern, shimmery tassels and a plunging neckline.
She looked perfect in the ivory white Roberto Cavalli. In spite of her perfection, the similarity between the gown she wore previously this year at Cannes could not be ignored. They seemed identical with the fish-tail style and the hair swept back gracefully in both.
Roberto Cavalli's gold-embellished creation wasn't specially designed for Rai. American actress Kristen Chenoweth was written off for dressing up like an Oscar statuette and was named as the worst dressed celebrity at Oscars. The gown which was a disaster for Kristen Chenoweth turned out to work very well for Aishwarya who wears at least one golden outfit every year at Cannes.
After the birth of her daughter Aaradhya, the actress had gained weight for which she was extremely criticized. In 2013, post-pregnancy, when Rai attended the Cannes Film Festival with a puffed up look she shocked the crowd with a much slimmer look. But now, in 2014 she has managed to take the spectators breath away in the Roberto Cavalli's fishtail gown.