Rekha sacks domestic staff, and takes up their chores.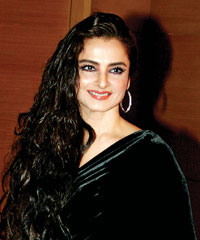 Everyone knows that guests are not allowed inside the reclusive Rekha's home.
Actors, directors or producers no can claim to have seen the interiors of Rekha's home. The latest on Rekha's lifestyle is that she has sacked the the skeletal crew of domestic help and has started doing all the cleaning and house work on herself! Says a star who has known Rekha for many years, "She has gotten rid of all the house helps. Not that she had too many to begin with. But now there's none at all. She finds dusting, cleaning, sweeping and all the other household work very therapeutic. She has taken over all the household chores personally. She goes through every nook and corner of her bungalow every day. Her home has to be spotless."
While cleaning and dusting may be therapeutic and good exercise for the hermetic diva, who hardly steps out of the house, we hear the absence of a cook in the household is now a major crisis-point in Rekha's daily life. Says the friend, "She doesn't like to cook.
Now that she has no cook to do the needful, meals have become a problem. She can't order takeout every day because she doesn't like restaurant food and also because she can't have strangers ringing her doorbell."
The actress is on the look-out for someone to make vegetarian food for her. "But there are serious trust issues. She doesn't allow strangers into the house.
From what we gather she is looking for vegetarian khaana to be made outside house and collected every day. Since the food has to be exactly by her specifications every day, it's a tall order," says her friend. Any takers?