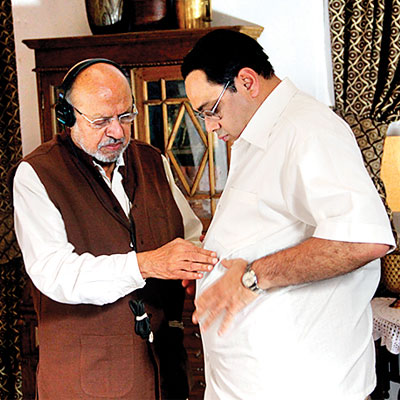 India's most prolific and celebrated auteurs Shyam Benegal is back on television with Samvidhaan – The Making of the Constitution of India, a 10-part mini-series. This comes after 25 years of his landmark series Bharat Ek Khoj.
Shyam Benegal says, "The making of India's Constitution is an incredible story of almost impossible dimensions. It is a story of perennial relevance. I am fortunate to have got the chance to narrate this story for television."
The series which goes on air from March 2 at 10am, every Sunday, on RajyaSabha TV (RSTV) took more than a-year-and-half of extensive research during which writing also commenced. Samvidhaan went on the floor in August 2013, with over 1,000 people directly involved in the production process.
Written by Shama Zaidi and Atul Tiwari its ensemble star cast includes Sachin Khedekar as Dr BR Ambedkar, Neeraj Kabi as Mahatma Gandhi, Dalip Tahil as Pt Jawaharlal Nehru, Utkarsh Majumdar as Sardar Patel, Rajendra Gupta as Dr Rajendra Prasad, Tom Alter as Maulana Abul Kalam Azad, Rajeshwari Sachdev as Rajkumari Amrit Kaur, Narendra Jha as Jinnah, Divya Dutta as Purnima Benerji and Ila Arun as Hansa Mehta, among the 150 plus actors in the series.
RSTV CEO Gurdeep Singh Sappal, smiles when asked if there were any interference or directives in the production of the series. "Almost all the parties found representation on the committee which decided on the creation of the series," he points out and adds, "Remember, RSTV is owned by the parliament and not the government."
While all the actors are praise for Benegal, one of the happiest among them is Swara Bhaskar, who plays the narrator in all the episodes. "When Atul (Tiwari) told me to go meet Benegal sir, I was so excited that I landed up at his house at midnight. Unlike all the senior actors, who have worked with him before this was my first assignment with him. This is a big learning curve both in terms of my craft and skills with language," Bhaskar says and laughs, "I've learnt so much chaste Urdu and Hindi that it's amazing."
Ila Arun too chortled about being the "auspicious coconut" in all Benegal projects since Mandi (1983). "He's an institution and there is so much to learn and grow when he's around. I'd be happy to even play a tree in his film, if he wants me to."
(See full Shyam Benegal interview tomorrow in dna of Sunday)