Aashka Goradia, who has been making news for all the wrong reasons ranging from her fights with Imam Siddique to her overtly friendly gestures with Sana Khan in the Bigg Boss house, is out. She was evicted from the house day before on Saturday.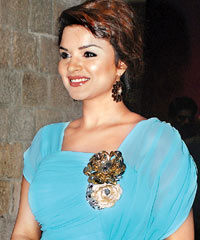 Though she is happy to be out, Aaskha is also upset with the feedback she has been getting. "I am disgusted with the way I was projected in the last three weeks because that's not the true story. I have been part of the TV fraternity for 12 years and never had any controversies. Sana is like a little sister. I kissed her cheek and showed some warmth but it was looked at with sexual connotations."
Tell her that her behaviour did not come across as above board and she insists it was pure friendship. "But who wants to see friendship," she questions.
About Imam, Aaskha says that she feels sorry for him. "He has a psychological disorder and needs help. He is extremely talented but wasting it," she says. The one person she does not want to meet ever again is Santosh Shukla who she refers to as the roadside Romeo. "I just tried to be friends with him and he tried to take undue advantage," she says.
Talking abour her boyfriend Rohit Bakshi, who did not send any message for her when she was inside the house, Aaskha clarifies that he was busy with the promotion of his debut film. "He came to receive me when I walked out of the house and is right beside me now," she smiles. Ask her if the talk about her sexuality will have any affect on her relationship and she says, "Rohit knows me for long, so there's no question of anything affecting my relationship."
Ask her about the incident where she did not recognise her mother's voice and she explains that she has never heard her mother speak shuddh Hindi. "She always spoke with a Gujarati accent and I was hearing her voice after 80 days, so I was a little confused," she clarifies.
Now that she is out of the house, Aaskha's prime concern is doing damage control. "Shows I will think about later," says Aaskha.