The reclusive Gauri Khan lets her guard down and talks about her new store and passion for the arts.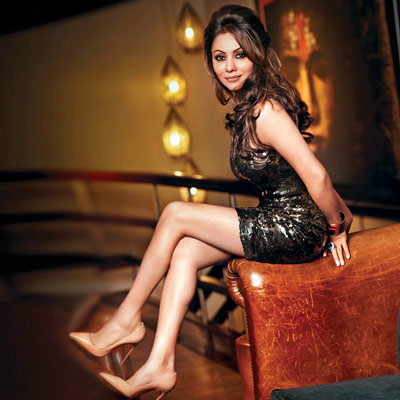 It's easy to call her Bollywood's first lady or Shah Rukh Khan's better half but the dynamic Gauri Khan has carved her own distinctive persona over the years. The talented interior designer is ready with her unique concept store aptly called The Design Cell located in Raghuvanshi Mills, which opens this Tuesday.
Morphing passion into profession
Gauri studied art in school and worked as a graphic artist for years. Later, she joined hands with friend Sussanne Roshan and worked on a few projects. "I was always into graphic art. I started with Sussanne's store. She thought I was creative and asked me to work with her and that's how I started. In fact, I'm still working with her on two-to-three projects. Eventually I thought of showcasing all my pieces at a studio.
The store also showcases some of Sussanne's pieces. Since December 1, 2013, I have been collecting beautiful pieces from different parts of the world. Within two months time I was ready with my collection so it was a quick process. My target audience ranges from middle to upper class. The range is affordable starting from `2,000 and going up to `20 lakh. Some of the pieces are inspired by different art forms and cultures. There are wall furnishings, paintings, floorings, sculptures and fabrics — all under one roof. It's more of a showcase for an apartment than a retail store," says she.
The Idea
"What I have imagined here and created, is a showcase of design and objects which have influenced me from all across the globe. The idea for this space was to create a play of multiple elements which don't necessarily synergise with each other, rather these elements play with each other, we have used and created a rough exposed brick wall, taken the roughness and the texture of it and juxtapose that with furniture and fabrics and curtains of the highest weave and quality that one can find," she shares adding that , "Design is evolving in every facet, similarly I have envisioned and created this space to evolve and grow continuously. This space is a gamut of various design elements and multiple finishes that have been carefully and artistically put together to provide you with a distinct and unique appeal at every turn and nook you glance at."
Personal style
"I am not at all into fashion right now. Today for me it's all about being basic and comfortable. I'm most comfortable in a t-shirt and a pair of denims. When I was younger I used to dress up but now I don't," she says.
Secret to throwing a great party
"On special occasions I like to call people but I don't entertain every weekend. Once in a while a party is a good thing but I've realised that I'm more of a home person than a party one," says the shy hostess.
Shah Rukh's response
"He is also very much into interiors. He encourages me to work. He wanted me to start something which was my passion and take it forward. On Valentine's eve I was working and I forgot that it was V Day. And then I saw flowers, gifts and a fancy new Merc outside my store. I think it was very sweet of Shah Rukh to do it," says she.
Other passions
Her envy-inducing art collection is like a cultural cornucopia. From contemporary artists to the Masters to 3D artworks — Gauri has collected pieces from every decade. Subodh Gupta is one of her fave artists. Besides arts and interiors, Gauri enjoys listening to music. "From ghazals to house music — I listen to everything."
A fun mother
One's keen to ask how she is as a mother. "I have three kids, what do you think? (laughs). I'm not strict at all. I let them do what they want to do. They are extremely talented and creative. I'm a very lenient mother. I think times have changed and this is a new age. We grew up in a very conservative environment. You need to let the kids be themselves. There are no rules and you need to follow your heart," she signs off.
Twinkle Khanna
In 2002, the talented Mrs Khanna started her very own interior design store The White Window in Bandra. She reached out to a new audience and a new audience discovered her. She made quite an impact with affordable décor. Her style can be interpreted as minimalist, effortless and unfussy. However, it's not fair to bracket her aesthetic in one or two domain. Not long ago Tina had launched a panoply of styles echoing Rococo, Baroque, Gothic, Antique, Vintage aesthetics. The White Window offers an interesting mix of home décor and cruise fashion pieces.
Sussanne Roshan
She calls herself a humble student in the world of conceptual design. She took a stroll through the deep dark woods and found inspiration which was then manifested into The Charcoal Project. It has a diverse array of décor products that range from French antique furniture and modern eclectic furniture to home accessories, dinnerware, table linen, crockery, soft furnishings, installations, artifacts, and limited edition photo-art and accent pieces. The store nestled in Andheri also showcases exclusive lines by renowned designers such as Abu Jani Sandeep Khosla and Andrew Martin, as well as a unique line of classic furniture designed by Sussanne herself.
Mana shetty
R House located in Worli, which was launched last year, offers interior solutions for discerning design enthusiasts. The store is set up with the aim to address the need for aesthetics, quality and value in home decor products. With regards to the product range on offer, well there is no overriding style ascribed to them. The pieces are thoughtfully chosen and handpicked each season by Mana to fit into her design philosophy. Even though Mana is not an interior designer, she does have an eye for details in such matters.