Indie filmmaker Lokesh is hoping that his still-to-be-completed My Son Is Gay, India's first crowd-funded LGBT film, will change societal attitudes towards homosexuality, Yogesh Pawar reports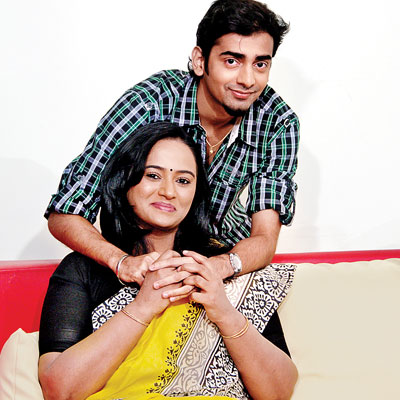 The initial response to India's first crowd-funded LGBT film, My Son Is Gay (MSIG), has been tremendous — and it is tempting to believe that the empathy for the community outreaches the homophobia around. Filmmaker Lokesh has his fingers crossed. "It's really great to see such a positive response from not only my friends and family members but also people from media and the film industry who are supporting this indie project," says the Chennai-based filmmaker about his under-production project.
With no connections in the film industry, it is only Lokesh's passion that has sustained his cinematic journey. "My passion took me to lot of film festivals, where I learned about world cinema. I was inspired to work on bold scripts on social issues." But that's easier said than done, especially in Chennai where mainstream formula rules the roost. "Festivals like the Chennai International Film Festival inspired me and gave me courage to do films on my own and send them to film festivals."
MSIG is about the relationship between a widowed mother and her son. When the boy realises he's gay, he opens up to his mother and the film is about how she struggles to come to terms with that fact, says Lokesh.
In fact, it all began with his short film, You are My Brother, Lokesh's first gay-themed film that got picked for film festivals across the world. "When I decided to make a full-length feature film on LGBT issues to help raise awareness among people and to get them out of their homophobic mindsets, I realised how tough it is to find funds for a project like this. I decided to keep it low-budget with the support of like-minded people."
First among them was Mumbai-based filmmaker/actor Nakshatra Bagwe, who has acted in several gay shorts online. The initial contact on Facebook saw the script being discussed and ideas exchanged on who it could be pitched to. "This is how we got Anil Saxena on board. He agreed to contribute to start this project," remembers Nakshatra. "Lokesh got hopeful but the casting was another obstacle to cross."
Lokesh did the rounds, meeting several well known names who clucked sympathetically but refused to be part of the project. "They would say, being part of a gay film, would damage their image." It looked like the casting had a hit a wall till they reached out to mainstream south Indian actress Anupama Kumar to play a cameo. "Considering our shoestring budget, I didn't have the courage to ask her to play a main role. But after listening to the script, she was so drawn to the subject that she was very sweet and supportive and agreed to play the full length role of the mother for free."
Kumar brushes off her magnanimity. "Both the subject and the sincerity and passion with which the team is working convinced me that I should be part of this project. Besides it is a very challenging role as the character goes through a really varied graph."
Her entry began swinging things around for MSIG. Not only did senior actress Jayshree come on board, Reena and Swetha of Shahnaz Husain Starlight Herbal Salon agreed to be the styling sponsor for the complete film. The team used whatever little funds they had at their disposal to begin shooting. Now that the film is 25 per cent complete, the team has put together a trailer online to raise further funding. "We are planning to pitch it at India's largest LGBTQ film festival Kashish (in Mumbai) between May 21-25 where many filmmakers and financiers sympathetic to the cause converge. It will help us pitch better and in a more focused manner."
Also joining the team was Rekha, a leading 'subtitlist' in the south, who has given subtitles for films like Endhiran. "I'm very proud to say that Rekha will be doing subtitles for this movie, without charge. It is personally one of the most special things for me about this film."
Everybody's now hoping fervently that the huge online support to the promos translates into big bucks. "MSIG is our way of showing that this could happen to anybody. This film is for everybody, not just members of the LGBT community," Lokesh says. Distribution is a concern too. "India is largely conservative and people prefer watching commercial cinema featuring big stars and entertaining songs; I know the real challenge of the film will be releasing it commercially," he smiles.
"I'll mainly focus on film festivals since through that I will be able to take the movie to different parts of the world. I want a global appeal to the film and I want everyone to understand what is happening in our country. In India, it is hard to find distributors as they would feel that people will oppose the subject."
He says he won't let a disappointing response get to him. "I always wanted to make films on a social cause and on a subject which can inspire people. The regular audiences may watch mainstream cinema, but every film has its own audience."
Lokesh is hoping that MSIG will change attitudes towards homosexuals. "People today are slowly opening up and supporting this issue. Hopefully after watching this movie, people will realise that homosexuals are normal people like everybody else."
Our fingers are crossed too.