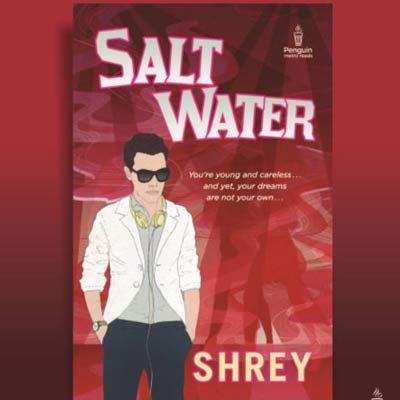 Joining the brigade of finding one's true calling by switching careers, 28-year-old Shreyas Rajagopal aka Shrey is another new-age writer, whose first book, 'Saltwater' is already listed among the bestsellers in city
Following the footsteps of Chetan Bhagat?
Mr Bhagat and I seem to have followed similar paths towards writing - both being products of the IIT/IIM system. Even writer Amish Tripathi is my senior from IIM-C.
I believe writing chooses you rather than the other way around. I have always written, it is my way to make sense of the world. The peeling away of the randomness to find underlying patterns. It took some timely encouragement and a leap of faith to believe this writing could lead to an actual book. I always wrote through my teenage years - it was my drug to deal with an awkward adolescence. Short stories, poetry and the like. Somewhere, of course, there was always a dream to write a novel but it seemed very far away.
How did the book happen?
I was finishing my MBA when a friend who was working at a publishing company contacted me. She had randomly shown a couple of my pieces to her editor who was really excited and wanted to sign me for a novel. It was quite surreal - nothing came out of that, but a part of me had realised that 'this is possible'. This dream didn't feel so far away. I worked for a few years post my MBA but this idea of a book was too compelling. I could not ignore it. It just had to get written.
How and when the realisation of your true calling happen?
I wanted to be an investment banker since the age of 12. I saw films like Wall Street and it filled within me this great romantic notion of wearing suits and working in finance. I was also a smart south Indian kid - this is what we did, what was expected of us, culturally. This specific version of the Indian dream beckoned strongly. Sometimes I think, in India, we grow up late. We don't critically think about our lives till a lot later. This again, is a cultural thing. I was 24, and I felt stuck in what most would call a pretty ideal job. The idea of 'Saltwater' was rattling in my head. I was young and wanted to explore life, have an adventure. Find my calling, as you put it.
What inspired you to write 'Saltwater' and does it have your own life experiences?
The characters in my story are real. I went to school with these guys. I went to college with them, partied with them. India is many worlds layered on top of one another, and I happened to be proximate to this world, with its aspirations built on American teen films and lust for a life that looks like a music video. I found it fascinating. We are going to see a lot more of this - our own MTV generation is just growing up. There is a massive sexual revolution underway that no one is talking about. We are entering a dark and shiny world.
On the whole, young people have the same problems they have always had - except now there is tremendous pressure to constantly project ideal versions of their lives. The culture today, is focused on the image - and with Facebook, Instagram and the like, this pressure is now relentless. I don't think there is any great crisis though, they will figure it out.
One experience that changed your outlook towards life
Backpacking in the Himalayas. The air is clear, people are awesome, the mountains themselves are humbling. All your issues look hollow. I'd recommend it to everyone - go climb something, it really sorts you out.
Current status and future prospects
I am single. I am only 28 and so there is some time left for marriage. I am working on my second novel for Penguin and collaborating with people on a Graphic Novel project.