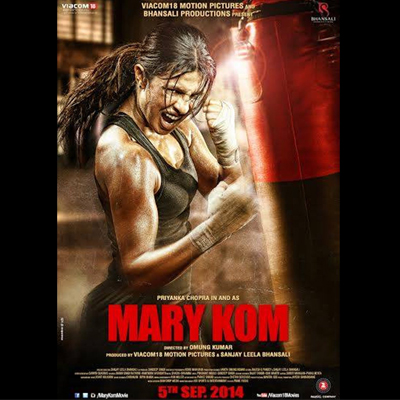 Actress Priyanka Chopra is gearing up for her next film where she plays a challenging role based on the inspirational life of Olympic medalist Mangte Chungneijang Mary Kom, better known as MC Mary Kom. The movie is slated to release on September 5.
1. Biopics, the flavour of the season
Bollywood seems to have really been taken in by biopics, with most being critically appreciated. While commercial films still do get Bollywood the much desired business, biopics in the past like 'Paan Singh Tomar' or 'Bhaag Milkha Bhaag' have pushed the envelope for gritty, yet commercially viable films.
2. Rise of the woman protagonist
While we have many Bollywood biopics based on male protagonists, director Omung Kumar's definitive move in portraying a woman athlete's life on celluloid has garnered him much praise. The film is a bold testament to the struggles that a woman faces in an otherwise male-dominated society, fighting to chart her own course.
3. Priyanka's return to an author-backed role
PC always surprises with the different roles she picks in her films. After much praise for her performance in Fashion, the actress proved her acting skills in Barfi. But a few bad career choices and some lacklustre characters in between (read Zanjeer) somehow left us with bad taste. The audience expects a lot from an actress of her caliber and hopefully she will deliver in her upcoming film.
4. Celebrating our sports stars
Mary Kom is the only Indian woman boxer to have won a medal in six world championships. She was the only Indian female boxer to be included in the 2012 Summer Olympics after qualifying for the 2012 AIBA world Women's Boxing Championship and won a bronze medal. A story of courage and determination, Mary Kom has valiantly battled through all odds in search of the identity she always wanted for herself. A story that starts out as an aspiration of one woman ends up being an inspiration for many, a story that has all the makings of translating into magic on the silver screen as well.
5. Trailer buzz
Right from the first look to the trailer, Mary Kom has generated a lot of interest. Despite the controversy surrounding the choice of casting Priyanka instead of a Manipuri actress to play the lead role, judging by the few scenes in the trailer, Priyanka packs in quite a punch and the one second where we glimpse her sporting the bald look is intriguing.