On the eve of her 25th death anniversary, Yogesh Pawar pays tribute to Smita Patil, who left behind a powerful body of work in a brief acting career that was tragically cut short by untimely death.
Asa ekhada pakharoo velhaal
Jyala samora jatoya aabhaal
(There arrives, rarely, a bird so enchanting, so unique
That all of Nature bows in welcome)
--- a song from Smita Patil's National Award-winning Jait re Jait (1977)
Twenty-five years after her untimely death, which cut short her illustrious career just when it was peaking, the world of cinema is still to recover from the loss of Smita Patil.
"How does one ever reconcile to a loss of such colossal talent?" asks Shyam Benegal, who is dismissive of others who are said to have taken on her mantle. "Forget comparisons, I wonder whether there are many who have come close to producing even a fraction of the kind of work she has left behind," says the auteur who directed Smita in her first outing as an actress in Charandas Chor (1975).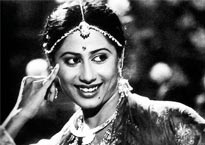 "I first saw Smita on TV as a Doordarshan anchor. What caught me was her distinctly Indian looks. A friend of mine knew her sister and we met. The first thing she said was, "I don't want to act, so don't offer me any role." I offered her one regardless, which she declined. It was her mother who persuaded her to accept," he points out and adds, smiling, "Imagine though she'd done a Nishant, till she won the National Award for her role in Bhumika (1977), she didn't want an acting career."
He chortles at how he had to go see the principal of St Xavier's College since Smita had to appear for her BA finals. "Since Charandas Chor and Nishant got made back to back around March 1975, I asked Smita if she could give her exams in October. Once her family was okay with the idea, she came around but her principal was giving her grief," he remembers and adds, "It took some convincing and he finally reluctantly relented. Just because of his misgivings, when the film was ready, I ensured he was sent an invite to the preview."
But her elder sister Anita Patil, who would call her Smi, points out how fame had come calling earlier too. "She was a great mimic and had a passion for theatre. Once my medical school classmate, Deepak Kirpekar, showed her photographs to his Doordarshan anchor wife Jyotsna, and the then head of DD called her for an interview," she recounts, laughing.
"Manoj Kumar had approached my father with a role for Smi in Roti Kapda Aur Makan (1974). Dev Anand, too, offered her a role in Hare Rama Hare Krishna (1971). Neither Smi nor my family was interested. My mother said, finish your education first."
Deeply influenced by Gandhi and the freedom movement, Smita's father Shivajirao Patil was jailed twice, the second time for life. He served seven years before being freed in Independent India. The atheist, Nehruvian, socialist atmosphere at home meant long debates and discussions on poverty, social justice and equity. "This contributed largely to the roles she chose, her support for small filmmakers, and later, the difficulties she faced in mainstream Bollywood, where hierarchies and networking are more important than talent."
The Patils saw Benegal as a Socialist who was committed to social justice and fighting gender inquality. "He got along really well with our father. Shyam's film unit was informal and fun. This encour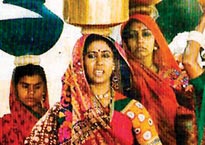 aged Smi to accept his offer. He became and remained her mentor till the very end," remembers Anita.
Her co-star and friend Amol Palekar also agrees that Benegal's mentoring made a big difference. "She was all of 21 when she did Bhumika - a character who moves from being a teenager in pigtails to a middle-aged mother of a teenaged daughter," he remembers, and adds, "We knew each other from my theatre rehearsals where she would often quibble over the way a character was interpreted. After movies like Rajni Gandha (1974), Chhoti Si Baat (1975), and Chitchor (1976) where I played the middle-class hero it was a big challenge to play a villain in Bhumika for me too."
Audiences hungry for something 'different' from Bollywood's regular dole of potboilers were smitten by her earthy looks and powerful histrionics. Along with peers like Shabana Azmi, Naseeruddin Shah and Om Puri, she became one of the biggest stars of the new wave of cinema that was exploring fresh territory then. Her fiery work in Manthan (1976), Bhumika (1977), Albert Pinto Ko Gussa Kyon Aata Hai? (1980), Aakrosh (1980) and Chakra (1981) saw renowned American critic Elliott Stein say: "At 25, Smita is clearly the queen of Indian parallel cinema, as much an icon for film-makers of the milieu as was Anna Karenina for young directors in France at the outset of their New Wave. Patil is not a classic beauty but she glows. She never makes a false move on screen."
Unlike her contemporaries, Smita hadn't formally trained in her craft. Her intensity on screen was instinctive. Her co-star, Sreenivasan, who played her farm labourer husband Muniyandi in the 1985 Malayalam classic Chidambaram feels this was the key to her brilliance. "Director G Aravindan would ask her not to rehearse. It was funny because the perfectionist in her would want to do exactly that." Though he's not personally fond of her mainstream Bollywood outings, he admits, "Even with those unreal characters, Smita ensured she did justice."
Leading theatre and film director Jabbar Patel also agrees that she would get into the skin of any character she played. "We were staying at Thakarwadi near Khanapur, in interior Raigad while shooting for Jait Re Jait. She would not only eat and sleep with the villagers but go with the local women to bathe at the mountain brook and play with the children unmindful of some units hands warnings that they had scabies. 'So what it is not life-threatening or untreatable,' she would tease them," he recounts and adds, "This ability of hers to touch everyone around as a human being was really special."
This is something that 'rival' and contemporary Shabana Azmi also confirms. "She managed to do so much in just a 11-year career. Which is why 25 years after her death, she is still revered and respected," says Azmi, who admits to competition but banishes talk of rivalry as "media-hype." She explains, "We both came from politically aware families and had a grounded, seeped-in-values upbringing. This ensured our world concerns were identical." Azmi recounts an incident. "Smita was shooting for Bazaar (1982) in which my mother Shaukat Azmi was also acting. Since there was no spare room for her, the moment Smita saw her arriving for the shoot on the first day, she quickly cleared her things and offered her room to my mother. That was the kind of grace she was capable of."
"How I could enjoy such a close rapport with Smita's sisters, mother and son if there was any acrimony?" asks Azmi. "For all practical purposes, we were hyphenated for life. For audiences, either of us could've been Smita Azmi or Shabana Patil."
Benegal too thinks that the media cooked up the rivalry. "Actors have their own trajectories. They both went their way. It is sad that Smita had a relatively shorter 11-year run but look at what she did with it. Even in the projects where many felt she was miscast, you will rarely find Smita wanting when it came to her craft. I'm sure if she was around she would have continued to dazzle."
The only Asian cine-star with the unique honour of a Retrospective in Paris (2010) and a celebration by the French cinematheque at the La Rochelle festival( 1984), a two-time best actress award winner at the National Film Festival (for Bhumika in 1978 and Chakra in 1982) and a Padma Shree (1985) were among the many accolades Smita had picked up. "But all those awards and accolades were secondary to her her instincts of nurture," remembers Anita Patil. "As a busy neonatologist in the US, I was concerned how much time I would give my first-born Adeetya. Within four weeks of his birth my mother and Smi, who had come for the delivery, brought him back to Mumbai. She would change nappies, feed him, sing and coo to him even on the film sets she carried him to," she recalls adding, "I remember when Adeetya flew down after she passed away. He was nine. He just walked into her room and sat down on a stool looking at her bed. Just the memory of his eyes searching for his Mitama ( his name for Smita) ties me up in knots within." Her voice trails off as she says, "Which is why it feels cruel that she had to go away leaving her 14-day old son (Prateik) behind."
p_yogesh@dnaindia.net