Lily Collins, star of Mortal Instruments: City of Bones which just released has officially knocked off Harry Potter star Emma Watson off McAfee's most dangerous celebrities to search for online. Internet security giant McAfee started compiling a list of the most dangerous celebrities to search for on the Internet in 2007.
The team that compiles this list, researches pop culture icons such as actors, musicians, comedians and celebrity personalities to figure out which celebrity would be the most dangerous to search for online. The trend seems to indicate that women are more dangerous than men and musicians also rank higher on this list. Jon Hamm is the only male to make it to the top 10 this year.
Cyber criminals and hackers take advantage of large scale events like award ceremonies, new movie an TV show releases, new album launches etc. What these hackers do is set up fake sites filled with malware. So when people search for popular celebrities they get redirected to these sites and the malware allows hackers to easily gain access to their passwords and personal information.
This year, searching for a celebrity name coupled with the search terms "free app download" and "nude pictures" resulted in the highest instances of malware-laden sites
"Today's consumers often are completely unaware of security risks when searching for celebrity and entertainment news, images and videos online, sacrificing safety for immediacy," said Paula Greve, director of web security research at McAfee. 'Cyber criminals prey on consumers' addiction to breaking news and leverage this behaviour to lead them to unsafe sites that can severely infect their computers and devices and steal personal data."
Lily Collins Searches Yield a Nearly One-in-Seven Chance of Landing on a Malicious Site.
Fans searching for "Lily Collins and free downloads," "Lily Collins and nude pictures," "Lily Collins and fakes," and "Lily Collins and free app downloads" are at the highest risk of running into online programmes that could hack their personal information. The downloading of pictures or videos further adds to the risk, as it leaves the entire computer open to attack from foreign programmes.
The study uses McAfee Site Advisor site ratings, which indicates which sites are risky to search when attached to celebrity names on the Web and calculate an overall risk percentage. The top 10 celebrities from this year's study with the highest percentages of risk are: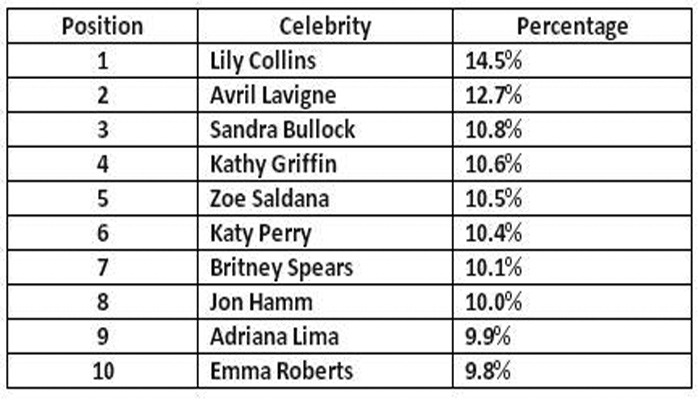 Cameron Diaz, Piers Morgan, Scarlett Johansson, Jessica Biel, Anna Paquin, Mila Kunis, Heidi Klum, Emma Stone, Meagan Fox, Halle Berry and Selena Gomez have all featured on past lists, with Brad Pitt being a mainstay on the list for four years straight.