American professional wrestler Kurt Angle tells Wriddhaayan Bhattacharyya why Pro Wrestling is not fake and about the tough guys – The Undertaker and Triple H.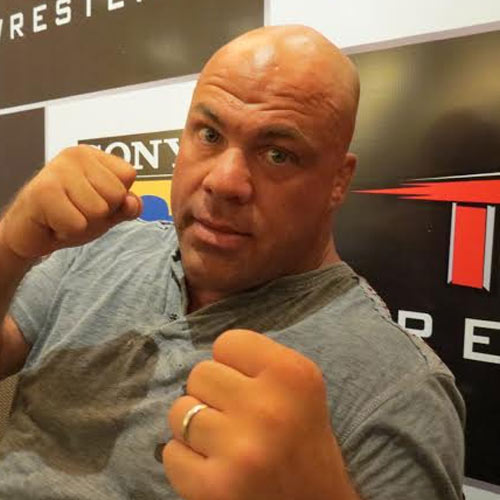 Many people say wrestling is fake, scripted. What do you have to say to that?
If you are a good, successful wrestler, you know you cannot script it. Rather, it is pre-determined. We both know who the winners are going to be. But if you call it fake, it is a slap on the face of a Pro Wrestler, specially if you say that to someone who has been an Olympic gold medalist. It is one of the brutal form of athletics I have done. I was an all American football player, Olympic champion but Pro Wrestling is the toughest I ever done.
Why is it pre-determined?
First and foremost it is about safety. It is dangerous. In that ring, we wrestle on wood like this (points to the table in front). Imagine getting slammed on that. So, we have to learn how to avoid being injured when getting slammed. You can call it moves or stunts. Wrestlers are basically like Hollywood stuntmen who tells a story with their moves.
How much toll does it take on your health?
I am 45 today. And I have had more injuries in my 12 years of Pro Wrestling. I broke my neck four times, broke my arms, legs. Nothing has been tougher. When people call it fake, I find it insulting. I know how hard it is. I know what my body went through and I also know when I will be 60, I will probably be on a wheelchair.
You had beaten The Rock early in your career. How difficult was it?
The Rock is one of the most athletic wrestlers I have ever wrestled with. I was barely 10 months old when I beat him. I had the honour to wrestle with him quite a few times. Even Triple H, Stone Cold Steve Austin, The Undertaker.
Who was the toughest among them?
Triple H and The Undertaker. They were physically strong. And not just in the ring, they were tough guys outside too. Even if you would meet them outside in the street, you would be afraid.
Why did you drift apart from your Olympic career?
I wanted to do something in the entertainment industry – be an entertainer and as well as use my athleticism.
On Steve Austin..
Steven and I had a great chemistry. We both did each other wrong many times. Ultimately, I would say he was one of the best I have seen in my life. He was better than anybody in the ring. Not just his character, but his ability to talk on the microphone with that attitude – he was a complete wrestler.
What was the most dangerous thing you experienced?
Myself, Triple H and The Rock were wrestling once. In the beginning of the match, Triple H put me through a table. My head had hit the concrete. I finished the match and I don't remember anything after that. After four hours, I found myself in the hospital.
You are about to meet Indian wrestler, Sushil Kumar, did you see him in London Olympics?
I have not seen much of him but I know that he is a tough guy. Looking forward to meet him.
Do you think India can participate in Pro Wrestling?
Why not? In fact, it would be great if we could recruit some people. Their enthusiasm will take them places.
How did acting happen?
I always wanted to be an actor from the time I was a kid. But I didn't pursue it before because during my time, if you are an actor, you gotto be beaten up by the baddies. I didn't like the fact of someone else beating me up. I wanted to be the tough guy, a good athlete.
What hurts the most, Ankle Lock or Angle Slam?
Ankle Lock. I am very nasty with it.
Who, according to you, are the greatest ever Pro Wrestlers?
Shawn Michaels, Triple H, AJ Styles