When three women come together there is bound to be a lot of gupshup, masti and mazak. That's what happened when Rani Mukerji, Kareena Kapoor and Reema Kagti spent an evening at DNA.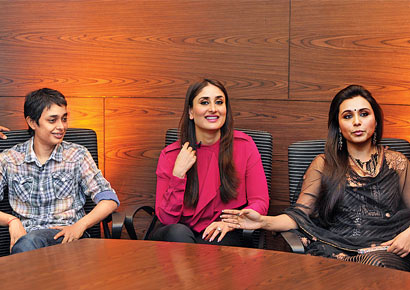 Both Rani Mukerji and Kareena Kapoor have had a string of meaty roles to their credit. And they have teamed up with a woman director for their upcoming film. The three ladies were in the DNA office for an evening of talking films, women in cinema and more...

There's a common perception that two actresses don't get along, how was it for you two?
Kareena: I think if the two actresses are secure about their talent, there is no room for insecurity. Besides, Rani and I have one thing in common — we respect each other tremendously as actors. We did Mujhse Dosti Karoge 10 years ago. The way we meet, talk — though we may not talk everyday — there is the same amount of warmth. It has never been a formality between the two of us.
Rani: Kareena is one co-star of mine who I have known since Mujhse Dosti... and that was a very different time for both of us. We bonded at some level and it brought us really close to each other. I think that is the time we will never forget in our lives, because there are only some people and some moments that stay with you forever. My interaction with Bebo that time has stayed with me till today. Though we have not had the opportunity to work with each other in films for the last 10 years — we were a part of Yuva but we had no scene together. Also, in Talaash, we are in the same film but we don't share screen space. When I meet Bebo socially or when we bump into each other, it is the same warmth and the same love. We do talk on the phone occasionally. We have tried to keep in touch and be there for each other, but we are not like the best of friends. There is a genuine love and respect that we have for each other, which I think will remain forever because it is not a frivolous kind of a feeling.
Did you have any qualms about going de-glam for your role?
Rani: Not at all. For me, it is very important to be true to my character and whatever the character demands. It is something I've always wanted to do. It is always challenging for me to come up with something different for my fans each time. And physically, if I am looking so different from my last film, it just gives them a chance to see me in a new light. If they don't get bored of seeing me, I don't get bored of seeing myself also. It's always about trying to do something drastically different from my last performance while remaining true to the character.
Being a wife adds certain facets to your life, primarily more responsibility. How do you think it affects your career in terms of the choices you make and the number of films you do?
Kareena: I think being a wife is not the only responsibility, being a daughter is a responsibility too. I think these are just tags and names. I am a woman first, and I know how to prioritise my life. Even earlier, I was in a relationship and I was working. I need to do things as I have always done in the last decade.

What were the fun times and the joyful moments you shared on the sets?
Kareena: We were not together on the sets. We did not have a scene together which was unfortunate.
Rani: It would have been lovely to have a scene together. In terms of fun, we met during the video, and we shot for a music video for an hour. That was quite fun —Aamir, Kareena and me, we were all there and it was really nice. Kareena was doing what she does best.
How did it feel being directed by a woman?
Rani: I would not like to term her as a woman director because I know she wouldn't like it. Also, I would like to believe that directors don't have a gender. You can only be a good or a bad director. I think the difference arises when there is a female writer and a male writer. I think that is where the nuances come in. But in terms of directors, they direct the script which is already there.
What is the good thing about her as a director...
(Rani): The good thing about her is that she has total control on the sets, total command over the script. She knows perfectly well how the actors need to pitch their performances. At times, we actors need help from our directors to know if we are pitching our performances correctly, and whether we need to give one more shot to better ourselves. Not just the actors, she is in full command of what she wants out of the technicians as well. So, in that sense, yes, she was a great director.
In real life, what is your talaash right now? What are you looking for?
Rani: In real life I am always looking for a good role because as an actor I am always challenged and when a filmmaker comes to me with a part that excites me it's great. So I'm always in talaash of a good role.
How was teaming up with Aamir different from any other film?
Kareena: I think it's always a pleasure working with Aamir. I have been a huge fan, and he's given me one of the most iconic films in my career, 3 Idiots. And Talaash is a very special film. So, I am very eager to see the audience's reaction.
Rani: There were films like Madhumati, Woh Kaun Thi, etc. thrillers and suspense dramas. There was a time when those kind of films were being made and people used to enjoy that. Over time, I think that suspense was taken over by masala drama films. But Talaash comes at a time when the entire focus is on the story, a plot. There are no gimmicks. No lavish songs or huge action stunts. It is all about the story. It's one-of-a-kind where three actors are a part of a project only because they want to be a part of the story, and because of the script.
How was it directing two actresses who are perceived to be strong-willed?
Reema: When you work together for long periods of time, you discover that people have several sides to them. For instance, while both Rani and Kareena are thorough professionals, they are quite fun to be around when the cameras stop rolling. Rani is very naughty and a big prankster on the sets and Kareena has a fun side too.
What is the one thing you were keen about doing in the film but did not get a chance to do?
Reema: I love item songs and would have loved to picturise one on Kareena because her character lends itself to it. But there was no scope for it in this movie. The main song in the film is picturised over the credits.
— Transcribed by Shreya Badola