Armaan Jain on the importance of eco-Ganesha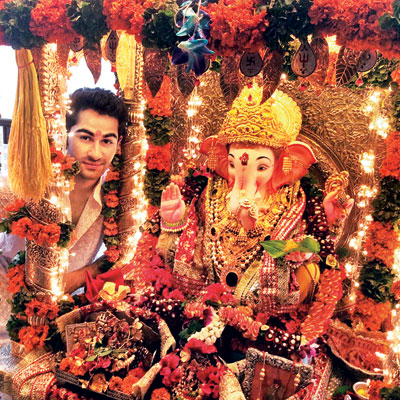 My parents have been bringing home Ganesha for the past 27 years. As a family we are very enthusiastic when it comes to celebrating festivals, more so during Ganpati. People say 'mehmaan bhagwan jaise hote hain' but when you have bhagwan as your mehman at home there is no purer feeling. We forward to these 10 days in the year.
There is an unexplained energy that Ganesha brings to our home and we believe it's the shraddha that comes from all the visitors who come to seek his blessings. My earliest memories are playing the dhol with my brother when we took Ganpati for visarjan and then dancing with the bandwallahs as we grew older which carries on till date. The food has always been of a mixed variety. There is pakka vegetarian bhog khaana made on the first and last day of the festival and on other days are there many variations. My favourite is suji ka halwa. Morning and evening aartis are always at our home and we try spending as much time with the guests who come year after year to seek his blessings.
We are all used to bringing traditional PoP Ganpatis home. Given the environment hazard this poses, we should move to eco-friendly Ganeshas and protect our environment. It is extremely important to preserve our environment for our future generations and the best way to communicate these hazards is to take corrective measures. We should impress upon our older generations to move from traditional methods to eco-friendly ways. I have heard DNA has been celebrating eco-Ganesha for the last five years. It's a great initiative! Keep it up!
—As told to Upala KBR