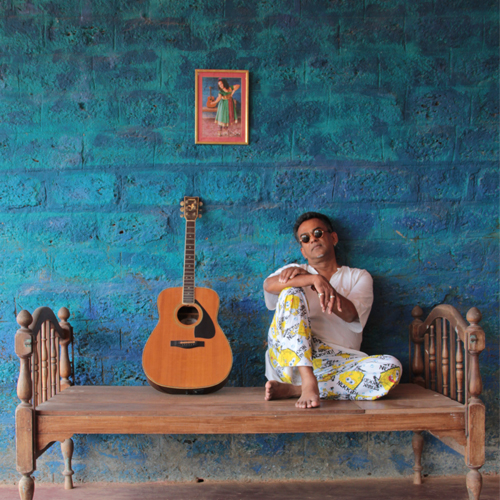 Anyone born in the 80s would agree that it was decade of pop and rock culture in India. And Goa-born Remo Fernandes made waves with his strings and percussion. His feet-tapping tunes have won him many awards, including one of the country's highest civilian honour, the Padmashree. And while his contemporaries have lost into the oblivion, Remo is writing songs against corruption, working for tracks in films – latest being Jackpot -- and ready to make a Bollywood debut in Anurag Kashyaps Bombay Velvet. Excerpts from an interview...
I have grown up listening to your songs... Your's, Alisha Chinoy, Sunita Rao... While others are not that active, you have you managed to stay in limelight. How?
Thank you! I can't really say how, but I guess it's because I'm not only a vocalist, so I don't need to wait for someone to give me songs to sing. I write my own lyrics and music, record and mix my songs by playing all the instruments and singing all the voices in my own studio, and perform them live on stage with my own band. Besides, today the net is a powerful diffusion medium, so I don't even need to wait for a recording contract. But mainly, it's because I don't see music as a career choice to be changed as per the whims of success or failure. Music is part of me, it's who I am, it's in my DNA, and I would still make music without an audience. Like a bird in a forest would still sing without anyone listening.
What makes you different from your contemporaries?
Again, that's for my listeners to decide. But I'd say it's the fact that I only make music I fully believe in, not as per the diktats of commerce and fads. I love swimming against the tide, and I guess that's what made me produce two Goa groove songs this year, when they weren't particularly in fashion. That's also what makes me write songs with strong socio-political messages, even though the present youth doesn't seem too concerned with what's happening in the country, as long as they can party and acquire the latest threads and gadgets and post them on Facebook. I mean, they wore Anna caps for all of a week, and now he's passé, as far as they're concerned. If the Mahatma had today's youth to depend upon, India would still be British. Which, some would argue, wouldn't be such a bad thing.
Put some light on the pop culture songs in India, especially the decade of 80s and 90s...
The main thing is that there was a mainstream pop and rock culture in India in those years, which is dead today. And what's more, each artiste had his/her own distinctive style and sound, which is as it should be. Very soon, though, Bollywood noticed this new sound, and swallowed up most of these artistes, who readily gave themselves up full time to celluloid. I do the odd Bollywood song, but continue making my own albums, even when there is no more pop/rock scene in India.
You are coming in movies now as an actor? How's the experience different?
Totally different! And yet it's basically the same: it's about going on stage, or in front of the camera, and being yourself - either as a musician, or as a character in the film. How would you be if you were, say, a mafia don, with all that it comprises in terms of background, character, thought process, body language, dress? If you can find that out from deep within your psyche, the rest flows naturally.
Will we see you more in movies?
I do hope so! I'm about to sign a new one, again as an actor, though this time with a much longer and more important role. The shooting starts in December. Besides that, 2013 saw me direct, compose, produce and sing songs in three films: David, Luv U Soniyo, and Kaizad Gustad's Jackpot, releasing on December 13.
Tell us about your new projects? Any album in offing?
Oh yes, I'm finally recording the songs I've meant to for a long time! I've just finished re-recording my very first album with today's technology, though I've kept the music exactly the same. It's called "Goan Crazy", and it speaks about the changes which started taking place in Goa exactly 30 years ago. Now I'm about to start recording songs I've never recorded before: those I wrote while in school and in college. It's a journey into my past, like a psychiatric session where I revisit my youth and whole life.
How is the music scene in India changing now? Is it for good or worse?
There is some great stuff happening, but I'm afraid most of it is mass produced and made to sound impressive with readymade digital drum grooves and dramatic sounds. And the people in charge don't seem to know the difference between such songs and truly inspired ones. So they keep releasing a plethora of instantly forgettable 'hits'. But the few that are good are superb, and will last forever.
How different music is now than when you started as a composer-singer?
Music is music, and it is always the same. There are different genres around now which weren't there yesterday, and there will be yet other genres tomorrow. But basically a good song always needs three strong legs to stand solidly upon, like a tripod: melody, lyrics, and rhythm. If one of these legs is weak, the song falls flat on its face.
What do you do when not doing music?
I have several passions: writing, drawing, reading [I love honest autobiographies, biographies, and great novels], video direction & editing, working on Photoshop, watching good movies, travel. I'm also into meditation, a bit of yoga, and vegetarianism. I love delving into history, different cultures, and the cosmos. Last night I watched a documentary called "Journey to the Edge of the Universe". It made me see what I normally visualise I'm part of, especially when I'm meditating - that is, the physical infinity of space and creation.