Nawazuddin believes his looks or personality do not fit the image of a quintessential Bollywood hero, but he boasts of how easily he becomes one in a crowd.
The irony is inescapable. The man waving out, pretty girlfriend in tow on the poster overhead, is the same man trying to hail a taxi without being identified.
Nawazuddin Siddiqui, in his own words and very appropriately, describes himself as a "kaala kaluta", who cannot boast of a physique, looks or personality that fit the image of a quintessential Bollywood hero. He rather boasts of how easily he becomes one in a crowd. As posters of Gangs of Wasseypur II flood Mumbai's skyline, the real Nawaz is unbelievably distinct from the reel gun-toting, pot-smoking, Faizal Khan; expletive-spewing, bad-tempered Inspector Khan (Kahaani) and even the gritty journalist from Peepli [Live].
After chasing Nawaz for almost a month, we nearly fixed a date for an interaction. I got a taste of his genuinely warm real persona after we couldn't do an interview because of an unseen personal tragedy. "Its ok…just take care..hope everything vill b fine…(sic)" was a text message that confirmed this man had more humility than most of our stars known for ill tempers and tantrums that put unruly children to shame.
A week later, we finally settle for a chat in a running cab as the busy actor has other commitments.
Here is the full interview:
Posters of Gangs of Wasseypur II have flooded the city. Don't people recognise you on the streets?
My personality is so ordinary that I become one in a crowd very easily. I don't fit the conventional image of a Bollywood hero, no well-built physique or a pretty face. I'm a thin-framed, kaala kaluta. It's an advantage as I can roam about freely. By the time people notice, I'm gone!
From a village in UP to Bollywood. What's your story?
I belong to a family of farmers. We are based in this village called B-U-D-H-A-N-A, in district Muzaffarnagar of Uttar Pradesh. There wasn't much scope for education there. But somehow my siblings (7 brothers and 2 sisters) and I managed to study. In my village only three things work: gehu (wheat), ganna (sugarcane) aur gun. The fear this gun culture instilled made us move out from our village.
It was much later that I started taking interest in theatre. After completing my studies, I took up jobs like that of a chief chemist in Baroda. Then I joined a theatre group in Delhi. Since there is no money in theatre I had to take up a job as a watchman. All these things happened simultaneously. Then I enrolled myself in the National School of Drama (NSD), passing out in 1996. I worked in Delhi for four years before finally moving to Mumbai in 2000.
How did Mumbai treat you?
Delhi had drained me financially. In the beginning I felt it would be easy to get work here. But that didn't happen. For 4-5 years I did a lot of small ro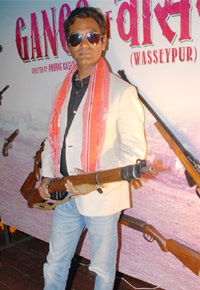 les, crowd scenes. Around this time cinema was taking a turn for the better. Directors like Anurag Kashyap were making films like Black Friday. Slowly I started getting work. In the past 3-4 years I've done some 9 films which have me in important, central characters.
Do your folks watch your films? Do they support your choice of profession?
My parents live in the village where there are no theatres. Films are screened in the district, Muzaffarnagar, which is 40km from the village. They have to travel the distance to watch me. There's nobody to question who's doing what. As long as I am doing some work and doing it well, they have no problem.
Now that you're popular here, how do your friends and relatives react when you go home?
It's a sense of satisfaction because I proved all of them wrong. All of them said 'kya hero banega (how will he become a hero)' when I set out. When I go back now they say 'isne toh karke dikhaya (he has done it)'. I made it possible.
Do you parents still do farming?
Yes, very much.
Have you never asked them to come stay with you here?
I did. They even came here. But they are so used to open spaces in the village; they feel suffocated in the city (laughs). All their friends and relatives are there, so that's where their heart is…
During your struggling days, did you never think of giving up and going back to Budhana?
So many times I felt I was wasting my time because things were just not working out. But I couldn't even go back. What would I do there? Spent all my life acting and I don't know any other work. Also, I was afraid my friends would tease me. Arrey hero banne gaya tha, wapas laut aaya (He had gone to become an actor and has returned with nothing).
You said the gun culture is prevalent in your village… did you have any personal encounters? Did anyone ever ask you to join a gang?
More than gang wars, honour killings happen on a large scale there. It is a lawless land where the police also don't interfere. I have seen it at close quarters. In fact, the last time I went home there were seven murders in 6 days. These things are very common and nobody does anything about it, even the police are helpless. There's no government involvement, no law and order.
Having seen this so closely, did it help you prepare for Gangs of Wasseypur?
To some extent. I know it happens because I have witnessed it firsthand. There were so many critics who said GOW was too violent and doubted if such things even happen. If you travel in the interiors of UP, Bihar, you will see that these things are very common.
So Anurag Kashyap's research is bang on. Did you give any inputs while shooting for GOW?
Not really. The screenplay, written by Anurag, was already well-researched. There's also a lot of improvisation when working with him. We are actors; all we can do is feeling the character. We suggest what can be done as an actor, but at the script level there is no exchange of ideas. Anurag writes scenes sans dialogue. He just tells you on the spot what to say. Many scenes have dialogue, many don't, a lot of improvisation happens on set.
Do all directors work the same way?
No. They all have their style of doing things. When you're working with Anurag, he makes an attempt to know you personally, observe you. What he makes you do for the camera is what is your contribution. He doesn't push his actors. He's not strict. As an actor you understand your part and do it your way.
What about his vision about that particular character? What if an actor doesn't give a performance as desired by Anurag when writing the script?
That never happens. Firstly, he chooses his actors wisely. He casts only the perfect fit.
How has life changed since GOW I received so much critical acclaim?
As you saw, in the past 20 minutes I have received at least 8 calls. People have been calling, texting to praise my work. It feels nice.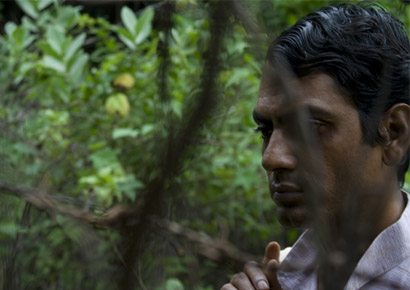 Isn't the sudden attention daunting?
It's not so much because I know they're talking about my work. All these calls and everything does get a bit intrusive especially when I'm in the middle of a shoot. It starts affecting you as an actor. I don't want that my concentration wavers. Nothing should interfere in your acting. I guess these are things that come as a package and you have to bear it.
Do you handle your own interviews? What about a manager or a PR representative? With GOW II releasing soon, shouldn't you start getting used to attention?
For now, I handle my own interviews and dates. So far it hasn't been necessary. I don't know how PR is done. I find this self-promotion that actors do very weird. Khud ki tareef khud hi karte hai, zara ajeeb lagta hai. I don't even have a Twitter account. Some time ago someone opened a Facebook account for me which I don't open. I believe you should do good work and forget everything else. What people have to say let them say.
I noticed that you play Muslim characters more than you do others. Inspector Khan in Kahaani, Faizal Khan in GOW, Asghar Mukadam in Black Friday…
That's not entirely true. In Peepli[ Live] I was journalist Rakesh, in Dekh Indian Circus I'm Jethu. True in my last two films I've played Muslim characters. Inspector A Khan and Faizal Khan are two very different characters. I'm not like formula film actors, who no matter what the name/character will have the same performance, same body language.
Does it bother you that these formula film actors make so many films and mint so much money?
Even my films do well. Take Kahaani or GOW. I may be doing small roles, like in Dev D where I was only in one song (Emosanal Atyachaar), then Peepli [Live] which was produced by Aamir Khan, New York, Paan Singh Tomar were all hits.
Are you open to doing a formula film?
Yes, but it should have some meaning. I'm not up for dancing around trees or on streets senselessly. I'm okay playing a dancer or a rockstar but it should be a character-driven role. I'm not up for illogical stuff.
What was your experience of shooting with Aamir Khan in Talaash?
It is a suspense thriller in which I play a very important role. But I can't talk much about it. As for working with Aamir, he has no airs about him. He's one superstar who makes a Lagaan, a Peepli [Live], a Taare Zameen Par and also a Delhi Belly. In my eyes he's an actor because he works hard and puts money behind all kinds of cinema. The way Aamir respects you is out of the way. I was just overwhelmed.
What reactions do you get from other Bollywood stars?
People pay more attention now. Sometimes it gets too much. As a man who has lived a nondescript life for over 8 years in the industry suddenly being showered with attention, is not something I am used to.
Do good actors lose out to stars in Bollywood?
There's no hard and fast rule that good actors come only from interiors. There are some good actors even in our film fraternity. A good actor will be noticed no matter what. My problem is that just because somebody comes from a film family he gets paid in crores. He may be a good actor but that is unfair. Let him prove his ability first, right? Why don't they want to pay good actors? I want to become the highest paid actor. Not because I want money, but because I know I will be paid for my acting, for my ability to entertain.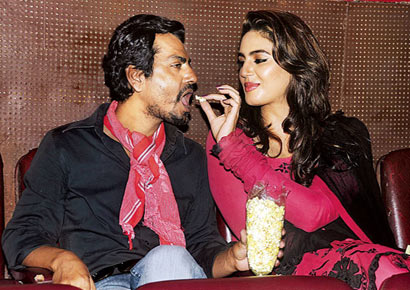 Is there any director you want to work with?
I want to work with every young director that comes. These new guys have their own thoughts, ways of working. I want to exploit their passion and energy just the way they exploit an actor's. It's great fun to work on the first script of someone because there's so much that has gone into it.
How many rejections did you face when you were struggling?
There were times when I was locked for role but was then called and told it's not happening. Many rejections happened. Rejection had become a friend. After a point it stopped affecting me. It became just another thing after I went through emotions of shock, anger, frustration every time, in that order.
Finally you're getting your due…
It's a good thing. A bit late but very good nonetheless. Sometimes I think if I had got all these films 5 years back, probably I wouldn't be as grounded as I am now. It helps that way.
What about female attention?
Feels good that a kaala kaluta like me is getting any kind of attention. It makes me think of the reason I'm getting this attention, which happens to be my work. Quite happy about that.
What about your female co-stars in GOW?
Huma Qureshi is an unbelievably spontaneous actor. I was shocked when we shot our first scene (in GOW I) where she asks me to take permission to touch her. It happened to me in real life but the way she improvised the scene was commendable. Richa Chaddha is a good actor too. She's playing a character that ages over many years. She's so talented and it feels good that these people are so young and doing such good work.
Any memorable stories from the sets…
Three months we spent shooting both the parts at one go. Huma and I were about to shoot a romantic scene where we look at each other from our glasses. Huma said, "Nawazbhai, I will see you and wink at you". I was like just before a romantic scene she's calling me 'bhai'. I told Anurag about it. He playfully yelled at her not to call me 'bhai' just before a scene. (laughs)