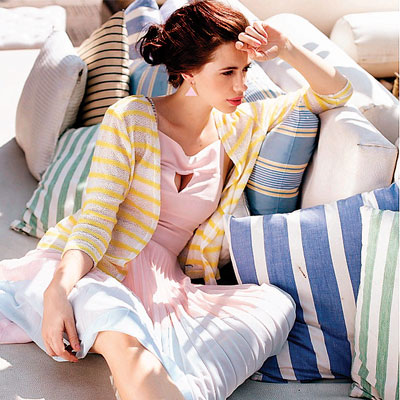 Thereafter the actress will head to Paris to check out the film scene there
Kalki Koechlin has a lot to talk about. Her play will soon leave for a tour in the US, she has moved into a new home and in her next film she plays a disabled gay character. In an interview with her designer friend Nimish Shah, the actress talks about playing a gay character, life in a new home, her social network behaviour and her future plans. Read on for excerpts...
On stage:
I'm actually doing three movies and working on a couple of plays. One is Hamlet – The Clown Prince by Rajat Kapoor, which we have been performing for a few years now. But it's not a traditional Shakespearean interpretation. All the cast members are acting out the play as clowns. It's a play in a play. I play Phephe the clown who plays Ophelia. She is one of the central characters in the drama. Hamlet ... has become really popular over the years, and to be honest, all of us actors are bored of performing it. But Rajat is making so much money from it, that he is like, "There is no way I'm shutting down this play," (laughs) which is great because it's going on a US tour this summer and that will be real fun. I'm also doing another play based on a story by Rabindranath Tagore, called Colour Blind. I love to shake things up.
Commerical cinema
The whole point of being an actor is to be able to do what is uncomfortable. It's just as uncomfortable to go all commercial as it is to go all independent and intense. In fact, sometimes it's harder to do what seems easy. Comedy, for example, is the hardest genre to perfect precisely because it looks effortless on screen. I cannot do a commercial film purely for the fact that it's a big star-cast or big budget. If I think it's really ridiculous and I really can't do it, I won't."
Gay character
I just finished shooting, Margarita, with a Straw, the film-maker wanted me to look as ugly as possible. I played a person with a disability who is bound to a wheelchair. In the sense, she had to wear clothes that were practical. Everything had to be slip-ons, no zips or buttons. Clothes that make you feel pregnant because they are so shapeless and loose. That was logical to do. I'm quite excited to see the film, because I think that's the only movie where you are really pushing the limits. There is some nudity in the film, "Yes, there is nudity in the film. I enact a gay disabled person. It's pretty intense. I hope it passes the censor board's certification."
New house
Kalki has moved into a new house, which has little or no furniture. She admits, "Nope. I don't have a television.
I have a bed. And I don't watch TV anyway. I'd rather read the papers and I am pretty happy using the Internet for watching movies and TV shows.
Social network,
When I'm online, I'm online. When I'm offline, I just don't care. I'll use my Instagram and Twitter when I'm stuck in traffic or something, but it's not like I'm obsessive because I feel you miss out on life when you're taking pictures instead of being in a place. From my honeymoon in Turkey, we don't have any pictures, because we were busy having sex. I think it's important to live sometimes, because we spend too much time in our virtual worlds. "
This summer
I am excited for the US tour of Hamlet ..., and I'm going to club that with a trip to Paris because I have a friend who is well connected with the local film scene there. So we are going to meet agents.
Future plans
I've written a play that I need to direct at some point. But I'm liking this time. Last year I worked non-stop for nine months. Emotionally it's been a crazy ride, so now I'm just taking time out. I took a holiday with my family to Kashmir. I went for my best friend's wedding in Dhaka. So I've just come back from this very grounding time. I'm taking everything as it comes, and anyway it's always like that – feast or famine, you have way too much to do or nothing at all. So just deal with what comes your way.