Ekta Kapoor talks about marriage, men and movies...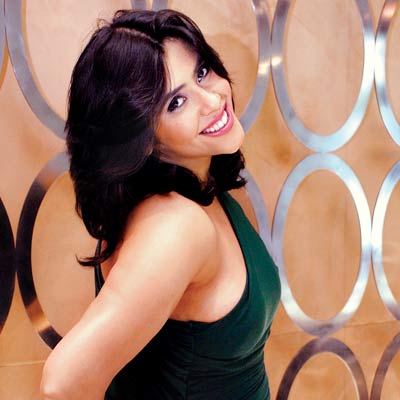 Nothing personal na?" Ekta Kapoor asks me sternly as I open my questionnaire, adding, "I am bored of people asking me when I am getting married!" As I reassure her, the Balaji czarina, who has co-produced (along with Rangita Nandy) Shaadi Ke Side Effects, that none of my questions are about her shaadi, she is back to her usual candid and chatty self. She grins cheekily, "Done! Let's go!" And that sets the mood for the interview rolling...
Let's talk about Shaadi Ke Side Effects (SKSE)...
It's a film about the battle of sexes. The whole world has a different perspective of marriage and everyone's marriage is different because everybody is different. But inspite of that, SKSE has hundreds of relatable issues.
Who is the most powerful woman for you in the world?
For me, the most powerful woman is my mother Shobha Kapoor. The impact she has over my life, psychology, upbringing, my thinking... My mom is my powerhouse.
I get my energy and strength from her.
Two female producers, who are single have made a film on marriage. Ironic?
Ouch! It's quirky and funny! I make so many television serials on marriage from Pavitra Rishta to Kyun Ki Saas Bhi Kabhi Bahu Thi, that I believe I have become an expert on other people's marriages (laughs)! And I quite like it that way. But yes, apart from Rangita and me even the director of Shaadi... Saket Chaudhury is unmarried. Don't miss that! Three unmarried people making a film on marriage and its side effects? Probably marriage here will get a better analysis as it's from the third point of view... (bursts into laughter).
Is it more fun collaborating with men or women on the film, creatively and businesswise?
It depends on the working equation and mental compatibility that makes one a great co-partner and team person. I don't believe in this gender thing at all. Some men can be fantastic to work with while some can be extremely irritating. Some women can be bitches, while some can be super evolved and great to work with.
Do you think a female director would have done more justice to this film?
It's not a woman-oriented film but a marriage one so I think two female producers and a male director is a perfect combination (smiles).
Films on marriage like Hum Aapke Hain Kaun or DDLJ always work. Was that one of your reasons for producing this film?
It's a mature love story. I was tired of doing very dark films on horror, sex and underworld. I am taking a break from them — only shudh desi films from now! (grins) I had been wanting to do a fun, cute, romcom for some time. After SKSE, there's Ragini MMS 2 and then Main Tera Hero so we are offering different platter of fun films. I picked up this film because I was really keen. Most married couples go through different issues so I thought why not do a film like that? We have a controversial and yet-not-so-controversial topic like marriage. And I have two super actors in it so why don't I pick up this film?
What's your take on marriage?
I am all for marriage. If you have a great marriage there is nothing like it and if you have a bad marriage there is nothing worse than that. But I really believe that marriage is not a state of mind, it's not a social status - it should not be that. It should be about two individuals who decided that they want to spend the rest of their lives together, whether it's a love or arranged marriage. There are some people who are clearly made for marriage, they love sharing their life with someone so even in an arranged marriage they will have a strong sense of adaptability. Some people are loners, travellers spiritually-inclined and want to discover themselves so they are married to their thought process. It's an individualistic thing and it can't be a like tick mark against your Facebook or social status to show that you are married. If I find the right guy, sure I will get married and not because it's the right time for me to get married and have a Mrs attached to my name.
What marriage would you go for - arranged or love?
Whether it is a love or arranged marriage doesn't matter. What's important is that you should feel comfortable with the guy and want to settle down with him, and that can happen at any age - 21, 45 or even 60.
Most of your friends are married, did any of their stories inspire this film?
I have not written it. SKSE is an acquisition. But when I read it, I could relate to a lot of it - issues like the guy went out last night and left the wife home and looking after the baby. As if the baby is only hers and the man saying she's only a mother and no longer his wife and can't he spend some time with his friends... I have seen it happen around me. I liked the thought.
How do you think your marriage will be?
I am sounding like I am an expert on marriage (laughs) but I am loving it! It would have a lot of space and understanding. If a couple just spend weekends together, and that's their idea of marriage, it's just as fine as the couple who want to spend one minute together. It depends on people on how they want their marriage to be. I want the weekend one! Not every minute one, sorry! I would love a weekend marriage.
Is it possible to have a good marriage where a woman is more successful than a man?
The chances of a good marriage when the wife is more successful are less. I am hoping... I don't know if I will find a more successful man than myself but I am hoping I will. In those marriages where the women is more successful, there are a lot of compromise involved. Those women have to work much harder at their marriage. Very few men are okay with having a very successful wife.
In your opinion, what is the ideal amount of time a couple should know each other before they marry?
Mostly I think they should not get to know each other but just jump in. If you think you know someone your expectations are high and then they shatter when you start living with that person. So it's better. Tum kaun, main kaun sab baad mein pata chalega! Chat mangni pat byah. Who knows if he gets to know you too well then - kya pata shaadi ke pehle bhaag jaaye! (laughs loudly)
If I asked you to describe marriage in three words, you would say...
The three C's of marriage for me are: Commitment, confusion and compatibility. The fourth C - cheating - should not come (grins)!
Name three couples you know who according to you have the best marriage.
Neelam-Sameer Soni have a superb marriage as they are super involved with each other. Another great couple is my friend Anupam and his wife and the third one is my mom and dad's marriage.
If a couple just spends weekends together, and that's their idea of marriage, it's just as fine as the couple who want to spend every minute together. It depends on people on how they want their marriage to be. I want the weekend one! Not every minute one, sorry! I would love a weekend marriage...
I don't know if I will find a more successful man than myself but I am hoping I will. In those marriages where the woman is more successful, there are a lot of compromises involved. Those women have to work much harder on their marriage. Very few men are okay with having a very successful wife