Waheeda Rehman talks about her roles, co-actors, awards and goes down the memory lane with DNA.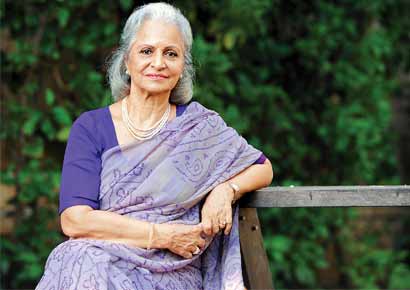 As you enter her sea-facing bungalow, a portrait of a very young Waheeda Rehman looks demurely at you. As she enters the room, you notice, that little has changed. Her hair, perfectly held in place, a string of pearls and her signature smile in tow, Waheedaji goes down the memory lane with DNA.

In your long standing career, we know you've done a million interviews. What is the one question that bores you, we will say away from that question?
(laughs) When people ask me when I started and how I started. Unfortunately, that is the question everybody asks. And even if they are all together, they ask the same question again and again. One wonders why they don't think that this question has been asked and let me ask another one. I feel they don't come prepared. Or maybe they don't think we can answer (laughs), I don't know.
Lifetime achievement, I'm sure you look back at your body of work and reminisce about the various characters you've essayed. What was the one role that was the most difficult?
I would say my character in Guide. Because for that time it was a very bold subject and a bold role, I would say. More than 45 years ago, it was unimaginable to see a married woman, who walks out n her husband and starts living with Raju (played by Dev Anand). It was not a love story, because she doesn't walk out on her husband because she is in love with Raju. She is angry with her husband who has cheated on her and is not bothered about her or her career. When she feels that Raju is sympathetic to her, and understands her, they gradually get involved. It was a very matured role, quite unlike the ones in those days where you ran around trees, fell in love and are scared of the parents or one is rich one is poor. This was very, very different. And it was an evergreen subject. It could be made even today. That's why I liked playing Rosie, even though it was difficult.
Also, the subject was handled so delicately. She lives with a man without being married to him, and yet there is no vulgarity. The credit goes to the director Vijay Anand who handled the subject and characters scene and dialogues in a very matured fashion. Even today there is so much stigma attached to people living together without marriage. Rosie was a strong woman and she held her own. A strong character.
Speaking of Guide. One can't help but ask you about Dev Saab (Dev Anand)
You see, my first Hindi movie was with Dev, and the maximum films I did were with him, I was comfortable working with him and we had a silent understanding. I never felt like a newcomer even then (CID) and the credit goes to Dev. Even though he was an established actor, he never gave me this feeling that he was a big star and I did not know anything. He was very decent and nice to me. In fact, he was very keen to have me in Guide because it was being made in both Hindi and English simultaneously. There were so many other girls who also wanted to work with him in the film, but he was insisted on having me. Initially both directors Vijay saab and Tad Danielewski (American director who made the English film) were not in favour of having me play Rosie and they asked Dev why he wanted me. He said that he was very comfortable with me, and if there's any problem we will understand each other and cooperate. If there's a new girl, he had said, I will have to understand what kind of a person she is and vice versa. There this one time where I was arguing with Tad, I can't remember what it was, and Dev was sitting there and I said "Dev! Why aren't you saying anything? It's like I'm fighting my own fight." And he coolly replied. "You will mange such situations. You are one person who will not walk out of the set, but you will get your way." And I said, "Wow very good! Thank you so much." (laughs)
Which was that one moment where you struck this comfortable equation with Dev saab?
My second film with him was Solva Saal directed by Raj khosla who directed CID. There was a scene in a dhobi ghaat, where I try to commit suicide and he rescues me by picking me up. Then we have to change our clothes because, we are wet, and there's a curtain between and he asks me what's my name and I say Lajwanti. And he responds with "No wonder! Aapko is liye laaj aati hai."
And then there's another scene where there is a dance. And the blouse I had to wear was very revealing, for those times and for me. I was very shy then. I refused to wear it. The director said, wear it in your room, if you don't feel comfortable, wear what you want. I didn't like it and I wore something else. Mr Khosla got extremely upset and he was not too nice to me in front of everybody on the sets. He kept screaming at me. "You said if I was uncomfortable, I could wear what I want. And if I am not confident in my clothes I will not do justice to the scene, because instead of focusing on acting I will be conscious of what my clothes look like. I am shy, what to do!"
He still kept screaming and that's when Dev stepped in with "Enough Raj, enough! You told her to wear what she wants in front of us, and now you can't scream at her." And I felt he is so supportive. He could have easily sided with the director... I felt like I could depend on him from that moment on (smiles)
Coming to choosing the characters including the ones in the most recent of your films, what is that one thing, when you read a character, that makes you want to do a film.
To be very honest, at the very beginning I didn't have any training. It helped being a Bharatnatyam dancer. At the start, you don't have a choice to choose your role, you see. Later on, when you make your own position and you have a standing, you can choose. The role should excite you. And it should make you think how you're going to portray or convey this.
The films today are wonderful, even though they tell me that my era was the golden one. The kind of roles they get, the work they do is amazing today.
Back then, I wanted to do very different roles. They are showing Leave Her To Heaven in the film festival. I had read the book and I really wanted to do the film. My directors would say to me, "you pickup these roles which will not work in India. They are too heavy." My explanation was that it gives me the chance to perform, even though they felt that it was selfish. And they were right. For them it was a business and their film had to make money. Then Khamoshi, I liked the original Bengali film so much!
Then I went to Hemant Kumar and said "Dada why don't you remake Deep Jole Jaye?" and he asked me if I was ready to do it. I was dying to do it! But those were the days when colour cinema was coming in. And I insisted on the film being made in black and white. Certain subjects have to be made in black and white. Like Kagaz Ke Phool, Pyaasa. Even Steven Spielberg made Schindler's List in black and white. Had he made it in colour, the depth of the film would be lost. I used to read a lot abut the depth of black and white, so I was keen on retaining that aesthetic. But later, I also wanted to do light hearted movies like Ram Aur Shyam, Patthar Ke Sanam. As an actor, you want to do different things. You don't want to do same kind of stuff. I like the characters I play to have a graph.
You just said that in today's days roles and subjects are interesting. Any particular film recently that you wish was made in your era?
Initially, I didn't want to watch The Dirty Picture. At my age, I can say I'm old fashioned and I thought there was too much foul language and I don't like that. My children saw the film and said that I must watch it. I had heard about Silk Smitha, and when I saw the film I was so impressed by Vidya. She is like me, a typical Indian personality. And she has done the role so beautifully. Then she did Kahaani.
In our time, nobody would have dared having a 9-month pregnant leading lady in the first frame! I like Vidya Balan because the subjects she chooses are very good. All the girls today are so good! In Barfi! Priyanka has done a great job and I loved Kareena in Jab We Met. This is the golden era!
What about the men? Abhishek Bachchan has always said he'd want to remake Summer Of 42 with you... Who do you wish you could act with?
(laughs) He is just joking! Well, I will say Aamir Khan. Salman looks very good but yeh bachcha mere saamne badaa hua hai (he lives right across the courtyard from her). Of course, all of them are bachchas, but I don't know them as closely I know Salman. He has grown up to be a good looking actor with his own personality. Today, there are only two heroes who convince you that they can smash ten thousand guys – Salman and Ajay Devgn. Shah Rukh or Aamir or Saif, you look at them and you think, nahi, yeh nahi thok sakte.
But they have their own personality and are so distinguished. Ranbir is such a sweet lover boy. I can't imagine him fighting and killing people.
Receiving the lifetime achievement award from MAMI (Mumbai Academy of Moving Image), how does it feel?
Nobody says I'm not happy, everybody is happy! But I told Shyam, "how many lifetime achievement awards are you going to give me?" He said don't make a fuss, just accept it. Trustees are such great artistes and directors. And they have chosen it. It does feel wonderful. I am grateful to my fans, my directors and my colleagues. I worked in films a long time ago but till today they remember me, they appreciate and value my work.
Looking back, what are the must-see Waheeda Rehman films according to you?
One is Guide. And then Mujhe Jeene Do, Khamoshi, Sahib Bibi Aur Ghulam. In Sahib... it was not a title role, but I loved the character. Whenever movies are made from a novel, there is a very different sense to portraying those characters. What happens when you write a film, you write a character imagining a certain actor, according to their personality. That is not right. Then definite characterisation is not there in our films. But when it is a novel, it is different.
What do you want to say to your fans?
What can I say except thanking them? They have been very, very sweet. The love and regard I continue to get today, is because of my fans. I got a lot of love... From my fans, my industry...
Will we see you on the big screen soon?
After Delhi 6, I have not done anything. What happens is that when you start doing the roles of mothers and dadis. They only make one kind of mother. There are varieties of mothers – strict mothers, stern mothers, loving mothers. I give a gap between two films for them to create different roles for me. Now that I played dadi, toh chalo everyone wants me to continue playing dadi. They won't think of casting me as a nani. Perhaps because dadi is the hero's dadi, and the hero is important. Nani mein who baat nahi hai. That is why. Unfortunately, we don't have variety. So, maybe when someone casts me in a very different role.