Two years ago, Apache Indian left grins on the faces of the audience in Bangalore, playing some of his all-time hits on stage.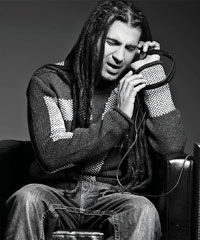 Two years ago, Apache Indian left grins on the faces of the audience in Bangalore, playing some of his all-time hits on stage. And tonight, he is going to, hopefully, recreate the same energy on stage as he promotes his new album, It Is What It Is, in the city, as part of Hennessy Artistry Club Series along with the band, dOP and DJ Mike Shannon. Excerpts from the interview...

What can the audience expect from your performance this time?
I'm coming back to India to promote my latest album It Is What It Is (IIWII). I will perform songs from that and a few hits from the past. I've been coming to Bangalore off and on for the last 20 years and it's always a pleasure to be here.
From someone who was all over the place, you became quite reclusive over time. Was that a deliberate move? Do you think it's a good idea for an established artiste to disappear, especially when new artistes are born every day?
It doesn't matter. You will always see a real artiste again and learn to love them all over again. As for me, when I was not making music, I was busy doing something or the other. The industry is changing and reggae and hip hop are very popular now; I have to keep working on myself to stay with the changing trends. It may be difficult for a new artiste to find a niche, but I'm already here, standing strong.
Today, it's all about getting hits on Youtube and being heard on Twitter. Are you comfortable with the whole invasion of social media?
I agree, it's a bit too much of an explosion. Everyone's there. But at the same time, I think it's a good way to make yourself visible because unless your music is heard, nobody knows you. I'm on Twitter and I think we should use these tools because that's the best way to get your music heard in any part of the world.
You've mostly collaborated with musicians. What's the best thing you enjoy about them? Are you working with anyone right now?
I love collaborations. My favourite has been Dil Lutiya with Jazzy B. I have a personal style and when another artiste's style is introduced in it, the outcome is fantastic. What I have realised is that collaborations bring people together and are an extension of music and culture. Presently, I'm working with Mika Singh, but I can't talk about it yet.
Lastly, tell us about your plans of opening Apache's Bar & Restaurant and Music Hub here in India.

The idea behind Apache's Bar is to represent music and culture. I'm in talks with a few people here. In fact, someone from Chandigarh has already approached me, so the first Apache's Bar might just be there.