She's fed up with speculation on her relationship with Guru Dutt, is firm that politics is not her thing and believes the next PM must uphold secular values. Waheeda Rehman speaks to Yogesh Pawar on the occasion of the launch of Nasreen Munni Kabir's Conversations With Waheeda Rehman.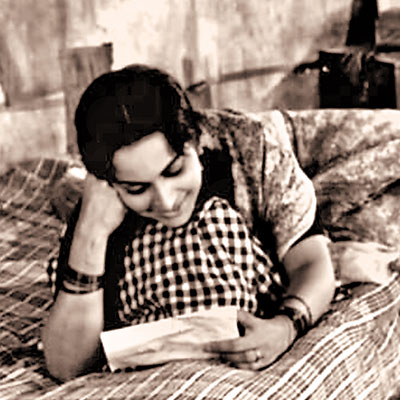 Your house seems a good refuge from the high-decibel election campaign outside.
That is true. Though located in the heart of Bandra it can be quite quiet. I like it that way. Anyways I have always maintained a strict distance from politics.
Really? At a time when most hanker after Rajya Sabha nominations at least, weren't you ever approached?
I've been approached but always refused till now. Its just not my thing.
Who will make a better prime minister among current candidates in the race?
Irrespective of who becomes prime minister, he must ensure that we hold on to the secular values on which this nation was created. We're one of the best countries with a lot going for it. This mustn't be squandered in the politics of divisiveness. There is far too much stereotyping on the basis of communities, caste and religion. This will only foster hate. Many also use these labels to seek reservations and votes.
Are you against reservations?
Yes. We need to start treating people equally as Indian citizens. This pandering to people with reservations in the name of minorities and castes should stop. It can only further hatred among youngsters who may not even be aware of such dividing lines. Someone in my family wanted an admission to course and he was falling short of percentage. He was told to say he was from the minority. I said nothing doing.
You recently lost a close friend Nanda.
That was really tragic. Nanda, Asha Parekh, Sadhana, Helen, Shammi Rabadi and me have been very close friends. I lost my father while very young, my mother when I was still only three films old in the industry and my husband Shashi (Rekhi) in 2000. Death is a certainty but it can be very hard to come to terms with.
You're considered one of the most graceful and beautiful actresses of Indian cinema. Were you aware of this and its effect on people from early on?
On the contrary. Whenever I've looked in the the mirror, I find my looks average. Its only on screen that I look good. But that has to do with being photogenic and not beauty itself.
India's last Governor-General and first Bharat Ratna C Rajagopalachari ended up playing a big role in first bringing you in front of an audience.
Yes like most things about my career, this too was a move plotted by destiny, I think. My father, an Imperial Civil Service bureaucrat (now IAS) was posted in Vishakapatnam which was still part of the then Madras state. C Rajagopalachari was to visit and my father got convinced by a superior to let me and my sister Sayeeda, who were learning Bharatanatyam to dance. I still remember how furious my mother was that he'd agreed. But then it was decided and we performed.
Dancing brought you your first movie Rojulu Marayi (RM).
Yes in a way dancing brought me to films. Two years after my father's death (1951) Sayeeda got married and my mother's family migrated to Pakistan. She was keen that I too got married but I wanted to wait. Film producer C V Ramakrishna Prasad, one of my father's friends offered me the dancing part in a Telugu film Rojulu Marayi. Mother was against the idea, but eventually agreed and we went from Vijaywada to Madras to shoot the song Eruvaka sagaro ranno chinnana.
Seven years later the same tune inspired a well known Hindi song
(Laughs) You know Dada (SD Burman) made me sing the song for him a few times. Majrooh saab (Sultanpuri) even retained the last word chinnana in the song Bambai se aaya hai, babu chinnana in the Suchitra Sen-Dev Anand starrer Bambai Ka Babu and became quite popular.
Like the name of the film RM means, the times did change for you.
Yes I did several films in Telugu and Tamil and worked with greats like MG Ramachandran, Gemini Ganeshan, and N T Rama Rao.
It also led to your meeting with Guru Dutt (GD).
Yes he was at distributor's in Hyderabad when he heard some commotion and enquired what it was. He was told it was cast of a popular movie RM. Now the film had big stars like Akkineni Nageshwara Rao (Nagarjuna's father) and Shavukaru Janaki so imagine how destiny played her hand. "A new girl Waheeda Rehman who has danced in the film is a big rage," the distributor remarked. Guru Duttji (GD) immediately wanted to know if I speak Urdu. When told that I did (He'd heard her thanking the audience at public felicitation of the cast), he wanted to meet me. Three months after that half an hour meeting, Guruduttji sent a distributor to fetch us to Bombay. We were apprehensive but finally agreed and came over.
And in Bombay they wanted to change your name?
(Laughs) See the Bombay film industry was very different then. Mohammed Yusuf Khan became Dilip Kumar, Mahajabeen Bano, Meena Kumari and Mumtaz Jehan Begum Dehlavi Madhubala. Within minutes of coming to GD's Famous Studio office, Raj Khosla told me my name would be changed since it was too long. When I refused, he rattled off a list of big names who'd done it and said, "Everyone's done it." I simply told him, "I am not everyone."
That was quite brave for a newcomer
Well, I have always been frank and outspoken about my views. There was always that feeling of so-much-and-no-more. You see I hadn't come from poverty and struggle like most others. I was a senior bureaucrat's daughter and had always lived in house full of bearers and servants. My progressive father also encouraged us to be bold and fearless. When I look back, that seems the only explanation for my bravado. You know I refused to wear a blouse without lining in the song kahin pe nigahein kahin pe nishana (from CID) and insisted on wearing a dupatta much to Raj Khosla's chagrin.
Pyaasa came soon after CID?
Though Pyaasa released in February 1957, they were being made simultaneously. GD had approached Dilip Kumar to play Viay but it didn't work out. As for Gulabo, both Madhubala and Nargis wanted that role and I got to play her. Pyaasa became this all time great classic which still gets rave reviews in festivals across the world because its about human values and love recognition and self respect. Also it was the great partnership of GD's vision, Sahir saab (Ludhianvi)'s poetry and SD Burmanda's music.
Was Guru Dutt moody or melancholic?
You know people ask me things like this but forget that then I was barely 18 and this was only my second film. I only gathered like everyone else around that GD'd often be lost in his thoughts. He was obsessed with cinema as a medium. The love for his work exceeded everything. Yet he never forgot to look out for his team. When J C Jain of Filmfare tried to nominate me for supporting role for CID he told me not to accept the nomination. He told Jain that I was not in a supporting role but that of second lead. Despite an exclusive contract since Kagaz Ke Phool came only two years later, GD let me me do Solva Saal and Roop Ki Rani, Choron Ka Raja. Later I did Kagaz Ke Phool, Chaudhvi ka Chand, Saheb Biwi Aur Ghulam with him.
Were you his muse or more?
All actors are muses for their directors. I think far too much speculation is spun out of nothing and continues 60 years later. I can't stop people from saying what they want but I can choose not to comment on such baseless speculation.
From a vampish role in your first role in CID to the prostitute Chamelijaan in Mujhe Jeene Do you really went for characteristically different roles.
I've never done anything planning whether it will succeed or not. I've always gone by the script and character which had to feel real.While its great that some actors can do any character with conviction, I'd probably look odd doing anything unreal. Also once I feel like the best comes out when you do a whole scene in one master shot without cuts. Though films need retakes, I have always hated them because they tend to become mechanical.
What did you think of the extent of rona-dhona in the films of that time?
Though the character in Khamoshi was like that and it was quite draining to act I thought it went with the narrative. But I hated it in Dil Diya Dard Liya. After a point mindless tear-jerking seems pointless. I remember when shooting for Reshma Aur Shera Nirupa (Roy) and me would put glycerine and still not be able to cry. We felt so dried emotionally that all we could do was giggle. I remember we said we must take break from rona-dhona for a while.
Your character of Rosy in Guide has stood the test time.
Unlike, now-a-days when things are more open then the hero-heroine would have to be cliched 'goody goody' without the slightest negative shade.When Guide was made, everybody, including friends and filmmakers, said I shouldn't play a married woman who falls in love with another man. I was convinced about my role and the film because I see so much of me in Rosie. She is straightforward, knows her mind and stands by it. The rest is history.
You've often called the snake dance sequence in Guide your toughest.
That's because it was. I had to depict quite dramtic emotions merely with my dance and expressions. There were no lyrics to help. Hiralalji ne haddi-pasli ek kar dee thhi meri. As a choreographer he was a task master. From 5 am to 8 am daily I'd practice and then go for another shoot. Once back I'd go back to practice till nearly 10 or 11 pm. It got to a point when I was in so much pain, I could barely walk for days and getting in and out of the car itself became a task. During the shoot all that going round and round was making me dizzy. But when I see it now I feel it was worth it.
And Guide was such a big hit
Yes I remember Dev (Anand) jocularly calling me to say: 'Waheeda, jo bhi film dekh kar aa raha hai, bas 'Rosy Rosy' kar raha hai. I'm feeling very bad. I'm the producer, hero. I am the Guide, but all are praising you.'
Your best actress award for the English version of Guide in 1965 at the Chicago Film Festival makes you one of the first Indians to get such recognition abroad.
If it weren't for the late B K Karanjia I wouldn't have even found out.I was also surprised because because I'd been tentative all through the shoot for the English version. Tad Danielewski, the director was very vague and seemed a bit lost. Anyways awards are not so important. Whether its the National Award, the Padma Bhushan, or several others, nothing will make an artiste happier than the appreciation from the man on the street.
What do you think of current films?
You know after the 70s when the Amitabh Bachchan era began all the maar-dhaad films became very popular and the girl became little more than a showpiece. This seems to be a cycle. Recently too far too much of action was being done, but I'm glad roles for women are getting better. When you see a Vidya Balan in Kahani or a Kangna Ranaut in Queen you feel there is still hope.
We rarely see you acting?
There are only so many times and styles in which can go on playing the mother or grandmother. Where are good roles written for actors my age?