The youngest actor from the Kapoor clan, Armaan Jain, who is making his debut with Lekar Hum Deewana Dil talks about growing up in a film family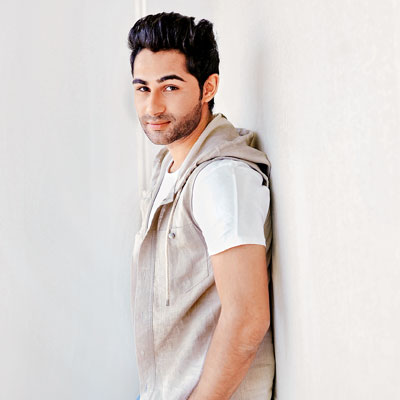 He is the latest Kapoor scion to step into the film industry and even before his movie Lekar Hum Deewana Dil has hit the screen, Armaan Jain has become the toast of the town. The trailer has got a tremendous response with Amitabh Bachchan and Shah Rukh Khan tweeting about him. The youngster oozes charm, is confidence personified and talks nineteen-to-the-dozen. In a freewheeling interview, Raj Kapoor's grandson talks about his equation with his cousin Ranbir Kapoor, his earliest childhood memories and his dream coming true..
Now that your film is on the verge of releasing, what are your feelings?
I am very excited, and equally nervous because it's finally the D day. There is a mixed feeling, which I call positive anxiety!
Do you feel the pressure of carrying on a legacy?
I have never thought of it that way, rather I have a self-imposed pressure of bettering myself. You have two kinds of pressure, one is about carrying the legacy and the other is the pressure of personal journey. For me it is about proving to myself than anyone else first. I am self-critical and after every shoot, I think how I could have done it better. Till this point, one has given his best and the rest I leave it to destiny.
Like your cousin Ranbir Kapoor you also started by being an assistant to a director before facing the camera. Are you following in his footsteps?
The reason I started out as an assistant director, however funny it may sound, is because I had a non-filmi childhood! I had never been to shoots, screenings or premieres. I had no idea how films were shot. I just knew I want to act and entertain people. When I was a 16-17-year-old, I wanted to be an actor. My father is an investment banker, so initially I went to England to do a business course but after a year-and-a-half realised that I was wasting my time and his (father's) money. I would rather try and understand the craft (acting), which I wanted to pursue, so I came back.
What was your parents' reaction?
They were extremely supportive provided I am ambitious and work hard. My mother was a little taken aback because for 20 years there was no film talk at home. She was like, what do you want to do, are you sure, where do I send you? She actually cried. She was close to her father (Raj Kapoor) and had spent 32 years of her life with him. She told me I need to learn how films are made. There was no place so I went back to college. One day she called me and said 'I have good news. Karan (Johar) is willing to meet you for an interview.' I went to him - it was like joining a company for internship. I'm a practical learner and pick up faster that way. Ranbir, on the other hand, had done a two-year acting course in New York and then assisted (Sanjay Leela Bhansali) on Black.
What are your earliest childhood memories?
It's a misconception that if it is a film family, we all talk about films or acting, and our masti revolves around it. We are normal people, our talk and clothes are normal but yes the food in Kapoor family is extraordinary! We love food, are a bit noisy and loud. Most of the family get-togethers happen in nani's house in Chembur or my house. When I was born, Karisma was already acting. We got together for my birthday parties and whenever everybody got time. Family get-togethers are fun because my uncles and my mother are screaming and fighting with each other, of course out of love. Ranbir and I talk about football and play FIFA at play stations. I have a different bond with everyone. But we never talk about our careers. There is a lot of noise pollution, food pollution and masti!
Karisma came with you on Comedy Nights With Kapil. Which cousin are you closest to?
I have spent the most time with Nitasha (Nanda), who lives in Delhi. She spoilt and pampered me a lot. There is a huge age difference between us - almost 20 years - and she has no kids. We are like her children.
Are you the most pampered of the lot as we can see all of them rooting for you..
We are a close-knit family, and it has always been like this. You are probably seeing it now. When Ranbir was acting in his college plays, we all used to go to watch him. When I was 10 years old, I did a school play and each and every one was there to cheer me. It feels special. Everyone is pampered in a different way. Nani is the eldest and she pampers everyone equally.
How was your experience working on Student Of The Year (SOTY)?
I did three films - Ek Main Aur Ekk Tu, My Name Is Khan and SOTY. I remember on the first day of the shoot, I was completely lost. I did not understand what was happening. I tried concentrating on camera angles, how a scene is shot and directed, the lighting, costumes, what actors do etc, and got a working knowledge on every department. By the time SOTY happened I had gained a little experience and even shot a few short films and home videos. That gave me a hang of editing too. It gave me a clearer picture of direction - why directors are so precise, saving money and time.
Did you interact with Shah Rukh Khan and Kajol during the shoot of My Name Is Khan?
No, I never got the opportunity because at that time, I was rarely on the sets. I was running around doing other things. When you are interning you have to get a cd, go here, there etc.
How was it shooting for Lekar Hum Deewna Dil?
It's been amazing, a dream come true. I was finally facing a camera. I was nervous and super-excited. I never felt at any point that I had acted. Even today I don't feel it. My job is not done till July 4 (when the film releases) and it's been two years. There have been points where I became emotional and cried, but not on the first day. After 20 days of shooting, it hit me that I am doing this. Professionally, it's been great and personally, I have grown up as an individual. I met so many different people, it was very humbling, especially the experience in Chhatisgarh.
What happened?
You know Americans have this misconception that India and Pakistan are poor and dangerous places. Similarly, we think Chhatisgarh is a Naxalite afftected place and therefore dangerous. But when I went there for the shoot, I saw it differently. It was fascinating to see people there - so hospitable and welcoming. There's freshness in the air and I got a good sleep. I was happy meeting the villagers, but saddened to see the way they live. They are so happy with so little. We were there only for a week, but I wanted to be there for 20 days. When we needed continuity in the scene, they needed to travel to Mumbai. It was for the song Mawali kawali. Those people have no electricity, mobiles and aren't exposed to anything. They have never been to a city or travelled by train. They wear those typical lungis. They use razors made of wood. There are some elements in the film too. There's a dialogue Humein na US America, Europe sabka sab pata hai lekin apni country ka na no idea, which is very true. Being around them was humbling.
The film is also about your coming-of-age. Do you identify with the role?
I was probably like that when I was 17-18 years old. My character is full of adventure, thrill, crazy and energetic. He does things without thinking which can often be a problem. I was more immature then. But in the last few years I have grown up.
Who are you inspired by?
I am inspired more by characters in a film like Heath Ledger in Dark Knight Rises. It is unbelievable the kind of work he put into the character's shoes. Unfortunately, he passed away due to drug overdose, but his best scenes are improvised and not planned. Even Marlon Brando in Godfather, especially the cat scene. There was no cat. But he saw a cat lying somewhere and he took it into the scene. Christian Bale puts on 40 kilos for a role and sheds it for another! It's inspiring. My role model, however, is my father. He is not an actor but I hope to inculcate at least half his discipline in my life.
The title of your film is inspired from your aunt, Neetu Singh's song from Yaadon Ki Baraat. Was it deliberate?
It was Karan sir who came up with the title just a week before the trailer launch. We were sitting in his office and discussing. We had other titles like Locha.com, Dekho Magar Pyaar Se, Janam Janam but we weren't happy. And just like that Karan sir said Lekar Hum Deewana Dil. My producer then spoke to my aunt and when she met me she was emotional. That was her first song and she was just 14-years old when she shot for it.
Your mother (Reema Jain) is media-shy right?
No, she goes for events, but yes was a little camera shy before she went on Koffee With Karan. She is a vibrant lady, full of energy, and a very good actor, she acts more than any family member!
A lot of newcomers like Tiger Shroff have entered the industry and are doing well. What is your take on competition?
I look up to all of them for their performances, dances and the way they have worked on their physique. It's a healthy competition. There are thousand fishes in the sea, I am sure there will be all genres of films and hope we all grow.
What are your expectations from Lekar Hum Deewana Dil?
I haven't thought about it. We have made the film with a lot of energy happiness and conviction. I hope people will experience at least 50 per cent of the fun we have had in making it.
Rapid fire with Armaan
If you were invisible for a day and could do something naughty what would you do?
I would steal Mc Donalds or something.
On a deserted island which book would you take, which movie would you watch and who would you take along?
I will take the book Dr Jekyll and Mr Hyde to read, watch Kuch Kuch Hota Hai and probably take my brother.
If you could marry a cartoon character who would it be and why?
The smallest Powerpuff girl in pink because she is pretty.
What did you most get into trouble for when you were younger?
I used to get into trouble for many things. I have thrown ash trays out of the window and mom has put me in the dark bathroom. I broke a fan in the class room when I kicked a football.
Which has been your most embarrassing moment?
When somebody told me 'stop talking you are verbal diarrhoea'.
Which is the one thing that disgusts you?
Diarrhoea.
Which movie title would best depict your life story?
Dark Knight Rises.
What do you enjoy doing doing most alone?
Sleep.
Who is the first person you think of when you get up in the morning?
Myself.
If you were to spend a night with a celebrity, who would it be?
No one.
What's the biggest lie you have ever told?
I told this aunty that I have fallen from the first floor, injured my leg and badly hurt. She called my mom and I immediately informed her it was a joke.
One habit of yours no one knows about?
I don't wear underwear when I sleep.
If you had to dress like a cartoon character, who would it be?
Popeye.
What is the weirdest / funniest dream you have ever had?
I don't dream, but I have had horror dreams where I am getting choked or that I am grinding my teeth so hard they come off.
What is the most irritating habit of your co-star Deekhsa Seth?
She has several, but the most irritating habit is the one where she keeps making this weird noise.
What was the meanest / nastiest joke you ever played on anyone?
I have played many of them. The meanest one I played was one on the school teacher. I applied Fevistick on the chair and the teacher got stuck to it. After an hour or something when he got up, he ripped his pants.
What is the best thing about being a guy?
We don't suffer as much as women – the pregnancy. I can't imagine carrying a child for nine months and the subsequent pain. Women go through a lot of pain. They get their eyebrows plucked, get waxed, etc. I am not being a sexist here!
What is the worst thing about being a guy?
Shaving every day.
What is the craziest / dumbest pickup line that you have ever used?
I never use a pick up line. I find it crass.
Do you do dance crazy when no one is looking?
I dance like crazy when people are looking.
Do you like to sing in the shower?
I have never sung in my life, I have no inhibitions, but don't sing normally.
If you were gay which actor would you like to have a passionate affair with?
I am forcing myself to visualise this dream boy without clothes. Hrithik Roshan!