Kangana Ranaut talks about her drastically different act in Revolver Rani after Queen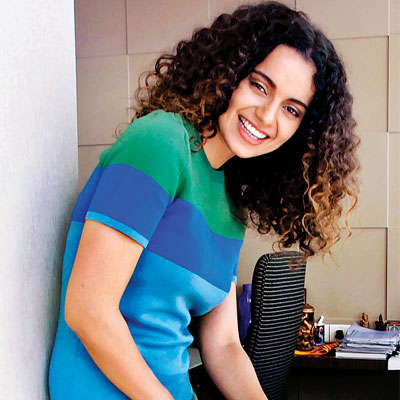 After playing the sweet but spunky Rani in Queen, Kangana Ranaut is back in a gun-trotting avatar. She will be seen as politician Alka Singh in Revolver Rani. Here's what the actress has to say about her new role.
Is it true that your sister Rangoli didn't want you to act in Revolver Rani?
Yes, that's true. I feel that tragedy is the most evolved form of story telling. But it's a shame that in India we don't really really explore irony as an emotion. We have movies like Jaane Bhi Do Yaaro and Andaz Apna Apna, which are different from Revolver Rani, but were so brilliant. However, they belonged to the no-genre space. When they released, they just bombed. Later, they went on to become cult movies. They failed because we are so used to the regular cinema that release every Friday that when movies like Jaane Bhi Do Yaaro come, people don't know how to react to them. It shocks us and puts us in that space where we don't know what to expect next. It is a tricky space to be in, but such movies need to be made. The moment I heard the script I was like 'wow'!
You must have had to work on yourself?
I knew that this film should be made and my intentions were right. If I was the director I would probably go to someone who is closer to the character. Instead of changing this girl from head-to-toe, but they probably wouldn't have got funding for the film if it was to be like that. I thought that I will work on myself and if I see that character in myself in the mirror I will go ahead with it. I worked on it for three months and then decided to go for it. I didn't want to stick out like a sore thumb.
A dark comedy can go horribly wrong, did you ever think about it?
Unlike Queen, which was easier to understand, I hope people get this movie. It will offer you a pulp movie kind of experience. It has even more mass appeal than Queen. The treatment is the like the sasta sahitya books that you get at bookstalls. People who have seen it so far have loved it.
After the huge success of Queen, do you feel more pressure this time?
People think of an actor as per a certain image. After Queen, people may think of me as the vulnerable girl in Queen, which I am not. I hope the image that I have after Queen doesn't come in my way. People may wonder why is she behaving so wickedly. I don't feel any burden. With RR, we are going so much ahead from Queen in terms of taking risks, and storytelling. I am very proud of what I have done. And I am glad it came after Queen.
You are acting with Vir Das for the first time. How was it working with him?
It was nice. Vir is very professional. But you know I am never too friendly with my co-stars. I am not the sort who knows their their nick name or what they have for breakfast (laughs).
You clothes in the movie have generated a lot of interest...
This character is influenced from contemporary politicians, who use the resources given to them to serve people for their personal use. Similarly, this character uses the money to fund her toy boy's film or get her bras from Italy.
Talking about politics, will you be voting?
Yes, I will be going to my home town in Himachal to cast my vote on May 7. But it will be a flying visit.