Sharib Hashmi and Inaamulhaq on their Filmistan which is about films and friendship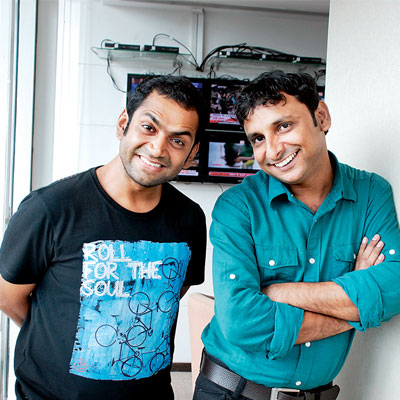 In recent times, there have been several films on cross-border relationships, but Filmistan looks at it through the love people share from both sides for Bollywood. The story revolves around Sunny Arora, a Bollywood enthusiast who works as an assistant director, but dreams about becoming a film star. He goes along with an international crew to Rajasthan to film a documentary. En route, he is kidnapped by an Islamic group, who mistake him for an American crew member. While in confinement, he meets and befriends Aftaab who makes his living pirating CDs of Bollywood films. They bond over cinema and soon realise they have several things in common even if they live on different sides of the border. Sharib plays the funny, and endearing, film buff Sunny, while Inaamulhaq is a delight as the cynical but affable Aftaab.
What does friendship mean to you?
Sharib: Friendship is like a lifeline. My friends have supported me each and every time, even when I decided to shift from writing to acting. Both my wife and Nitin (Kakkar) who is a close friend and has directed Filmistaan encouraged me.
Inaamulhaq: Friends are important for me. Unke bina hum adhure hain. I get very emotional about friends who have been a great support. I can't take any one name because it will be unfair to others.
Do you make friends at work or friends are the ones who you made as kids?
Sharib: I have my childhood friends, but I have made a lot of friends during work also. When I started my journey as an assistant, I made several friends and they are still with me.
Inaamulhaq: (Cuts in) Wherever we go -- on location or promotion I meet one of his friends. So far, I have counted eight people and he meets everyone with the same warmth and spirit. I am seeing that he has a lot of friends. He is such a darling to everybody. I, on the other hand, don't have so many friends. During work there are only colleagues. In my eight-year-old career I have made only two-three friends and more than 100 acquaintances.
Tell me a real life incident when you bonded with someone over Bollywood...
Sharib: I met this friend over Orkut and we were chatting in a film community - I think it was about Kishore da (Kishore Kumar). Later we started talking on Filmi Freak, a site he had created. We exchanged phone numbers and started talking. We chatted for hours. Both of us are passionate about Bollywood and we are close friends today.
Inaamulhaq: This film is the best example of bonding over Bollywood! I met Sharib during the shoot of this film and became good friends. We didn't know each other though we had exchanged a hello during one show earlier. I was in the creative team and he was the writer. However, the first time I met him was as a dialogue writer of Filmistaan. He was cast later as the lead actor and thank God for that. I could relate with him personally and the chemistry translated into the film. Both of us are Bolly bhakths and this film is dedicated to Bollywood!
Your favourite Hindi film?
Sharib: Anand. I just love that film. First, the character of Anand is extremely lovable. Here is a man who is going to die but still he goes about spreading happiness and entertaining people. Secondly, the dialogues are beautiful. The one where he says zindagi lambi nahi badi honi chahiye teaches a big lesson of life.
Inaamulhaq: Rang De Basanti. I feel a lot for the country and what is happening around. Personally, I want to change some things but it is not in my hands. The film conveyed the message that this country is not perfect but you have to change it. And this was done with an element of entertainment. I can watch it again and again.
Which film's dialogues do you remember the most?
Sharib: Maine Pyaar Kiya, Sholay, Padosan, Andaz Apna Apna and Anand, but if you ask me in terms of dialoguebaazi then it's Sholay for its khatarnak dialogue.
Inaamulhaq: Rang De Basanti. I love several dialogues from it like koi bhi desh perfect nahi hota perfect banana padta hai, then Aamir Khan's dialogue phir wahi zindagi ke jhamele dim lak lak. I also love a dialogue from Barfi that says zindagi mein risk na lena sabse bada risk hai. I relate to it. Dialogues like these are inspiring. I like dialogues that make you think, and convey something deep in a few lines.
Shah Rukh's film or Salman's film? In Filmistan you watch their films.
Sharib: Why have you left out the other Khan, Aamir?
Inaamulhaq: The way SRK has defined romance with his signature style of spreading his arms! I would watch a Shah Rukh film, but again it depends on the trailer and if it interests me.
Which actor are you a fan of?
Sharib: I am the biggest fan of Aamir. He has a likeable quality, and an endearing innocence. Also, an actor is as good as the kind of film he chooses. I like Aamir's selection - if he does a Fanaa, he balances it with Taare Zameen Par and a Ghajini with Dhobi Ghat. Everybody can't do it successfully.
Inaamulhaq: My favourite actor is also Aamir and the reason is the same as Sharib's. We are on the same page here!
Ever had a fan boy moment when you saw a star and were dumbfounded?
Sharib: Yes, when I met Aamir for the first time. I remember it was on the sets of Love Love Love. He was shooting for the song Vaada Kiya Tha. I had gone for the shoot with my father. When we went to Aamir's room, he was eating daliya. I still remember. I was dumbstruck but had taken his autograph and clicked a picture too.
Inaamulhaq: It happened recently. I am not the kind of person, who clicks pictures or takes autographs. However, during the promotion of this film, I met Amitabh Bachchan and I was starstruck. We spent half an hour together and but it took a long time for me to realise he was sitting next to me! I was completely blank!
Name a film you have seen more then three times.
Sharib: Andaz Apna Apna, Sholay and Padosan but the film I have seen almost 50 times is Tawaaif. That was because my neighbour had only that VHS! I was a kid then and just loved seeing films irrespective of the story.
Inaamulhaq: Amar Akbar Anthony. I have seen it 10 times. But my favourite film is Pursuit of Happines, which I have seen several times and would recommend every actor to see it.
Do you think Bollywood can bridge the gap between India and Pakistan?
Sharib: Yes, whenever we meet Pakistanis in Dubai or London, they greet us like we are long-lost brothers. The first question they ask is have you seen Shah Rukh, where does he stay, etc. The conversation is about our films and actors.
Inaamulhaq: Cinema is the biggest medium to connect. The Pakistani media in Dubai said that Filmistaan has essayed the positive spirit of both the countries. Bachchan has already said cinema binds not divide.
Tell me a funny experience that happened during the making of Filmistan...
Sharib: There was this extremely funny incident pertaining to a scene, but I cannot say it now because the story will get revealed.
Inaamulhaq: We stayed in Bikaner and the location was 80 km away. We used to travel to and fro everyday in 40-50 degree temperature. But there was a lot of positive energy. There are a few scenes of eating in the film for which we needed authentic Pakistani food. The production had organised two rotis and one sabji from a local house. It used to be very tasty and I always planned to eat one roti after the shoot, but Sharib who was fat then and a foodie would finish it during the rehearsal only! For the shoot, they had to arrange for it again! Also, there was no electricity and no toilet facility there. The unit had constructed a very small toilet there. It was so small that either a person or bucket could fit in there. Everyone would consciously eat less to avoid using it but Sharib was a everyday visitor - he would wrap a cloth around his face, use a lot of deo and go to the toilet!