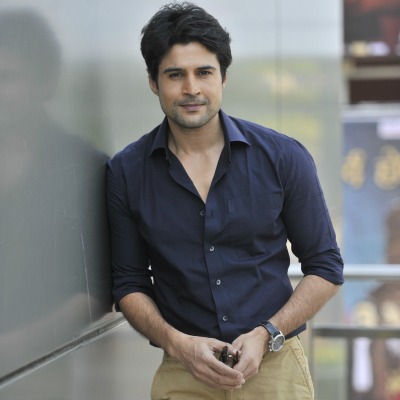 He became an overnight television sensation when he played the character of Sujal in Ekta Kapoor's Kahiin Toh Hoga, and broke the hearts of many female fans by suddenly opting out of the show when it was at its peak. He followed this trend for a few years and was often tagged as 'arrogant' and 'crazy' by many production houses and directors who thought he didn't know what he was doing. And then came his first Bollywood debut, Aamir, that got critically acclaimed across the industry and put him back on the radar.
Rajeev Khandelwal may not be the quintessential blue-eyed boy of Bollywood, but has zillions of fans (mostly young girls) across the country who love him for his chocolate-boy looks and power-packed acting skills. dna talks to the thinking actor who was in Pune to promote his new film Samrat & Co, where he plays a detective inspired by Sherlock Holmes...
Not doing romantic roles
I started my career with a romantic serial and got lots of love and praise from people. So making my debut in a romantic movie was an obvious thing. But at the same time I didn't want to be typecast, so I chose to make my debut with Aamir. I was lucky that the film was admired by critics - even though it was released to a select audience - I feel I managed to make a mark as an actor. And that's what I wished. All men want romance in life, whether on-screen or off-screen. I would love to play a romantic guy as much as I love playing character-driven roles, but I haven't come across the right kind of script. I don't want to act in run-of-the-mill love story, it should be a soulful story which can go to the archives and remembered as one of the greatest romantic sagas ever told.
Playing different characters
I have loved each and every character that I have played till date, but Samrat has been a totally different experience. As an actor it's very important that you commit yourself to your director. He is the one who designs and has the exact picture of what he wants from his actors. I have always followed this rule and it has helped me do justice to the role. As Samrat, I have done the same thing. It's an all-in-all director's film, and has given me a chance to explore a lot of nuances of being a detective.
Working with big banners
I haven't got offers from 'big banners' till now, but that has never bothered me as an actor. It's the script that matters. Whenever I am approached by any production house, I always look at the content and then see how big or small the banner is. I would love to be associated with a big name, but I am not dying to be approached by anyone in particular. It will happen when it has to happen.
Getting intimate on-screen
I have no issues doing intimate scenes if the role demands it. I am fortunate to have an understanding wife who supports all my decisions. In fact, she is the one who keeps telling me that I should not be nervous and rather look confident while enacting such scenes. It's actually all about how you carry yourself, and how comfortable you make your co-stars during shooting.
Infidelity is...
It's a complete no-no! It's very important for a couple to understand each other before taking the plunge. In fact, I am all for live-in relationships, where you can at least take your time to know the person and decide whether he/she is the one for you. Marriage is a big commitment and demands a lot of patience, love and responsibility, and one must get fully prepared as there is no looking back.