Director Sujay Dahake talks about the unusual theme of his latest film Ajoba, working with actor Urmila Matondkar (who's making a debut in Marathi films with this one), and why this film is close to his heart...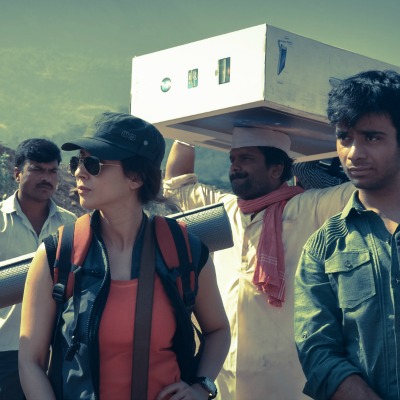 What gave you idea of making a movie like Ajoba?
I got the news that a leopard had been spotted in Junnar and was travelling towards Mumbai and after speaking to some locals, I realised what an incredible story it is and must be told. Everything about the leopard's 29-day journey over 120km is just so unbelievable but true! That's when I knew he is the 'hero' of my film.
Sujay Dahake - director, Ajoba
How was it working with Urmila Matondkar?
Initially, we didn't know if she would want to do it but she was just as excited and replied in two days. She is such a professional to work with, no qualms about anything whether we shot in the forests or some remote village with minimal facilities for that matter. It was an adventure. She plays the pivotal role of Vidya Athreya, a passionate woman who collared Ajoba and tracked all his moves.
Urmila Matondkar playing Vidya Athreya (still from the film)
Working with a leopard on the sets must be challenging. How did you manage?
Well, we actually took footage of the leopard during his journey first and then built the movie around those shots. We had a lot of expert supervision and we followed all the guidelines given to us by the forest officials which helped a lot. Filming and exhibiting leopards wasn't easy as the law doesn't permit exhibiting leopard through videos, we got special permissions as this film was about conservation.
The magnificent Ajoba
How will your film contribute towards spreading wildlife awareness?
This movie will surely change the perceptions of the people about how we look at and deal with wild animals. His remarkable journey throws light on the fact that this animal didn't attack a single person on the 120-km-long route. Ajoba aims to dismiss myths on the human-animal conflict that Mumbai and its surrounding areas have been witnessing for over two years now. The film will move people.