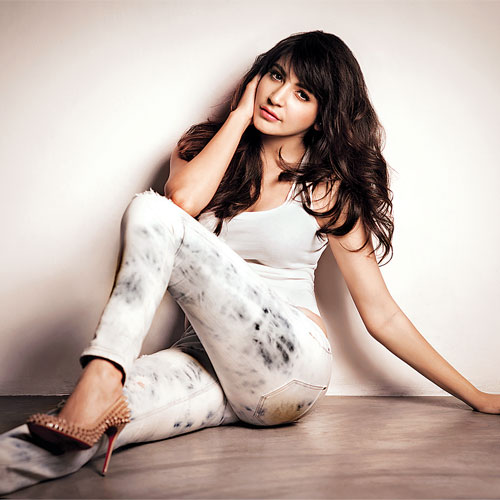 Anushka Sharma is sitting in front of me in her tastefully done-up apartment, which is her pride and joy. And it reflects in her eyes, her voice and her demeanor. This is my first meeting with her and she impresses me with her candour (and the fact that she is eating bread pakodas in the middle of the day). I don't remember the last time an actress said that love is a priority. Like robots, they all mouth, "I don't have time for love right now. I am focussing on my career at the moment."
This girl declares money can never take precedence over love. At the same time, while her contemporaries are content acting, this sassy broad is already producing her first film. She has courage to dash into the dark, led purely by her conviction. I might go as far as to say that she is the female Ranbir Kapoor, who made everyone get up and take notice of him because of his odd choices. Here, the girl who was written off as a one-film-wonder talks about family, friends, films, and yes, Virat Kohli...
You have just completed five years in the industry. Are you content?
I completed five years on the 12th of December but I still feel like a newcomer. I think it's because I have only done seven films. And also, I like to keep a very low profile. I still haven't figured it out. I am more comfortable on the set for sure. But otherwise I'll always feel out of place.

Why are you so lazy? Sonakshi had five releases last year itself.
(Laughs) As in lazy in terms of releasing my movies? You are right actually. Sonakshi came after me and she has done double the number of films that I have. I like to do films that mean something to me and excite me, so I can't do too much.

You are the first actress among your contemporaries to turn producer.
The thing is, I don't know what others do and how they think. I just know how I think and what I want. The decision to turn producer was just an instinct. I really believed in the script and I really wanted to be involved in a role more than an actor. I am not someone who follows a set pattern of thinking that no one has done it before, so should I? I am willing to face the consequences and I am brave enough to do that.
Do you remember the first time you felt like a celebrity?
Actually, I am very shy about it. I feel very uncomfortable and awkward. It took me a long time to deal with it. I find it extremely odd to even pose for pictures with people. Also, I am a little scared of that kind of adulation. I keep thinking: Is it for me? Of course when you are at an airport and people want to take pictures with you, you know that they know you but that isn't really important to me. Maybe that's why I don't remember that first moment.
What's the real Anushka like?
I am very straight forward, very grounded and extremely honest. What you see you get of me. I have no agenda at all in my head ever. Quite honestly, I don't even have a plan in life. I just go with the flow, with my instincts... I am doing things that seem right to me and I think I have a lot of courage to sit at home and not do a film rather than do a bad film. I don't come from the industry and a lot of people tell me that out of sight, is out of mind. But I have faith in myself enough to ignore such things. It's all bogus because when your film comes out and does well, you will be known for that. I don't want to be in the news for anything else. Also, if I am always there everywhere and then my film comes and it is a dabba, then what is the point?

Have you made any lasting friends in the industry?
No.
No one?
I think Adi (Aditya Chopra) but he is not my friend. I have too much reverence for him to call him my friend. But I'll always respect for him... For the way he does things, his correctness and rightness of doing things in a certain way. That is always going to be there no matter what but I don't have friends who I hang out with in the industry.
But a year ago, you partied a lot with Ranbir, Ranveer, Shahid...
At parties, I do that even now. I went to Mr Bachchan's house during Diwali and to Aamir's house also.
That's not what I am talking about...
I think it was once that we went to Ranbir's house when he had a party. Ranbir is my friend. He is not a friend with whom I talk every day and meet very often. See, I have a lot of respect for him and for what he does, his contribution to the industry right now and his ease. I am very envious of his ease. He is really like chilled out. He has a sense of humour. He is my friend but I never went partying with anybody. I don't remember; honestly I can't.
What's your ideal day like when you are not working?
I would just love to sit in front of the TV and watch all my shows and eat in bed and then meet my friends in the evening and play some XBox, Taboo or a board game. If I have an off the next day then maybe I'll drink some beer with my friends and chill... just relax.

You're among the few actresses who're comfortable doing two-heroine films.
I'll be very honest. Katrina and I got along with each other (during Jab Tak Hai Jaan). I really like her. She is not pretentious; she is who she is. You know what I would really like to do? A film that actually explores relationship between women. Women have a lot of layers in their friendships. But I don't know what our fixation is? Two actresses will only come in a movie when there's a guy involved. I mean, why don't we make films like Vicky Cristina Barcelona and The Holiday? If someone comes with a good script and tells me to do a film with Katrina and Deepika, I would jump at it. It's about doing something different. I don't know why people keep harping about two actresses working together. It is sexist because a guy is never asked.
Agree but there are always more controversies when there are two women acting together...
That happens because it's also being created by people. It's in everyone's favour and that's why it's done. But I am not going to accept it anymore, I have decided. It's so stupid and so petty and I am not a petty person. Honestly speaking, neither are the other actresses. It also benefits the publicists and those are the people I would blame for all this. You will never get a call from Monica (her publicist) telling you 'usko neeche dikhane ka'. She would not do that because I am not like that. I would never have a PR person because your publicist and your team are an extension of who you are.

Do you get the feeling that everyone thought you were a one-film-wonder?
Yes, I did.

Did you have to fight that?
I had to convince myself that it's not true and focus on what I know.
Which was?
That a man like Aditya Chopra launched me in his own film opposite Shah Rukh Khan. So I focussed on people who had faith in me rather than on people who just wanted to pull me down. I got a really good sense of this industry after Band Baaja Baaraat because people who completely ignored me and didn't know I existed suddenly became friendly. My understanding of people here happened really quickly. I did feel that people felt that I was not going to last. I feel great that I could actually prove them wrong.
While on BBB... Whenever Ranveer spoke about you, it seemed like the two of you were in a relationship but you always maintained it was friendship.
Yeah, I can talk for myself. We did two films together, one after the other consecutively so we were spending a lot of time together. But I have never dated him. He was a friend. That's about it. I don't know why he would speak that way. I think he is over expressive.
Are you still friendly with him?
No.
You worked with SRK and now you are working with Aamir. Any plans of working with Salman?
You know, as much as I feel how these guys are all so amazing and they are all so accomplished, for me, it's the director who supercedes everything else. For me, that's all that there is. I have never had a wish list of working with any actor and God has been very kind that I have gotten to work in films with all these wonderful actors. SRK, Aamir, RK but I have never ever had a desire like that.
What's your priority at the moment — love or money?
Love always. Money has never been my priority. Will you write the whole thing please? I just need to always express myself so much. I have never chased money. Since I was a kid, I have never dreamt of a big house or a big car. Somewhere at the back of my head, I've always believed that if something is going to happen, maybe it will. I will never do something if someone says 'isme itna paisa mil raha hai'. I went to London and I stayed with my friend. And if I had eaten something, I would wash the dishes and put them back where they belonged. That's my upbringing because I come from a middle class background. My dad was in the army. We didn't have money but the standard of living was always very good. Like we had big homes; we had access to the best clubs.
Of course, there were times when my mother, while ordering in a restaurant, looked more to the right side of the card... So I have seen that also, but it's not something that's ever driven me. It's only nowadays that I have started buying things like bags and clothes and stuff like that. I get so excited though.
Do you feel guilty later on?
I feel like I am loving myself for some time and finally it has happened. I owned one designer bag like eight-nine months ago. I have one and one was gifted to me. Yes, I feel guilty. There are times when I am not feeling guilty and my parents will make sure that I feel guilty.
So what's been your biggest extravagance?
This house. I have really spent on the house. Like I didn't hold back at all because it was something where my family was going to live and because I always lived in those government houses and as big as they are and my mother tried her best to make them look nice because you can't change anything about these houses. For me these things are most important — like a house. It means security.
Let's talk about Virat Kohli...
He is my friend and he does come to my house and I am not denying it. But I am not dating him. You know what I mean. When they see you with somebody they are always going to link you up and the larger effect is so horrible...
When you don't talk is when people jump to conclusions.
I always say. But when I say we are friends, they put it in quotes and say, 'Oh just friends'. They can make you look like a fool but you are speaking the truth and I hate that. I get so angry because of that. It's like a mockery of my damn honesty. I have been linked to every boy I have known in the industry and they are all my friends. I really feel like people need to calm down, man. Virat came to my house after this shampoo commercial that we shot for three days. My friends were coming over and we were going to chill. I told him, 'Why don't you come over?' and he came and that's what it was. There was this whole thing about how there were some aunties in the elevator and we were cosying up in front of them. C'mon man. It was also reported that he was turning back and looking at me when I was going. What a ghisa pita scene of a film. For the record, Virat is my friend. Whenever he comes to Mumbai, he will definitely come and see me and that's completely normal.
What would you look for in a guy?
Number one, he has to be self-assured. I cannot deal with insecure men. I have known some and they are so putting off. Secondly, I want to be with somebody who is very driven because that's the way I am. I want to be with somebody who is also working and focussing on what he is doing because if somebody is like that, he will always support someone. Obviously I don't have to say he has to support me, but he bloody well support me because I am going to be supporting him also. I want to be able to look up to the person. It's very important. I always looked up to my dad when I was growing up. I look up to Adi always. I have to be with someone from whom I can learn a lot from. I feel a relationship is very empowering and it's a great leveller also.

Do you think it's more difficult to meet someone when you are an actress?
Yeah it is. When you realise that the person is just wanting to be with you for a reason, you just kind of leave them. Yes, it is also difficult to meet new people and apart from that, if you go out on one date with a guy, it is all out there. But for the two of us, it should be the first date. We should feel like going out for a coffee. It might take one year for us to start dating each other finally. But the way it gets reported and that's weird because you know it's not real. Because in real time, that's not what happened. That's another reason why it is difficult to be in a normal and real relationship. But then I also think having a real relationship is something that is very difficult and that's something I desire.