Film: Ek Tha Tiger (U/A)
Director: Kabir Khan
Cast: Salman Khan, Katrina Kaif, Girish Karnad, Ranvir Shorey
Rating: ***

Every time a Salman Khan film releases, it's become a ritual to forgo the luxuries of a press screening and hop to the nearest single screen to have the maximum fun. When Dabangg released, the crowds went crazy clapping and cheering for Chulbul Pandey as he bashed the evil out from rustic goons. Dabangg was entertaining, no doubt. Then came Ready, later Bodyguard. He did about the same things, got into verbal spars, beat people to pulp, always landed on his feet and became part of a complicated (in varying degrees) love story.

For change, there's more to Ek Tha Tiger than just comical maar dhaad and a larger than life Salman Khan flattering the audience that loves him so much.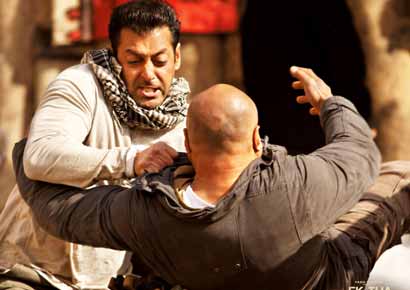 As an R&AW (Research & Analysis Wing) spy, Tiger is having a time of his life going on mission after mission, all over the world, funded by the Indian government. There aren't many things he's passionate about. There's only his country and much later a girl called Zoya (Katrina Kaif) he falls in love with. When loyalty to one's country beckons and an impossible love opportunity threatens to pass up, Tiger and Zoya have to make a choice, one that could pit them against each other. Anything more and I risk getting beaten up by Tiger for giving out too much.

Ek Tha Tiger is an action lover's paradise. Seconds into the film, when you've not even settled well in your seat, there's cigarette ash settling down on screen in slow motion. Tiger has just thrown his first kick, a signal of his arrival. Not to mention the theatre erupts in applause and mirth seeing their favourite Bhai in his element. Many kicks, jumps, punches and gun shots follow in a soiled, yet beautifully shot Iraq. When Tiger isn't travelling, he's busy making neighbours jealous and suspicious of his profession. Then he punches some more so we know all's well with the world.
Even though Salman's screen presence tends to overshadow even the strongest actor, Katrina stands her ground. She manages to impress effortlessly. Girish Karnad's act seems a bit contrived, while we wish Ranvir Shorey had more screen time.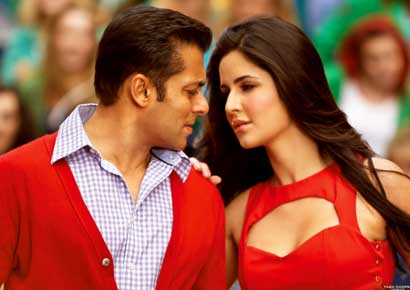 Aseem Mishra's cinematography makes even the dirtiest streets look like they're straight from a Yash Chopra film (hell, this is a Yashraj film!). Istanbul's Blue Mosque, Cuba's street culture, Dublin's Trinity College, everything is captured well enough to add richly to the production value. Then there are some of the best (and long) chase and action sequences, choreographed by Hollywood's Conrad Palmisano, that keep you hooked till the end. Rameshwar S Bhagat's editing is sharp and manages to maintain a consistent pace throughout.

The music which has a lot of Arabic influences add to the experience of watching Salman in action. Even though too many songs slow down the fast-paced narrative, Mashallah which comes right at the end is a personal favourite. The Ek Tha Tiger theme song is reminiscent of Shah Rukh Khan's Don theme.

Director Kabir Khan ensures he exploits Salman's screen presence, while also adding substance to all that jazz around. The twists in the tale are enough to keep you from snoozing due to an overdose of action.

Salman never fails to entertain and the release of Ek Tha Tiger is aptly timed. This Tiger is sure to bite his way to another box office success. That's not news anymore.