You watched The Avengers, were blown away by its awesomeness and then wondered how come it had a Hindi theme song. Agnee, the band behind 'Hello Andhero', is all set to enter Bollywood as music producers with the film Aalaap.

Comprising K Mohan on vocals and Koco on guitars, Agnee was formed in 2006 after the duo kept bumping into each other at jamming sessions with a common friend. Moving lyrics, soulful melodies and songs like 'Sadho Re', 'Yaariyan' from Cocktail, and reality show Splitsvilla's theme song 'Aahatein' have made the band a name to reckon with. They collaborate with musicians Aditi Singh Sharma, Meiyang Chang, Angaraag Papon, Nitin Joshi and others.

At a recent concert marking their foray into films, DNA's Blessy Chettiar got the chirpy Mohan and the quiet Koco talking about their kind of music, The Avengers and Bollywood.

Congratulations on turning film music producers. From an indie band to Bollywood, what prompted the move?
Mohan: We hadn't really decided we wanted to turn film music directors. For Avengers, we were approached by Walt Disney to compose the theme song ('Hello Andhero'). That was followed by the producers of Aalaap, which releases this week. We heard the story and decided this wasn't the typical Bollywood guy out to make money. There was genuineness in the passion he showed. So we agreed.
Composing for films means being bound by a brief, the demands of a script unlike when you're on your own as an indie.
Mohan: So far we've been lucky. People have come to us asking us to do what we do best. As long we can do that there's no problem. But we also know it's not going to be like that forever. It is the storytelling that is important. As long as we can retain our originality, we're good. But asking us to change our music to suit the film won't do justice to any of us. That's where we draw the line.
Does Agnee as an indie take a back seat?
Mohan: Our primary aim is playing live. There is nothing compared to playing live in front of an audience. We'd do that 365 days a year. Our clear rule is that we cannot cancel a show for a recording but we can cancel recordings for a show. The feeling of performing on stage is always fun. We're never going to stop non-film releases, solos.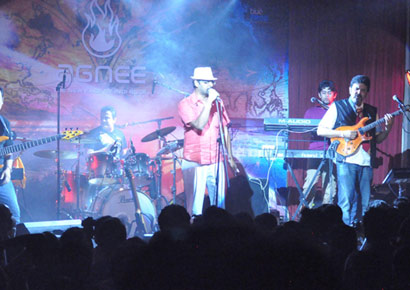 After Avengers, Splitsvilla, a song in Cocktail, what has been the real turning point for the band?
Mohan: There have been many turning points. Avengers was a huge thing because a Hindi band was getting that kind of a platform. Secondly, it was releasing in India a week before the rest of the world and our song 'Hello Andhero' got released a month before Soundgarden's English theme song 'Live to Rise'. Soundgarden is a huge band which came back together after 15 years. Everyone was talking about their reunion and people compared us with Soundgarden, which made us very happy. It was better than being compared to another band from India. The playing field got much bigger. We always wanted to be the biggest band in the world. We think we already are. Not many people are willing to believe it yet (laughs). We're going to die trying.
What about the criticism of 'Hello Andhero'?
Mohan: For Avengers we had our share of criticism. A British guy wrote to us saying how could they play that song in Avengers. It was like Mallika Sherawat dubbing for one of the characters. One film critic wrote saying he didn't understand anything about the lyrics but the guitar solo was badass. He loved the song. The responses were different. So many people got to listen to us. Now Agnee is not a name that is unknown in the US, Europe. That's a good thing. It's our job to make them like our music.
Does that increase the pressure?
Mohan: No.
Koco: The only pressure we have is that if we compose a good song, the next song needs to be better than the previous one. We are setting standards for ourselves. Not because we are getting popularity. Of course, we love the popularity but that's not what really drives you. It's the musicality. Our songs are sounding better now, they're better produced. Practice makes you better.
What about self-promotion in this world swept by the tsunami of social networking?
Mohan: We are shameless, we do it. When a song is out we make sure everyone gets to know about it. We also try and make it engaging for people. Just tweeting 'please listen, please listen' 25 times in a day, people are going to lose interest in my next tweet. So we need to be careful about that. We don't spam people at all! As far as our page is concerned, we go all out and promote it. Recently, we released a video called 'Reveal Yourself'. The whole idea is that we're releasing it as a game where you see the songs but can't hear the vocals. You have to guess the words, put it on the text box and once you submit it, the software tells you how many words you got right. Super fun thing to play! We've done dumb charades, crossword puzzles. We're trying to engage people every day. Winners will get expensive merchandise lie guitars from us.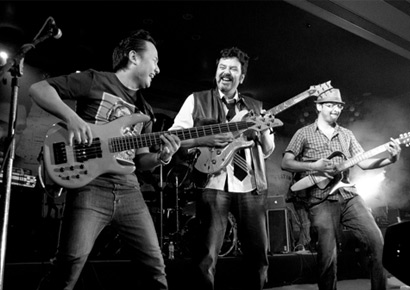 How different is producing music for films? Do you have a set criterion for selecting films?
We have standard procedure where a very detailed narration happens, it goes scene by scene. Then we get into the characters and song situations. So it's a very clear process. We don't take sound suggestions from people before we start working. Unlike the others who produce say 10 songs for a particular situation, we don't do that. We don't have a bank of songs. For every film we compose separately, lyrics are written separately. We compose only as many as are required. We obviously take inputs from the directors, producers.
How different or similar are you guys creatively?
Mohan: I am hardcore Carnatic while he's in the rock space. If you keep it watertight, you'd think I come up with the classical ideas and he with rock. Over a period of time, my melodies have become classical with him making them simpler for the audience. The opposite has also happened. But the way it is now, we have started to act like each other, where I am learning to play the guitar and a song we just released is Koco's debut as a singer. Sudden transformation of Koco has happened. We started off being very different. It's not like that anymore.
And how much do you fight?
Mohan: Lots. I can't stand him, he can't stand me. We don't get physical though.
Koco. We pull out our own hair.
Mohan: Koco's favourite thing when we're angry with each other is to go and have filter coffee. I am the South Indian in the band and he has the filter coffee. I go and play killer Sudoku and I'm fine. The creative disagreements have over the past few years become the simpler ones to handle. We don't stop anyone's idea till we take it through the end. We've got enough respect for each other as musicians.