It is a day that will make it to history books as Aam Aadmi Party leader Kejriwal, a political novice becomes Delhi's youngest chief minister.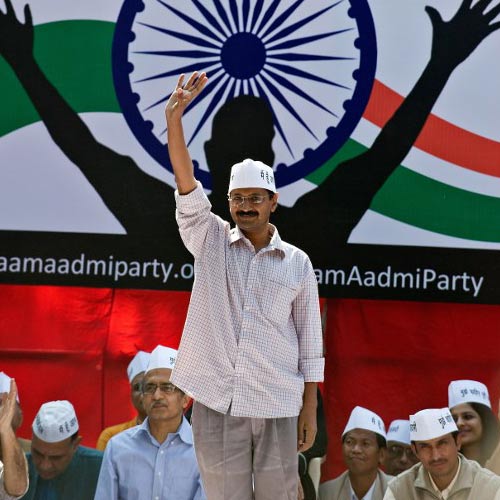 In Delhi huge crowds of people gathered at the Ramlila Maidan to watch Arvind Kejriwal being sworn in as the seventh chief minister of Delhi.
After a lot of confusion due to the hung verdict in Delhi, Arvind Kejriwal-led Aam Aadmi Party has stepped up with support from the Congress to form a government in Delhi.
As the youngest CM of Delhi, a political novice and the leader of a minority government, Kejriwal faces many challenges. But the new Delhi CM looks set to prove everyone wrong like he did in the polls where he managed to defeat Shiela Dikshit in a constituency from which she won multiple times.
Read: Arvind Kejriwal's metro ride to power
Arvind Kejriwal second IITian to become CM after Goa's Manohar Parrikar Read
Know your government in Delhi: Read
Read a profile of new Delhi CM Arvind Kejriwal

Here are live updates from Delhi:

* Harshvardhan congratulates Arvind Kejriwal; doubts alliance with Congress will last Read
* Siwani celebrates Arvind Kejriwal's rise as son of the soil becomes Delhi CM Read
* BJP to watch how early Arvind Kejriwal fulfills promises Read
* Manmohan Singh calls up Arvind Kejriwal to extend best wishes and support as he undertakes new responsibilities as Delhi Chief Minister.
* AAP to lead the country to fundamental change: Prashant Bhushan Read full report
* No PSO and escort vehicle to be provided to officials.
* Security to be allowed based on threat perception, Delhi cabinet decides.
* No ministers and officials in Delhi Govt will use red beacon, as per decision of first meeting of cabinet presided over by Arvind Kejriwal.
* "Till now dishonest officers were rewarded and honest officers sidelined. No opposite will happen. Bureaucracy seems a bit worried. We are not here to do witch hunting. Honesty will be rewarded, " says Arvind Kejriwal after meeting state officials.
* Arvind Kejriwal to meet Delhi Police Commissioner BS Bassi.
* Arvind Kejriwal to Delhi citizens: Work together to end regime of corruption Read
* Arvind Kejriwal's alma mater celebrates as he becomes CM of Delhi Read
Â
Celebrations in Moradabad for AAP coming to power pic.twitter.com/fHPdKvWEMF

— ANI (@ANI_news) December 28, 2013
* Anna Hazare confident that Arvind Kejriwal will do good work Read
* Saurabh Bhardwaj - The ministries of transport, food supply and environment have been given to him. Read profile
* Somnath Bharti - He will look after administrative reforms, law, tourism, art and culture ministries. Read full profile
* Satyendra Jain - He would be looking after the ministries of health, industries and gurdwara elections. Read his full profile
* Rakhi Birla - The youngest member of the cabinet, Birla will be handling women and child development, social welfare and languages. She has also been given charge of making special arrangements to ensure women's safety in the national capital. Read full profile
*Â Girish Soni - He will be looking after the ministries of Scheduled Castes and Scheduled Tribes, employment, development and labour. Read profile
Â
* Manish Sisodia - Kejriwal's right-hand man will look after education, higher education, Public Works Department, urban development and local bodies. Read profile
* Arvind Kejriwal - The chief minister will be handling the ministries of home, power, planning, higher education, finance, services and vigilance.
* I am going to meet transport, IGL, Jal board, et al. We shall keep you updated with all progress: Arvind Kejriwal.
* Delhi CM Arvind Kejriwal to hold first cabinet meeting at 2:30 pm.
* Our fight not over till India is corruption-free: Arvind Kejriwal Read full report
* Arvind Kejriwal and ministers are in a closed-door meeting; more meetings to follow with bureaucrats, transport union.