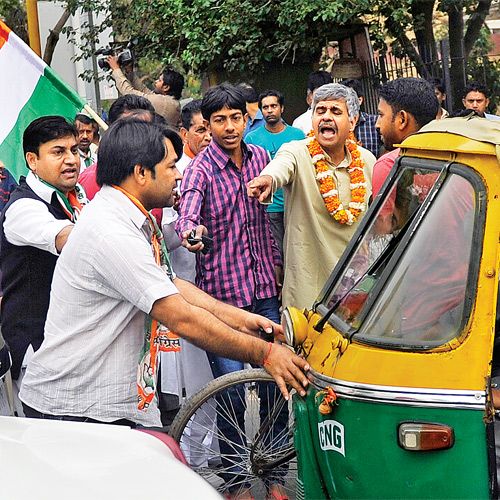 While mom is away, kid is having a tough time. Sandeep Dikshit, two-time sitting MP from East Delhi and son of former Delhi chief minister and current Kerala governor Sheila Dikshit, is left all by himself, orphaned and isolated.
In the 2009 Lok Sabha election, the Delhi state unit and all MLAs used to work overtime to ensure his victory. Not surprising, since his mother was one of the most powerful women in Delhi then.
However, the same MLAs don't want to be seen in the company of Sandeep now.
Sandeep has, so far, appeared in eight public meetings in the Laxmi Nagar area. Former Delhi cabinet minister and Congress member AK Walia is the MLA here. Walia did not attend any of Sandeep's meetings. Sandeep, in these meetings, was accompanied by district- and block-level leaders.
While Walia did not comment, sources said Walia stayed away because of his differences with Sheila.
Delhi Congress chief Arvinder Singh Lovely, too, has only accompanied Sandeep in his constituency. Lovely was seen with Sandeep only in the Gandhi Nagar assembly seat. "Everybody knows me in Gandhi Nagar. It's my area, so I had to accompany him," said Lovely.
While Sandeep is contesting the general election, his partymen are harping on the work done by the Congress government. Sandeep himself has been talking about the work done by the Congress government in Delhi in the past 10 years, though without mentioning his mother's name.
While the party in Delhi is trying hard to put up a united face, Sandeep is finding it hard to find support from within. "Except for Lovely, none of the MLAs got along very well with Sheila Dikshit. Now that she is out of power, the MLAs are using this as an opportunity to settle scores," said a local leader of the area.
Sandeep, however, says he is comfortable and enjoys the support of his partymen. "If it's the assembly election, the presence of my mother would have been important, but not in Lok Sabha," he said.