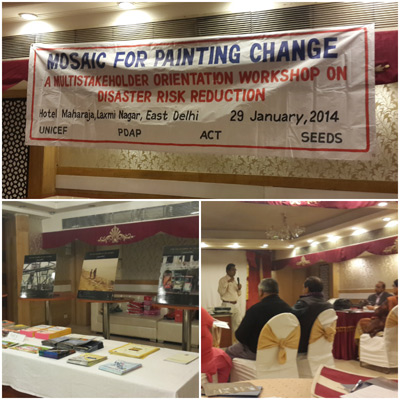 After the Uttarakhand disaster indicated a failure of the system, the civil society in Old Delhi is seeking active participation of public in minimizing the damage of life and property at the time of adversity.
Nearly 30 people from various organizations like the UNICEF, residential welfare associations (RWAs), school teachers, government officials, political party workers and students attended the Multi-Stakeholder Orientation Workshop on Disaster Risk Reduction in Laxmi Nagar, East Delhi, on January 29. The workshop was organized by the Citizen's Forum, Purvi Delhi Apada Prehari (PDAP).
The PDAP – formed in 2011 with the help of two NGOs, Anchal and Sustainable Environment Ecological Development Society (SEEDS) – aims to reduce the risk of natural and manmade disasters in East Delhi through education and awareness.
"The involvement of local communities is important as they are aware of the ground realities. In fact, children can influence adults and so we are including them in our mission of achieving sustainable development in East Delhi," said Parag Talankar, senior Manager, PDAP.
Manu Gupta, director, SEEDS, said, "Our main objective is to bring together all agencies working for disaster management and help prevent suffering and loss of life during natural hazards." He acknowledged that many agencies functioned at various levels but said they lacked coordination and cooperation.
Compared to the other parts of Delhi, the geographical location of Old Delhi makes it more prone to natural calamities, like floods and earthquakes. Congestion, narrow roads, parking problems, overpopulation, unauthorized constructions, lack of infrastructure, migration, shortage of drinking water and electricity further add risk in a common man's day to day life.
"The higher authorities are aware of the problems but no active action is seen from them," said Anjali, project coordinator, District Disaster Management Authority (DDMA), noting that their agencies work efficiently and frequently go for mock drills.

Talankar stressed that "proper coordination between all the multi-stake holders can bridge the gap between people and government agencies."