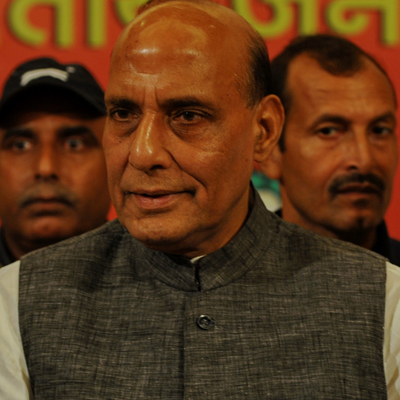 The surprising entry of stand-up comedian, dancer, "Boogie Woogie" star and reality TV show judge and host Javed Jaffrey as the Aam Aadmi Party (AAP) candidate against BJP chief Rajnath Singh in Lucknow may have added an interesting dimension to the electoral choreography in this VIP constituency, but his relevance promises to remain limited to entertainment and novelty value at best.
Jaffrey has no past connect with Lucknow and perhaps has never even visited this city of nawabs, though political analysts say he has filled the vacuum of a Muslim candidate in a seat where Muslims hold the decisive vote. It is indeed surprising that neither the Congress nor the BSP or the Samajwadi Party (SP) put up a Muslim candidate against Rajnath. However, since he belongs to the Shia sect, his presence in the electoral arena is unlikely to make any crucial difference as the Shias are largely outnumbered by the Sunnis.
"The AAP's trick is not going to work. Even Shias will not vote for Jaffrey," says Mohsin Raza, a one-time ace cricketer and prominent Shia personality. He says the Shias have traditionally backed the BJP and will continue to do so despite Jaffrey's entry. "Some youngsters might flock behind him due to his celebrity status but that will not convert into votes," he adds.
About the SP's Abhishek Mishra, a young minister, and the BSP's ex-minister Nakul Dube, there is near-unanimity among political watchers that they will merely remain also-rans. In fact, in a way, AAP may have just helped Rajnath by bringing in a Muslim candidate who would dent the minority votebank drifting towards the strong Congress nominee here, Rita Bahuguna Joshi.
However, Joshi sounds supremely confident as she says: "Lucknow will be the theatre of the Congress' war against communal forces. Rajnath Singh's defeat here will signal the downfall of the BJP and Narendra Modi's prime ministerial dreams." Asked about Jaffrey, she refused to recognize him as a "serious" candidate. In a similar vein, a senior journalist quipped: "His candidature is a caricature."
For his part, Rajnath is banking on the aura of Atal Behari Vajpayee, who won the Lucknow seat five times consecutively, to carry him through. The vote count of his own caste (Thakur) is the least among the prominent castes. No wonder then, he begins every speech here with a reference to "shraddheya (revered) Atalji" and describes Lucknow as Atal's "karmabhoomi". He asserts, "My top priority is to complete the works Atalji had envisaged. He wanted Lucknow to be developed as a bio-tech city, he had dreamt of a clean Gomti. I will fulfil his dreams."
However, the BJP chief's electoral path is littered with thorns, not the least being those scattered by veteran party leader and outgoing MP Lalji Tandon who was denied the ticket this time rather unceremoniously, though he denies reports that he is disgruntled. "I am a disciplined soldier of the party and am doing my best to ensure Rajnath ji's victory," he says.
But, in the tricky business of politics, what one says may not be what one means or does. So, Rajnath would do well to beware of the thorns in his side if he wants to avoid a shocking verdict. — Deepak Gidwani @dgidwani123
2009 — Nafisa Ali (SP) lost to BJP's Lalji Tandon
1998 — Muzaffar Ali (SP) lost to AB Vajpayee
1996 — Raj Babbar (SP) lost to AB Vajpayee
(NB: Sanjay Dutt was the original SP candidate in 2009 but could not contest as the Supreme Court refused him permission due to his conviction in a case related to the 1993 Mumbai blasts.)
The caste matrix
Muslim -- 4.5 lakh (Shias 1 lakh)
Brahmin -- 2.5 lakh
Vaish -- 2.5 lakh
Backward -- 2 lakh
Kayasth -- 1.25 lakh
Dalit -- 1.25 lakh
Thakur -- 60,000
(Total electorate in Lucknow: 18.5 lakh)
2009 election results
Lalji Tandon (BJP) -- 2,04,028
Rita Bahuguna Joshi (Congress) -- 1,63,127
Akhilesh Das Gupta (BSP) -- 1,33,610
Nafisa Ali (SP) -- 61,457