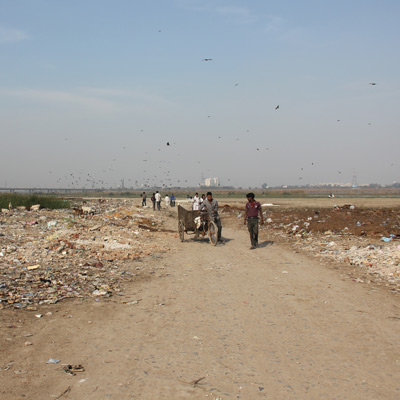 For the 500-odd families that live on the banks of the River Yamuna around Okhla in Delhi, getting potable drinking water has been a daily struggle for the last 10 days.
With rising ammonia levels in the river water and the disappearance of the Delhi Jal Board's (DJB) water tankers, the already impoverished people are now on the verge of losing their daily meals as they have to spend money to buy water from the DJB's water plant at ₹1 per litre. Coughing out money every day for water is a burden for these families, as most of the men earn a living pulling rickshaws.
Earlier, the residents of Okhla's Dhobi Ghat slum were supplied water by the Jal Board's water tankers about three or four times every week. But for the last month, the tankers have been arriving just once a week. The water was also supplied free of cost, which isn't the case how. The residents nowadays have to buy water from DJB plants or use water from the river.
The slum dwellers know the river water is polluted. What they don't realise is that ammonia in the Yamuna has increased significantly this January. From 0.2 parts per million (ppm) in December 2013, ammonia levels in the water have increased to 1.1 ppm this month.
A higher concentration of ammonia in water can impair liver (hepatic encephalopathy) and brain functioning. It can also cause lethargy, confusion and, in extreme cases, put a person in coma.
"We use the river water to wash clothes and for our animals. We also use it for personal cleanliness sometimes," said Rani Khatoon, who lives at the Dhobi Ghat.
"Sometimes our children fall ill. We are illiterate, so we don't know the cause of illness and we're too poor to afford medication," said Shanaz Parveen, a mother of three.
The tankers coming in just once a week have only made things worse. DJB's Okhla division executive engineer said he did not have any information about water tankers not going regularly to the Dhobi Ghat area.
Locals say all families used to get sufficient water when the water tankers came three or four times a week. "These days, when a tanker enters our area, people start arguing and fighting about who should get water first and how much," said resident Fatima Bano.