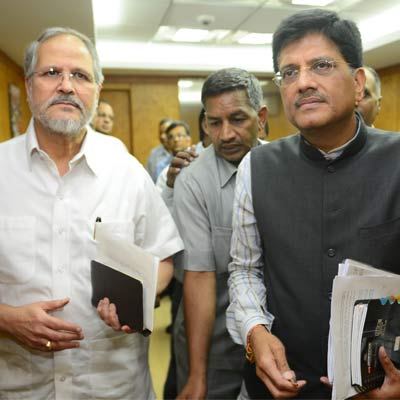 Congress today came down hard on Union Power Minister Piyush Goyal hours after he blamed the 15-year rule of Sheila Dikshit for poor power transmission network and long outages in the city.
In a counter attack, Delhi Congress Chief Arvinder Singh Lovely said it was the responsibility of the NDA government and Goyal to resolve the power crisis as the city was under central rule and claimed that the Dikshit government had ensured round-the-clock electricity supply. "Piyush Goyal cannot run away from his responsibilities by blaming the Sheila Dikshit government. Our government had managed the power sector efficiently. We brought reform into the power sector. Instead of addressing the crisis, Goyal has targeted us," Lovely told a press conference.
ALSO READ: Power projects in limbo, Piyush Goyal faces consumer heat
Areas across the city have been facing blackouts of up to six hours. The Delhi Transco Ltd (DTL), a Delhi government utility, is yet to repair all the transmission lines damaged by the devastating storm that hit the city 11 days ago.
Earlier, after a meeting with Delhi Lt Governor Najeeb Jung, Goyal said that there was no policy initiatives in the last 10-12 years to modernise Delhi's power transmission network due which the city has been reeling under outages. "Delhi is under central rule and the LG is the representative of the Centre. So it is primary responsibility of the Narendra Modi government to ensure power supply in Delhi. Instead of doing that, they are attacking the Congress," Lovely said.
The DPCC chief also attacked AAP leader Arvind Kejriwal saying the situation deteriorated as the AAP government did not prepare a summer action plan to meet the growing power demand in the city. "Why no summer action plan was prepared by Arvind Kejriwal when he was chief minister. We had controlled power crisis during our time. But the AAP government did nothing," said Lovely.
Also Read: AAP slams Centre, Delhi over power crisis
Areas across the city faced blackouts of up to six hours today also as a number of power transmission lines damaged in the storm on May 30 are yet to be fully repaired.
Congress MLAs and ex-MLAs yesterday had locked Delhi Chief Secretary SK Srivastava in his room for over one-and-half hours, demanding immediate improvement in supply of power and water in the national capital.
The DPCC president also said that this worst situation of power has reminded the Delhiites of BJP's rule of 1993-1998 when they had to face severe power cuts. "Instead of doing arrangements for ensuring better power supply in the national capital, BJP is blaming Congress.
ALSO READ: How solar energy can help resolve Delhi's power crisis
During the 15-year rule of Sheila Dikshit, people didn't need to buy inverters, but now, Delhiites have started buying inverters from the market," Lovely also said.
Another Congress leader Haroon Yusuf said that in the past 10 years, the people of Delhi didn't face such situation. "When Congress was in power, it ensured better power supply for Delhiites following which several awards were given to the then Delhi government. The Union Power Minister is saying that they don't have sufficient infrastructure to improve power supply, but I want to tell him that without having this infrastructure, Congress had ensured a 24-hour power supply in the national capital," he told reporters here.
During the press conference, DPCC leaders also launched a helpline number for Delhiites to register their complaint related to power cuts. "We have launched a helpline - 9911911946 - on which residents can tell us by sending SMS as to how long they are facing power cuts in their respective areas. Besides, Delhiites can send their complaints on maildpcc@gmail.com.
Also Read: Power problems in Delhi continue, certain measures to be adopted with immediate effect
After getting complaints, we would table them before government officials who claimed that there were no power cuts in Delhi," Congress chief spokesperson Mukesh Sharma added. Sharma also said that if power crisis is not solved at the earliest, Congress would launch a series of protests across the national capital.
Meanwhile, Congress MLA Jai Kishan from Sultanpur Majra also announced that he would sit on fast until death over power and water crisis from tomorrow. "I have decided to sit on fast until death near water tank in Block E in my constituency at 11 AM from tomorrow. I will not break my fast till the supply of power and water is not improved in my area," Kishan also told reporters.