Calling himself an anarchist, Delhi Chief Minister Arvind Kejriwal Monday staged a dramatic sit-in with his cabinet ministers and around 1,000 vocal supporters in the heart of the city seeking action against five police officers his government holds guilty. Read more
Latest updates
* Reacting to Delhi Chief Minister Arvind Kejriwal's claims citing a Ugandan letter alleging sex and drug trafficking of African women, External Affairs Minister Salman Khurshid on Monday said it is sad that some people are playing with India's relationship with friendly countries. Read more
* "Countdown" for the AAP government in Delhi has begun, the Congress said on Monday in the wake of Arvind Kejriwal and his colleagues hitting the streets agitating against the Delhi Police and wondered who will run the government if the chief minister sits on dharna. Read more
Those violating law should be arrested: Anand Sharma on AAP dharna
Tough time for Delhi Police personnel at Arvind Kejriwal dharna site
Mixed response to Arvind Kejriwal's dharna on Twitter
* As Delhi's combative Chief Minister Arvind Kejriwal and his cabinet sat in protest in the heart of the city, over the alleged inaction of Delhi Police, the "aam aadmi" (common man) bore the brunt Monday. Read more
* Claiming Aam Aadmi Party (AAP) was resorting to "gimmickry" as they know that they will not be be able to fulfil the promises made by them, I&B Minister Manish Tewari today said it was high time the party transform from agitators to protestors. Read more
* Sitting undeterred under the open winter sky, Chief Minister Arvind Kejriwal Monday said the protest would not hamper the functioning of the Delhi government in any way. Read more
It's upon wisdom of CM how to act: Nitish Kumar on Arvind Kejriwal's dharna
Central Secretariat and Udhyog Bhavan metro stations to be closed on Tuesday morning. Read more
Arvind Kejriwal, colleagues an 'embarrassment', says Jairam Ramesh
* MEA trashes AAP's claim that Ugandan official in Delhi praised Somnath Bharti's action, says there are no Ugandan officials in Delhi. Read more
* AAP hits back at BJP-Congress, says extreme measures need to be taken.
* Kiran Bedi hits out at AAP, says party trying to escape responsibility. Read more
* Delhi deserves governance not anarchy, says Arun Jaitley.
*
Did the AAP form a government to wreck the system from within?

— Arun Jaitley (@arunjaitley) January 20, 2014
* Who is more dangerous for Delhi — Saurabh Bhardwaj or Sushilkumar Shinde, asks Arvind Kejriwal.
* People will teach Congress a lesson in the upcoming elections: Arvind Kejriwal. Read more
* If Police has to decide what happens in Delhi then why were elections held? The Police commissioner should have been made CM: Arvind Kejriwal.
* On what basis was MLA Akhilesh Tripathi beaten up? Why was minister Saurabh Bhardawaj detained?, asks Arvind Kejriwal.
* Prepared to sit on dharna for 10 days. PM and HM to be blamed for law and order problem: Arvind Kejriwal.
* Police detain AAP transport minister Saurabh Bharadwaj. Read more
* AAP supporters, police clash at dharna site
*
Police officials threw away my spectacles and broke my mobile phone.We were treated like criminals-AAP volunteer pic.twitter.com/NPkHDbU68c

— ANI (@ANI_news) January 20, 2014
AAP MLA Akhilesh Tripathi allegedly beaten up by Police,taken to hospital

— ANI (@ANI_news) January 20, 2014
* Arvind Kejriwal, Cabinet ministers sitting on dharna looks absurd: Parkash Singh Badal. Read more
* Crowds dwindling outside Rail Bhawan as law minister Somnath Bharti requests protesters to maintain order and protest peacefully.
* Delhi Chief Minister Arvind Kejriwal and his cabinet colleagues who wanted to protest outside the union home ministry office over alleged police inaction were stopped on the way.
*
He remains a protester,has failed to be an administrator : Kiran Bedi on Arvind Kejriwal pic.twitter.com/UcHpdguLvB

— ANI (@ANI_news) January 20, 2014
* I&B Minister Manish Tewari told a television news channel that AAP must focus on governance instead of activism. Asks what will happen if Union ministers protest at CM's house. Read more
Arvind Kejriwal clears office files at sit-in site
Yogendra Yadav justifies AAP's protest, says 'Delhi police lacks accountability'
Also read: Congress, BJP slam Delhi Chief Minister Arvind Kejriwal's dharna, call it anarchic, drama
Somnath Bharti issued show-cause notice by Bar council of Delhi for tampering evidence
* BJP accuses team Kejriwal of diverting attention from their governance.
* Since the time Court ordered for an FIR against Somnath Bharti, AAP is trying its best to divert attention from the issue: Congress leader Haroon Yusuf.
* AS Lovely, DPCC Chief: They (AAP) aren't protesting on any 3 issues, they are there to save their ministers, are wearing the shield of Aam Aadmi.
* Executive agencies can't misuse law. There is a difference between running a govt and running an agitation NGO: AS Lovely.
* Delhi CM has left all his work and sitting on a Dharna to suspend 3 police officers and save his 2 ministers: AS Lovely.
* It seems the AAP govt again wants to implement the Rowlatt Act of British times, says Congress leader AS Lovely. Read more
* Central Secretariat metro has been closed to traffic again.
* Congress' Manish Tewari arrives at Rail Bhavan has to leave as protesters shout slogans.
* AAP protesters spoke to the minister who then went to his office.
* Police snap wires of loudspeakers, AAP leaders unable to speak via that.
* AAP volunteers trying to manage the protesters gathered at the area outside Rail Bhavan where CM Kejriwal and his cabinet are protesting.
* Minor arguement and scuffle between policemen and AAP volunteers over disconnecting loudspeakers' wires
* Protesters take to chanting, 'We will continue to fight the corrupt'.
* Police have started a lathi charge on the protesters.
Delhi Police have asked Arvind Kejriwal to shift dharna from outside Rail Bhavan to Jantar Mantar.
The crowd at the protest spot is increasing with around 700-800 people at the spot now.
Kejriwal's car was stopped right before Raisina Road, near Rail Bhavan in New Delhi, the seat of the central government.
We will give up our lives to fight for people of Delhi: Somanth Bharti Read full statement
Arvind Kejriwal, his ministerial colleagues to sit on dharna outside Rail Bhawan.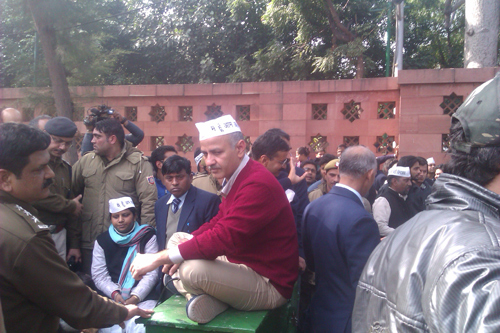 Standing on a makeshift stage, Arvind Kejriwal said,
* There has been a rape and police claim a probe is on. But just a probe isn't enough.
"I have come prepared for 10 days to protest. If there is any chaos during the Republic Day, then the central government will have to be blamed," he told a large number of supporters in the capital's heart.
"I had earlier tweeted asking people not to join us for the protest. Now I am calling all of you to join us in the cause.
"I am even asking honest policemen to take leave and join me in the fight for justice," he added.
"On Friday, she thanked him for taking action. She said that a lot of women from Uganda were brought (to Delhi) in the name of securing work for them and then forced into sex trade," Kejriwal said.
Kejriwal went on: "Yes, I am an anarchist and I will take this anarchy to the home minister. A probe is not enough, somebody (in Delhi Police) has to be held accountable."