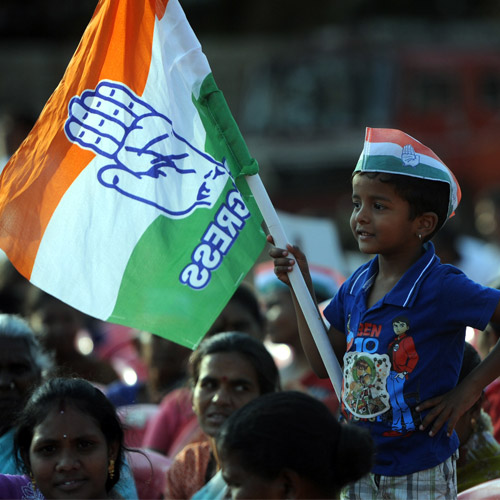 Buyoed by "encouraging response" to Rahul Gandhi's rally in Delhi, Congress tonight said it was ready for assembly election in the national capital "any time" after the Lok Sabha polls.
Sources in Congress said the party is likely to convey to the Supreme Court on April 17 that it would not oppose holding of assembly election after the Lok Sabha polls when the hearing on a case relating to the issue is held. The Supreme Court had on March 31 given two weeks to both BJP and Congress to make their stand clear whether any of them is in a position to stake claim to form government in Delhi in the wake of the assembly being kept under suspended animation following the resignation of Aam Aadmi Party government.
Asked about the issue, Chief spokesman of Delhi Congress Mukesh Sharma said his party was ready for election any time. "We are ready for election. Rahul Gandhi's rally yesterday in South Delhi proved that Congress has regained its lost ground. Delhi Congress wants early assembly election," Sharma claimed. "The people of Delhi realised that AAP was misleading them. We (Congress has 8 seats in the assembly) are not in a position to form the government. So the party was ready to face the electorate again on the plank of development," he said.
Sources said Congress would explain its position on the issue to the Supreme Court in an affidavit on April 17. "We will explain the circumstances in which we had decided to extend support to AAP government. We will also convey that there was no question of joining hands with BJP to form the government. So, the obvious option would be to go for polls," they said.
AAP had approached the apex court seeking a direction to the LG to dissolve Delhi assembly and hold fresh polls along with Lok Sabha elections. It had contended that keeping the assembly under suspended animation for a year would invite horse-trading.
In the last hearing, senior advocates P S Patwalia and Mukul Rohatgi, appearing for BJP, had submitted that the court should wait till the conclusion of the general elections when the Lt Governor would be in a better position to judge whether any party could form the government.
BJP, which was the single largest party and sat in opposition during Arvind Kejriwal's 49-day rule, had also said government-formation by any party is a political decision for which it will require to call a meeting of its parliamentary board. In the 70-member Delhi assembly, AAP with 28 seats had formed the government with the support of Congress. BJP has 31 MLAs and the support of one Akali member.