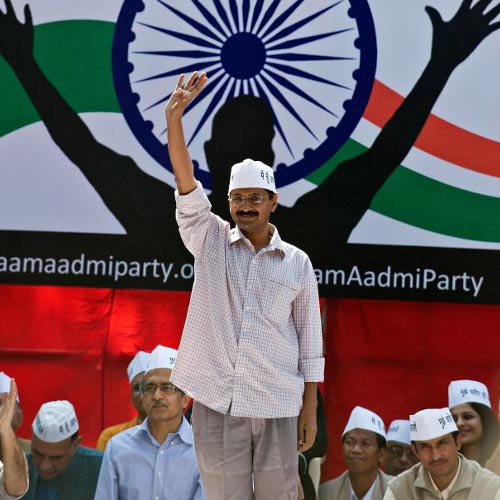 Delhi Chief Minister Arvind Kejriwal on Friday read out his list of 'India's most corrupt', and it included high profile politicians from the Congress, the BJP and their allies, and urged his Aam Aadmi Party (AAP) members to treat this year's general election as a revolution to cleanse the nation's politics.
Kejriwal's list included Congress leaders' Rahul Gandhi, P Chidambaram, Sushil Kumar Shinde, Veerappa Moily, Salman Khurshid, Kapil Sibal, Kamal Nath, BJP leaders Nitin Gadkari, BS Yeddyurappa, Anant Kumar, Anurag Thakur, and others like Mayawati, Mulayam Singh Yadav, Sharad Pawar, Farooq Abdullah and Jagan Mohan Reddy.
Addressing a party meet ahead of discussions in the Delhi cabinet on the party's proposed anti-graft Jan Lokpal Bill that seeks to punish corruption with a maximum sentence of life in jail, Kejriwal said: ?Don't let a single corrupt politician enter Parliament.
"We have not come to play politics, we have come to remove corruption. Our aim should be that not a single corrupt person exists in parliament," he added.
He further said, "We need to change all this. We have not come to fight in the elections. The people of the country will fight this election."
"We are providing an option to the people of the country, and the country has to work to make sure that not one corrupt person is elected to parliament," he added.