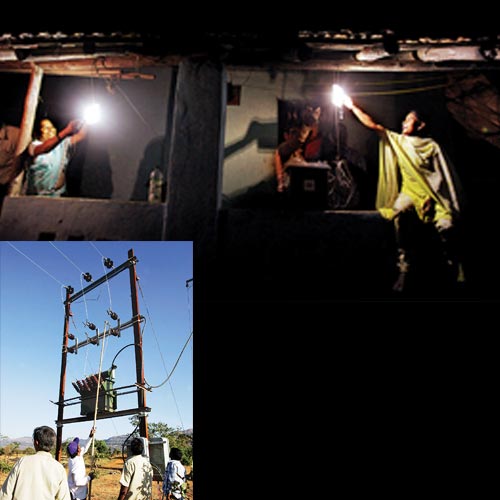 Swathes of India's most populous states plunged into darkness for 12 hours a day last week as temperatures in Delhi hit their highest in 16 years, with the disruptions underlining the tough challenge a new government faces in keeping the lights on.
There is some positive news for troubled Delhiites as Delhi Transco Limited has announced that the power will be restored by 7 pm in affected areas.
Transco Limited's Bawana 400 KV to Bawana DSIDC 220 KV Circuit -2 tripped at 2:42 pm and the city faced electricity problem in sweltering heat.
According to the company, Power has not yet been restored due to which TPDDL's areas like Narela, Alipur, Sarup Nagar, Badli, Jahangir Puri, Azad Pur, Ashok Vihar and Tri Nagar are affected in totality. A total of about 1.5 lacs customer will remain affected for next 2-3 hours i.e. from 5 pm – 7p.m today, the report says.
But, in all probablity, the electricity will be restored by 7 pm IST.
Power cuts in Delhi to last for 3-4 more days says Najeeb Jung
Many areas of the national capital may continue to face planned blackouts for a few more days as repairs to the power towers and lines which were damaged in the storm that hit the city last week are taking time, Delhi Lt Governor Najeeb Jung said today.
"Before the storm struck, we were generating about 5,000MW of electricity, which was reduced to 1,000MW (due to the storm). You can imagine what we went through, worried that the entire city will be plunged into darkness.
"We are now producing 4,600-4,700MW. The problem is that some big towers and lines fell in the storm and repairing them would take some time. Due to rising temperatures, the demand for power has shot up to 6,000MW, which we (cannot meet).
"So, there could be blackouts for another three to four days to cope with the crisis," Jung said.
The storm on May 30, which was accompanied by winds at speeds of over 90-kmph, plunged most areas of the city into darkness as uprooted trees snapped power lines.
The statement from Jung comes at a time when many areas of the national capital are facing massive load-shedding, lasting two to three hours every day.
The temperature in the national capital touched a record high of 44.7 degrees Celsius yesterday and the city faced a near peak demand for power at 5,250MW.
The peak demand last June of 5,653MW may be surpassed by the weekend, according to Delhi government officials.