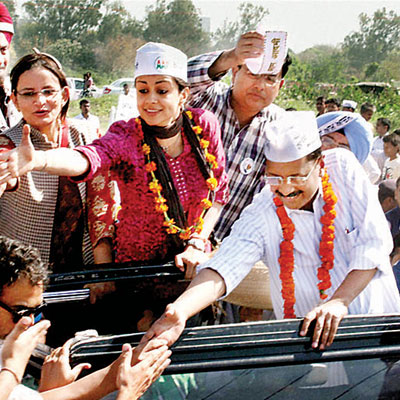 In their bid to woo the 49% women voters in India, political parties promised increased representation for them. Many don't seem to be walking the talk.
The list of candidates so far reveals that the Bharatiya Janata Party (BJP) has fielded the lowest number of women candidates -- only 8.5%. The Aam Aadmi Party (AAP) has the highest number. Around 15% of their candidates are women.
Of the 417 candidates announced by the Congress, only 53 are women (12.7%). While AAP has 57 (nearly 15%) women candidates among 385, the BJP has the worst figures, with only 35 women (around 8.5 %) among 409 candidates.
Most of AAP's women candidates are either those who are working at the grass-root level -- like tribal activist Soni Sori or Nobel Prize nominee Tiliya Devi, or young and highly successful women like banker-turned-politician Meera Sanyal. AAP's rivals, on the other hand, have reposed faith in actors, royalties and others.
At some places, AAP's women candidates are against political heavyweights or against those who have criminal or tainted backgrounds.
For instance, social activist Anjali Damania, who blew the lid off the irrigation scam in Maharashtra, is up against former BJP president in the Nagpur seat. Nagpur is also the headquarter of the BJP's ideological fountainhead, Rashtriya Swayamsevak Sangh.
Meera Sanyal is contesting against Union minister and Congress MP Milind Deora from South Mumbai. Another popular activist Medha Patkar, who has been working among the people for over a decade, is contesting from Mumbai's North-East constituency.
In the Hindi heartland of Madhya Pradesh, Rachna Dheengra is fighting BJP's Alok Sanjar from the Bhopal seat.
In Chhattisgarh, tribal activist-leader Soni Sori is against BJP strongman Dinesh Kashyap.
From the Hamirpur constituency in Himachal Pradesh, AAP has fielded the mother of Kargil war hero Captain Vikram Batra. Kamal Kant Batra is fielded against BJP's youth wing president Anurag Thakur.
Parties like the BJP and the Congress have easily forged alliances with tainted leaders or have fielded those having criminal cases, especially in two big states like Bihar and UP.
AAP, however, claims to have fielded no candidate with criminal background. In a state like UP, where money and muscle power is the dominant theme, the party has fielded young, professional women candidates, working among people.
From the Sitapur constituency, AAP has fielded Shefali Mishra, an MIT alumnus, human right activist, writer and a former UN employee.
"AAP is very serious about women's representation. That's why while selecting candidates, we gave more tickets to women. Even though some candidates are not that strong, we have gone ahead. There is no compromise on women's representation from all sections of society," a senior AAP leader told dna.
The AAP leader said the party's aim is to empower women and stop crime against women. That's why they've have given tickets to people likeSoni Sori from Bastar, who was tortured by the Chhattisgarh police for alleged links with Naxals.
AAP fielded Dayamani Barla, another tribal leader, from the Khunti seat in Jharkhand. AAP has also given tickets to people like India's first woman director-general of police Kanchan Bhattacharya from the Haridwar seat in Uttarakhand.
A TV serial was based on her life story. Actor and activist Gul Panag has been fielded against former railway minister and sitting Congress MP P K Bansal.